Strengthening Companies' Productivity & Wellbeing 
What is Viva? 
Microsoft Viva is a growing online employee experience platform with multiple modules. In this third installment of the series, we focus on Viva's Insights module which addresses productivity and wellbeing.
Viva Insights 
Looking for a way to help employees thrive in today's ever-changing work environments? In the Viva Suite, Viva Insights provides personalized data-driven, privacy-protected insights, and recommendations to employees identifying areas in which to build better work habits and how to do their best work. In addition, Viva Insights shows work patterns, provides feedback, asks employees how they feel, and notifies them when the workday is done, all activities that can be overlooked but can affect them. Insights strives to help employees be the best they can be.
Through Microsoft Teams, Viva Insights' Home page provides visual data showing employees when they are most productive, the best way for them to work, and what they can change to increase productivity. The Stay Connected page uses AI, it can recognize various keywords and phrases; helping employees stay up to date on the latest projects, conversations, and tasks. The Protect Time page focuses on time management and wellbeing by setting reminders to take breaks, when to focus, when to close down for the day for your virtual (or physical) commute.
For Managers, Insights provides data enabling them to lead strong teams, increase their team's wellbeing, engagement, and efficiency.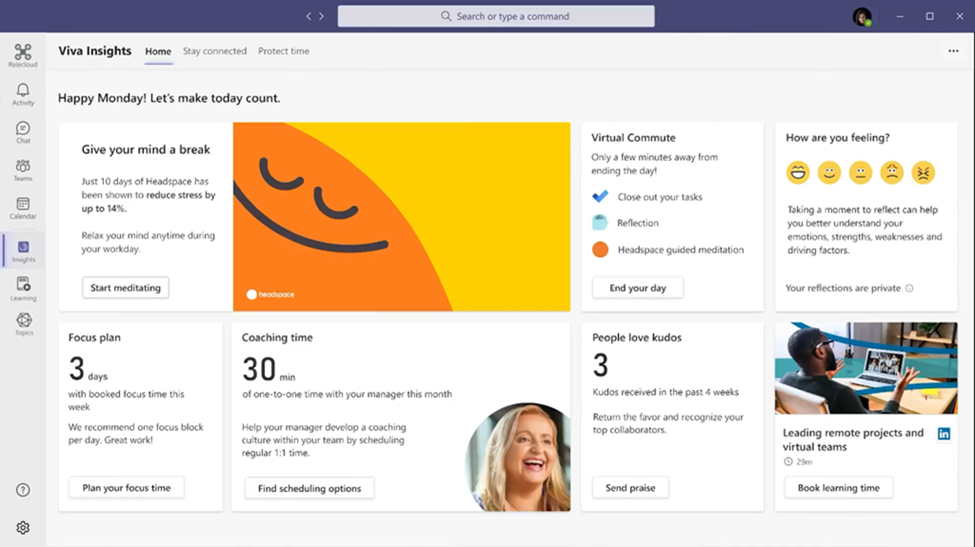 In summary, with Viva Insights you can:
Deliver personalized and actionable insights   

Empower individuals, teams, and organizations to achieve balance, build better work habits, and improve business outcomes.

Quantify impact of work on people and business   

Gain data-driven, privacy-protected visibility into how work patterns affect wellbeing, productivity, and possible burnout.    

Address complex business challenges   

Use advanced tools and additional data sources to perform deeper analysis, address challenges important to your business, and respond quickly to change.  
  Contact us to help your employees be the best they can be through Viva Insights (understanding options included in Microsoft 365 or expanded capabilities with additional licenses) or for a deep dive into Microsoft's latest tools and bundles.
Check out our Viva blog series and follow us on LinkedIn for other blog topics.
About the author
Bryant is the Collaboration and Power Platform Practice Lead at Interlink. He specializes in SharePoint and has been working with the software for 15+ years. Bryant is an avid runner and enjoys giving back to the community through local youth sports organizations. 
Related Posts
Welcome to the Interlink Cloud Blog
Subscribe to our blog
By subscribing to the blog, you will be notified whenever a new blog post is created on the site.
All content provided on this blog is for informational purposes only. The owner of this blog makes no representations or warranties regarding the information from our partners or other external sources.