What is Azure?
Microsoft Azure is an ever-expanding set of cloud solutions that help your organization meet business goals and manage what challenges may arise alone the way. Azure gives you the freedom to build, manage, and deploy applications on a massive, global network using your favorite tools and frameworks while protecting your data with world class security.
The Cloud You Can Trust

with the numbers to prove it
90+

COMPLIANCE OFFERINGS
the largest portfolio in the industry
95%

OF FORTUNE 500 COMPANIES
trust their business on Azure
$1 BILLION

INVESTMENT PER YEAR
in security to protect customers' data from cyberthreats
Benefits of Azure
Accelerated Innovation

Engage users in richer ways by building native mobile apps, responsive web apps, or next-generation experiences like bots and mixed reality. Quickly solve the toughest challenges and get your app up and running with minimal effort through seamless integration with the Visual Studio family of tools and more than 100 turn-key Azure services.

Hybrid Cloud

Go beyond connecting your datacenter to the cloud. Ensure your on-premises and cloud environments work consistently across your entire organization. Increase developer productivity with a common approach to building applications and the flexibility to deploy those apps in the cloud or on premises with Azure Stack. Increase end-user productivity using Azure Active Directory for single sign-on to both cloud and on-premises applications.

Gain visibility and control with built-in management and security solutions across your cloud and on-premises environment. Detect and respond to threats faster with Azure Security Center. Enable Azure Backup and Azure Site Recovery to help protect against any cloud or on-premises data loss.

Compliance Coverage

Microsoft leads the industry in establishing clear security and privacy requirements and then consistently meeting these requirements.Organizations like yours continue to face challenges that increase your risk of significant financial loss, damage to market reputation, and customer satisfaction. Azure protects business assets while reducing security costs and complexity. Built-in security controls and intelligence help you easily identify and respond to threats and security gaps, allowing your organization to rapidly improve your security posture.

Intelligent Apps

Use your existing skills and the tools you love to build any application—using any data source, operating system, and device. Azure supports a range of deployment options, popular stacks and languages, and a comprehensive set of data engines, such as PostgreSQL, MySQL, MongoDB, Hadoop, and Apache Spark.
Explore How Intelligent Services Can Expand Your Solutions

Collaboration
Use business insights and intelligence from Azure to build software as a service (Saas) apps

Big Data and Analytics
Make the most informed decision possible by analyzing all the data you need in real time
LOB Applications
Modernize your internal line of business (LOB) apps to meet today's IT challenges

Digital Marketing
Connect with customers worldwide with digital campaigns that are personalized and scalable

eCommerce
Give customers what they want with a personalized, scalable, and secure shopping experience

AI Platform
Artificial intelligence productivity for every developer and every scenario
"Azure is the only hyperscale cloud that extends to the edge across identity, data, application platform, security and management."
Satya Nadella, Chief Executive Officer of Microsoft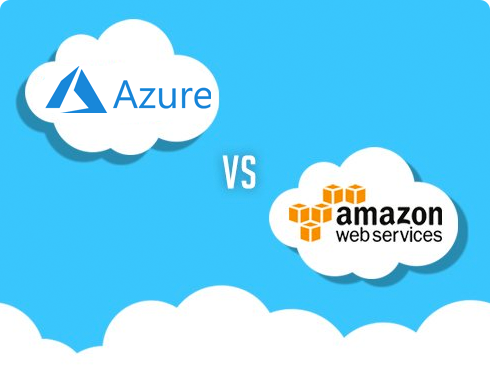 Azure vs. Amazon Web Services (AWS)
Organizations all over the world recognize Microsoft Azure over Amazon Web Services (AWS) as the most trusted cloud for enterprise and hybrid infrastructure.
More regions than any other cloud provider
The only consistent hybrid cloud
Unparalleled developer productivity
Trust the Cloud that helps protect your work

When comparing AWS to Azure, you'll find that Azure has more comprehensive compliance coverage across more than 70 compliance offerings, and was the first major cloud provider to contractually commit to the requirements of the General Data Protection Regulation (GDPR). To protect your organization, Azure was created with security, privacy, and compliance embedded into its development methodology, and has been recognized as the most trusted cloud for U.S. government institutions.

Reduce risk and complexity with real hybrid consistency

Optimize your existing assets by taking a hybrid approach to the cloud. Azure offers hybrid consistency everywhere—in application development, security and management, identity management, and across the data platform. This helps reduce the risk and cost of a hybrid cloud environment by enabling a common set of skills and offering portability of applications and workloads. Plus, save up to 40 percent when migrating Windows Server virtual machines to Azure using the Azure Hybrid Benefit.

Expand globally with the most regions

Achieve global scale with 54 announced Azure regions—more than any other cloud provider. Our priority on geographic expansion means you can choose the datacenter and region that's right for you and your customers, with the performance and support you need, where you need it.

Build faster with the leading cloud platform

Rely on the only cloud provider recognized in the industry as having leading solutions in infrastructure as a service (IaaS), software as a service (SaaS), and platform as a service (PaaS)—in fact, according to this Forrester Total Economic Impact study, you'll be more productive and increase your ROI with Azure PaaS services. Turn your ideas into solutions faster with more than 100 services, end-to-end management experiences, and app delivery with agile development practices.

Hybrid Cloud

Get even more value out of your investment in Azure by using one of our industry-leading SaaS services, including Office 365, Dynamics 365, and Enterprise Mobility + Security. Azure shares many foundational capabilities with these services, such as identity management through Azure Active Directory and mobile device management through Intune.

Easily implement ready-to-use IoT

Quickly start with the most common Internet of Things (IoT) scenarios, such as remote monitoring and predictive maintenance, using preconfigured solutions in Azure IoT Suite. Get the most comprehensive portfolio of IoT solutions, ranging from device and edge to data and the cloud, with Azure IoT. It's open and customizable by design, and 46 percent of Azure Certified for IoT devices run on Linux, Android, or other open source technologies.

Innovate with unmatched intelligence

Build intelligent solutions at scale using cognitive APIs, bots, machine learning, and blockchain as a service (BaaS) capabilities that you'll only find with Azure. By pairing these capabilities with powerful GPU-based compute, you'll accelerate deep learning, enable high-performance computing simulations, and conduct real-time data analytics.

Dig into big data with a complete advanced analytics solution

Bring limitless elastic scale to your applications with Azure Cosmos DB. Then, turn your data into a competitive advantage using business analytics solutions, such as demand forecasting and inventory optimization. Rapidly build, customize, and deploy best practices with solution templates and enable transformative insights on all your data with Azure SQL Data Warehouse.

Use any development tool or language

Develop and build the way you want in Azure, with your choice of tools, applications, and frameworks, like Jenkins and Chef. As a leading open source contributor on GitHub, Microsoft actively supports multiple open source community projects—such as Kubernetes, fluentd, and Helm—and has a unique partnership with Red Hat to offer coordinated, multi-lingual support across multiple products.

Manage and optimize cloud spend with a complete cost management solution

Optimize your cloud resources, manage departmental budgets, and allocate costs with free Azure Cost Management. Drive accountability through cost allocation and chargeback reports. Maximize resource utilization by right-sizing virtual machines and visualizing the cost-benefits of various purchasing options that Azure offers.

So, what can Azure do for you?
There is a myriad of solutions Microsoft provides within Azure from storage to computation to security and much more as you've just read above. The Azure cloud service will most likely have at least one solution your organization can benefit from. We at Interlink are ready to help you find that solution. Also, ask Interlink about free usage rights that come with most development tools and how to obtain Azure inexpensively on a new or renewing Enterprise Agreement.