In this new age of digital transformation, end-user adoption training and change management is crucial to any project's success.
When implementations, projects or new technology fail, a main aspect of these failures is due to poor change management planning and little to no end-user adoption – most organizations put new practices and technology before their people. For a company to make the most out of any technology investment, they must put the time and focus into adoption training.
Why is this so important? The way technology is deployed often leaves a lot to be desired. It can be difficult for employees to adopt new technology when roll-out plans are only technical in nature, information about the new tool isn't disseminated properly, or the technology is simply dumped on staff without further explanation – when employees don't understand new technology or why it is being imposed, they tend to reject it. Often, employees have been using the same tools for years and have their own habits and processes. Creating desire through adoption training and planning can help your employees to really understand how these new technologies can help them in their daily workday and make things easier – therefore, your organization can make the most out of its investment.
We know that change can be a lot to handle – especially when it involves changing processes and enforcing new technology throughout an organization. If it seems like too much to do on your own, Interlink is here to help.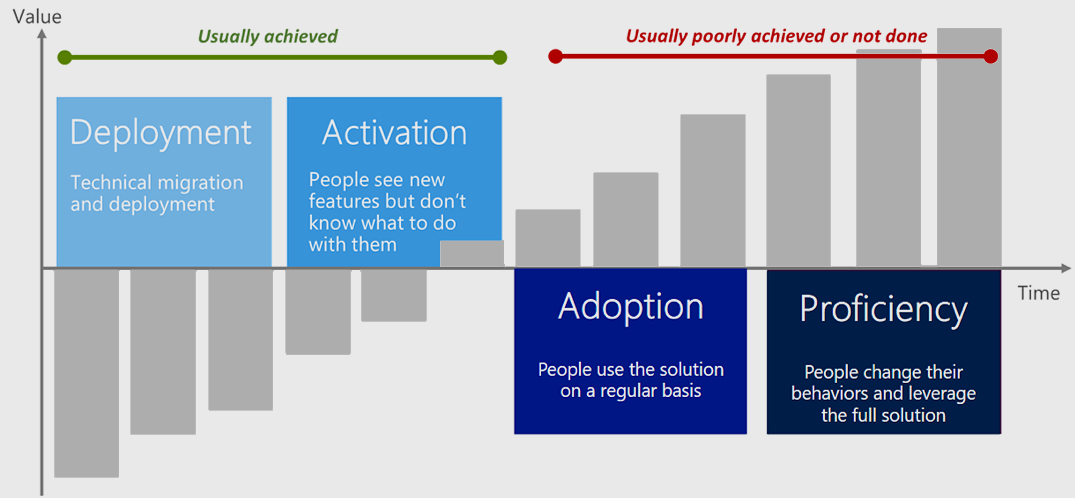 Top Five Tips to Drive Successful Adoption in Your Organization
1. Define a Clear Vision – Define your strategy and core objectives of the project – true adoption will need a clear understanding of the business outcome. What are the challenges or pain points you are aiming to overcome? Often, employees have different goals, pain points and ideas of what success can look like. When expectations match up, adoption is more likely to be successful.
2. Getting Leadership Support – Leadership is the key driver of relationships, innovation and productivity in your business. Appointing leaders and educating them on the benefits of a new product can help to spread the full capabilities within your organization.
3. Define Your Power Users – This is a key step to ensuring successful adoption across your organization. "Power Users" are going to be those employees who have a strong skills or experience with the new technology and can therefore help advocate for it and its value. These users can also be a huge help for training the rest of your organization.
4. Training End Users – Build a training strategy with a mix of emails, workshops, training tutorials and a readily available "resource center" so that your employees always have something to quickly reference.
5. Raising Awareness and Providing Reinforcement – Fostering awareness on Office 365 helps in creating a "buzz" around your new product or technology. Awareness programs can motivate and inspire employees about the business value that Office 365 tools can provide and show employees how these tools could benefit them in everyday processes by showcasing others' success. You can rest assured that your organizations adoption will be reinforced by facilitating resources and continuous education, which helps maximize ROI on your technology investment!
Interlink can work with your organization to develop and carry out a plan that is customized to your business's specific needs. Interlink can work with your organization to ensure you're making the most out of your investments.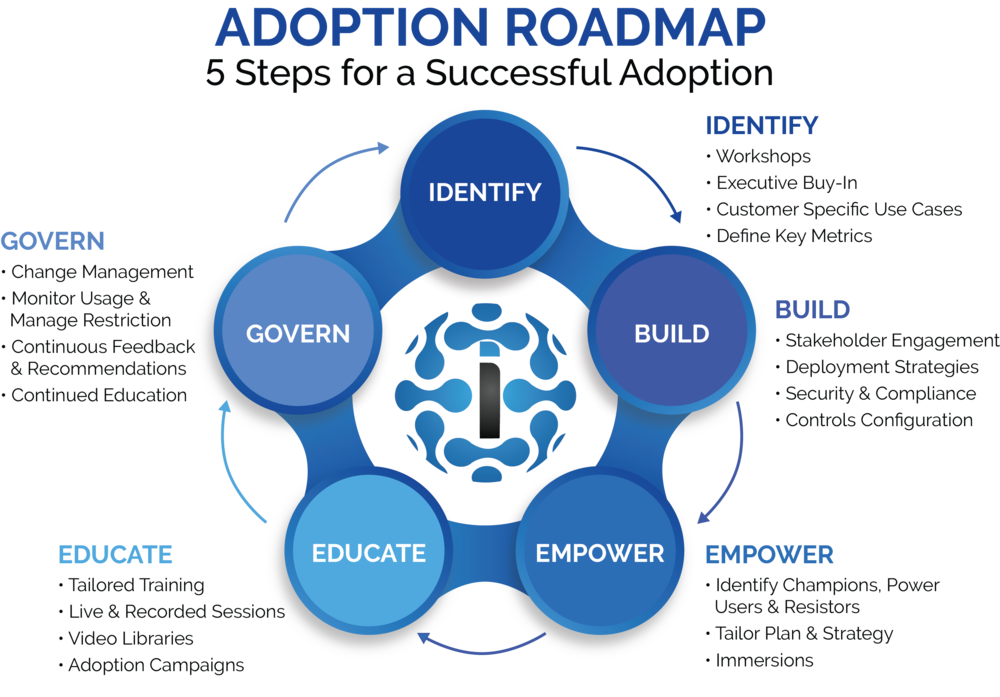 ---
Interlink's Adoption & Change Management Process
There's a lot of planning and strategizing that goes into a successful adoption and change management process. We know it can be challenging when deciding where to start, when to start and what to do. Interlink's process helps to organize and streamline your process, put a plan into action, and carry it out until the end.

Envision
The first step to a successful adoption plan is envisioning what success will look like for you and your business – what is the end goal? Interlink helps guide your organization to develop a success plan and prioritize your goals as a business, to properly visualize what successful adoption looks like. Having a clear goal to work towards is the best way to ensure your entire company is on the same page.
Define
Defining scope and objectives is the next step. What is the desired change? Why is the change needed? How will the change be implemented? Who will be impacted? Interlink will help your organization answer these questions to define your adoption strategy to optimize results.
Identify
Identifying and prioritizing scenarios – this is the step where your employees will experience the value of the new technology and how it will impact their daily work. Interlink will help you discover the most valuable capabilities to your organization, and then describe and illustrate the different ways to use the new capabilities – specifically how it can streamline processes, make work more productive, easier and/or efficient. Discover which processes can be automated, and what functionality would have the most impact on your business.

Develop
The last step is to develop a detailed success plan(s). This will include developing stakeholder engagement, internal communications, training plans, how your organization will measure success, and reinforcement of all the above. The most important part of this step is developing training plans and how your end-users will learn the new technology – Interlink can help with introducing effective training videos to your employees on a variety of tools.
---
Customer Immersion Experiences
A Customer Immersion Experience (CIE) is a great way to help your leadership try out new technology and see how it could benefit them in their daily work routines. This workshop is a hands-on, interactive session designed to test-drive Microsoft's technologies. One of the many benefits of CIE is that it's the perfect space to allow discovery. Most people learn most effectively from trial and error and learning from their mistakes. With such a true-to-life user experience, there is so much opportunity to carry what you learn directly into the daily workplace. A CIE is ideal for end users and business decision makers.
Interlink is CIE certified so we are trained to help your team adopt technologies and see how they could work in your environment. We can facilitate modern workplace CIEs for Teams or Office 365, Security CIEs or Azure CIEs.

Modern Workplace
Different roles within your organization use Microsoft 365 cloud technologies - from the CEO to Marketing and HR. The Modern Workplace CIE helps business leaders to better understand the technology solutions their team has access to, leading to the improvement in processes, better productivity and improved workplace environments. Interlink can help your company discover how to best utilize your technology investments by guiding you through an experience that is customized and solve your workplace challenges.
Security
Security is challenging. The most secure systems in the world are the least easily accessed. Our Security CIE is meant to showcase the end user experience with Microsoft 365 Security Solutions and help you discover the right balance between controls and productivity for your own organization. We allow you and your team to learn and discover the right end user tools that will protect your organization's data and identities.
Azure
Solidify your hybrid strategy with this hands-on Azure learning experience. The Azure CIE guides you through an environment that is actually built in Azure, so you will learn about Azure Virtual Machines and compute power. Working together with a certified Interlink trainer, you'll create and deploy a Windows Server datacenter virtual machine and review resource group, virtual network, and storage account components. By demonstrating the problem-solving power of Microsoft products and services, participants can test-drive Azure and see how it could fit in their environment and solve the challenges they're facing.
---
Contact Us for Guidance
There's a lot of planning and strategizing that goes into a successful adoption and change management process and we know it can be challenging when deciding where to start.
Interlink Offers:
Change Management Consulting
Teamwork Assessments
End-User Training
Help Desk Readiness
Usage Reports & Analytics
Strategy Planning
Adoption Campaigns
Have more questions? Need to get started with adoption now?


Learn more – get in touch with us today to see where Interlink can help you with successful adoption.