The Ultimate Bundle for Insight, Automation, Security, Backup and Recovery
Many organizations need to drive innovation faster and more efficiently while managing the rapid changes to a complex environment - often across platform systems that are vulnerable to a growing number of sophisticated cyber-attacks. This means data protection remains a top priority and data backup and recovery are a must.
Hosted in Azure, Microsoft Operations Management Suite (OMS) has created a unified experience to manage your entire enterprise environment. It includes one set of unified dashboards that enables your administrators to be efficient, informed, and proactive.
All your IT operations tasks in one
Access to insights in minutes
Hybrid and open
Management anywhere, anytime
Extend System Center
---
Why Operations Management Suite?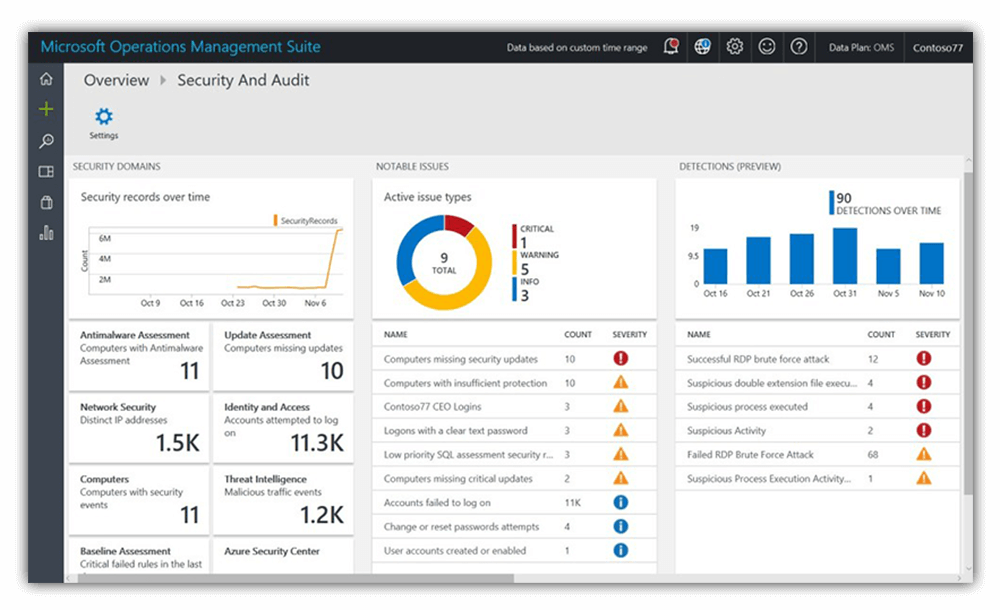 Insight and Analytics
Gain Visibility and Trouble Shoot Issues Faster
OMS provides a simple and unified view across multiple data sources such as Linux, Windows, Amazon Web Services and Azure. Once the data is collected in the repository, use of a powerful query language makes it available for analysis, export and alerting. Analytics can proactively alert you to correct an issue when it is detected. Gain immediate insight, trouble shoot quickly and auto-remediate no matter what type of issue or where your resources are located.
Proactive insights on workloads
Rich data visualization
Visibility across clouds and platforms

Automation and Control
Enable Speed and Reliability Across the IT Lifecycle
Azure Automation in OMS incorporates the ability to automate processes and enforce configurations for physical and virtual computers. Manual processes are automated using runbooks based on PowerShell scripts. They can leverage Automation credentials, connection and certificates to authenticate the resources they access. These processes support continuous availability of applications and increased responsiveness of IT services.
Immediate alerting
On-demand remediation
Orchestrated recovery
Automated backup

Security and Compliance
Easily Monitor Security Threats within IT Operations
Security and Compliance within OMS will allow your organization to more quickly and easily understand your overall security posture. It provides a single pane of control to gain insight into security threats across multiple data sources with trusted insight from a cloud native, infrastructure-free environment. Perform more intelligent threat detection and investigation to help mitigate damages and simplify audits.
Analyze and investigate incidents
Detect threats before they happen
Streamline security audits

Backup and Recovery
Increase Availability with Backup & Customize Your Disaster Recovery Plan
Bring cloud agility to data protection with Azure Backup and Azure Site Recovery as they contribute to recovery point objectives and recovery time objectives set by your organization. They help ensure applications are available despite any outages that may occur and that you can return to normal operations when systems come back online. Azure Backup provides backup and restoration services included in OMS, protecting your application data. Azure Site Recovery provides business continuity to ensure that you can continue to work if your primary site becomes unavailable.
Bottomless compute and storage capacity
Protection everywhere
Compelling alternative to tapes
Simple and consistent management
Want to Learn More?
View our OMS On-Demand Webinar
How to Manage Any Platform, On Any Cloud with the Microsoft Operations Management Suite (OMS)
See how OMS delivers capabilities and capacity beyond any on-premises management solution by combining a holistic view of all your managed resources.
View Webinar & Slides
To add Operations Management Suite to your subscription or find out if this bundle is a good fit for your business needs, contact Interlink today.