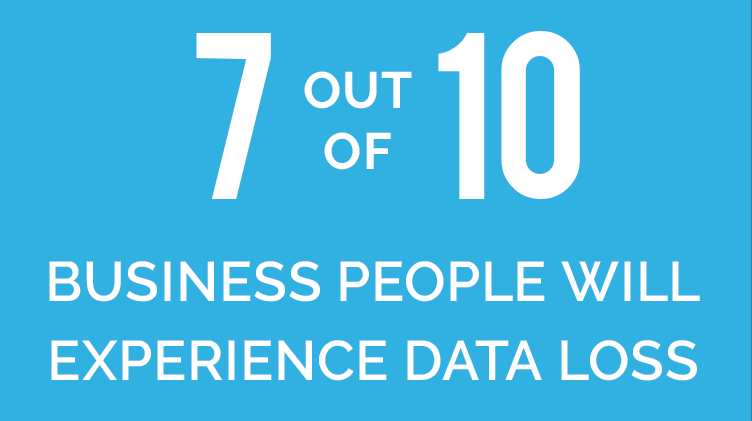 Seven out of ten business people will experience data loss due to accidental deletion, system crashes, virus infection, or natural disaster.*
And, according to Contingency Planning and Strategic Research Corporation, 96 percent of work-stations are not being backed up. Data is the lifeblood of your company and ensuring it is available when you need it must be a key component of your overall business strategy.
Many businesses' backup solutions are ineffective and inadequate because they exist on premises only and rely on data being backed up to another physical device. This causes a resource drain for in-house staff to manage hardware, space constraints, and decisions on what data to save. Plus, in the event of a disaster, the physical devices can become unavailable.
Breakdowns in the process can result in data loss or inability to quickly access the data when it is needed. Trying to stay up to date with advancing technology with an in-house backup solution can be costly and time consuming.
The Interlink Azure Backup Solution
Interlink's backup solution eliminates the need for you to purchase and manage a physical backup process to protect your physical, hybrid, and cloud-based data. Azure Backup protects your critical applications including SharePoint, Exchange, SQL, files and folders, Windows Servers, Windows Clients, and Azure IaaS VMs whether they are on servers, clients, or in the cloud.
Benefits of the Azure Backup Solution:
Simple monthly charge eliminates the need for large hardware and software investments
Limitless space that can expand on demand to accommodate all your data
Secure storage of three copies of your data in three different locations in the Azure Datacenter and another three copies in another remote Azure datacenter
Daily, weekly, monthly, and yearly data protection schedules with up to 99 years of retention
Powerful centralized monitoring and reporting across on-premises and Azure from a single dashboard
Network throttling configured to schedule optimal bandwidth usage during off-peak hours
Incremental backups to optimize storage and bandwidth usage
Compression to minimize bandwidth and storage consumption
Converting to Azure Backup
The experts at Interlink guide you through the entire process of moving to an Azure Backup Solution. We work with you to identify the data to be backed up, install the Azure agents on each of your machines, and seed your data to Azure with a one-time upload. After your data is uploaded, we help you set the appropriate backup and retention schedules.
Once your data is securely backed up, we can manage the entire process, freeing up your staff to handle other value-added tasks and preventing backup from being forgotten. We conduct monthly retention checks and ensure the solution is operating properly.
CONTACT US TODAY AND GET THE SECURITY & PEACE OF MIND
YOU NEED AROUND DATA PROTECTION
The amount and importance of data continues to expand and is essential to your business success. You can't afford to risk losing any of this critical data and leveraging Interlink's Azure Backup solution helps ensure that your data will always be there when you need it.