What is a Customer Immersion Experience (CIE)?
For a lot of organizations, a big headache in the workplace is having access to new tools and technologies…but not knowing how to utilize them effectively. The way people work together is evolving, and unique projects, workstyles, functional roles and workforce diversity call for a complete set of collaboration tools. As the appetite for new ways of working together grows, new developments, communications, mobility, and cloud services are enabling professionals to communicate and collaborate in ways that were previously not possible.
Knowing that your time is valuable, we've developed a true to life, hands-on, interactive session designed for professionals like yourself – a Customer Immersion Experience (CIE). The CIE is not just a walkthrough or standard demo; a CIE puts you in the driver's seat. It says it right in the name – this is a completely immersive experience that gets people engaged with their technologies in real life situations.
How does a CIE work?
Learn Collaboratively – Facilitates simple collaboration. Learn from one another with the help of the cloud, engaging conversation, and real-time collaboration tools used throughout the session. It will be easy to approach various communication challenges.
No Tools Required – Just bring yourself and anyone else looking to learn. We will provide everything needed to hit the ground running and get the most out of your CIE.
Real World Experience – A CIE gives you the opportunity to visualize Microsoft's solutions working within your current environment and how the capabilities will improve everyday workflow. This is not a generic demo.
It's for Everyone – The CIE is a great experience to engage all areas of the business. They often work best with a diverse set of end users to allow for different perspectives and ideas.
Relaxed & Fun – This experience is all about you. It is not a walkthrough for you to follow along with a presentation. It is completely engaging - an opportunity to explore, ask questions, and learn without a sales pitch.
What will you experience?
Streamline Teamwork to Break Down Silos – Easily manage your team's plans, tasks, and notes.
Keep Information Secure While Being Productive – Make it easier to work securely and maintain compliance without inhibiting your workflow.
Quickly Visualize – Analyze complex data: zero in on the data and insights you need without having to involve a BI expert.
Co-author and Share Content Quickly – Access and edit documents even while others are editing and reviewing them all at the same time.
Immediate Productivity Gains – Most attendees leave with enough time-saving skills that time invested in attending an Immersion session can pay for itself in a few short days.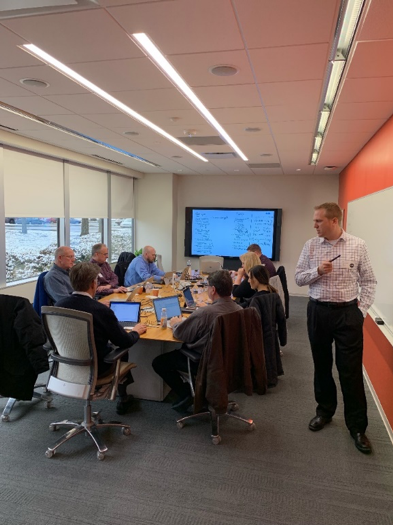 CIE With Interlink
Here at Interlink, we have all the necessary tools and experience to guide you in a successful CIE. Our consultants can conduct multiple workshops to determine your organization's specific needs. We have the expertise and experience to analyze your current environment and offer guidance on what will most benefit you.
Contact us to set up a CIE for your organization.
Related Posts
Welcome to the Interlink Cloud Blog
Subscribe to our blog
By subscribing to the blog, you will be notified whenever a new blog post is created on the site.
All content provided on this blog is for informational purposes only. The owner of this blog makes no representations or warranties regarding the information from our partners or other external sources.