Windows Virtual Desktop on Azure Now Available
Read on to learn more, and how it applies and benefits you!
__________________________________________________________________________
What is Windows Virtual Desktop?
Windows Virtual Desktop is a comprehensive desktop and app virtualization service running in the cloud. It's the only virtual desktop infrastructure (VDI) that delivers simplified management, multi-session Windows 10, optimizations for Office 365 ProPlus, and support for Remote Desktop Services (RDS) environments. Multi-session Windows 10 allows multiple concurrent users to connect – meaning that Windows 10 may be used as a remote desktop session host server. In contrast, it was previously only available when using a Windows Server operating system. Organizations are now able to virtualize Office 365 ProPlus and optimize it to run in multi-user sessions. Additionally, manage your environment using built-in delegated access to assign roles and collect diagnostics to understand various configuration or user errors – and use Azure's diagnostics service to troubleshoot errors.
Microsoft's recent move to general availability allows this to be a true multi-session (multiple concurrent interactive sessions) Windows 10 experience for end-users and the delivery of an Azure-based, Data as a Service (DaaS) offering for IT professionals. This shift allows the transition from self-managed, on-prem, and using hardware VDI solutions, to the Cloud!
Windows Virtual Desktop on Azure makes governance and device management easier through user management and identity, network policies, and image, app, and profile management. Additionally, control Virtual machine sizing, user density, and scaling policies.
Benefits of Windows Virtual Desktop on Azure
Windows Virtual Desktop brings many benefits to organizations that use it. This is highly scalable, always up to date, and available on any device. The user experience is built to mimic a Windows Desktop and has a familiar and friendly interface. Organizations are able to keep their company data centrally protected while allowing users to interact with the data through Virtualized Desktops. Users can access company data securely from anywhere remotely, using their own device. Microsoft also provides seamless integration of both productivity and security tools through Azure – so your organization stays efficient and can focus on what matters most!
Windows Virtual Desktop on Azure makes governance and device management easier through user management and identity, network policies, and image, app, and profile management. Additionally, control Virtual machine sizing, user density, and scaling policies. Save your IT department time by deploying and scaling your Windows desktops and apps on Azure in minutes and get built-in security and compliance features. This ensures your data is extremely secure! Azure has more compliance certifications than any other Cloud provider, and Microsoft invests more than USD 1 Billion annually on cybersecurity research and development.
Quickly virtualize and deploy modern and legacy desktop apps to the cloud in minutes with unified management in the Azure portal. In addition to significant architectural improvements for deployment and management, Microsoft has also simplified the app delivery by supporting MSIX packaged apps to be dynamically "attached" to a virtual machine instead of installing it permanently. This is important because it decreases storage significantly and allows administrators to easily manage and update the applications, all while creating a fantastic experience for the user.
Administrators can still use tools like PowerShell and Rest API to assist this process. Migrate your Remote Desktop Services (RDS) environment with simplified management and deployment experience on Azure! View this infographic to see what all Microsoft and Azure manage, and what your organization controls: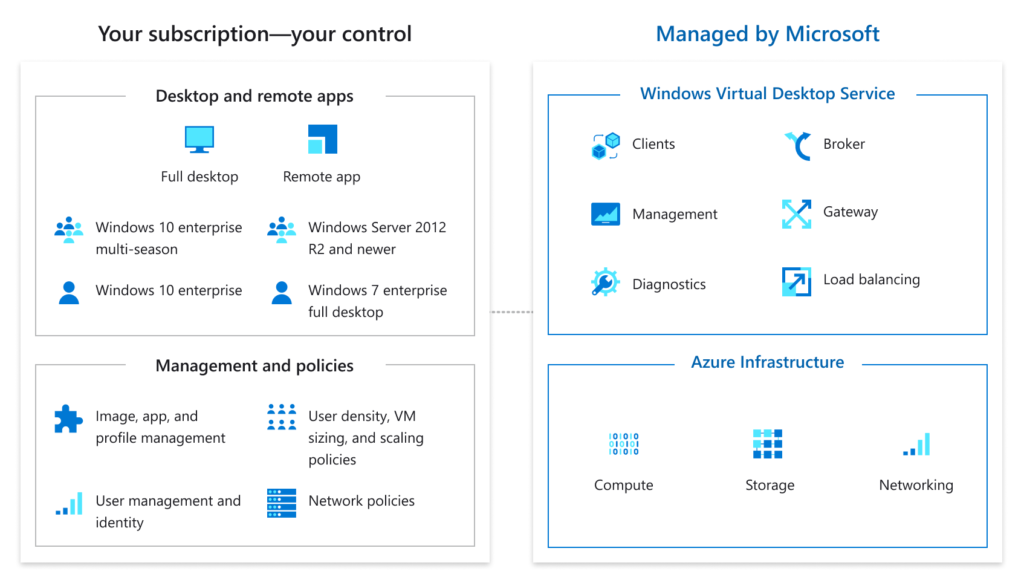 Use Cases and Users for Windows Virtual Desktop
Windows Virtual Desktop can help organizations in several ways. For example, data can be made to stay within the Virtual Desktop environment. Using compliance controls, end-users such as sales representatives or business executives can't download data from the Virtual Desktop environment to their machine and allows for end-users to Bring-Your-Own-Device. This compliance control is very popular in banking or finance organizations, but it is crucial for all organizations to control data and security. Similarly, remote workers who need powerful access – such as CAD designers or producers, who need to work from home are able to easily and don't have to depend on high-powered workstations. Virtual Desktops are also ideal for contractors who need access to an organization's data/information, but security features are needed, and the data cannot be taken away.
IT departments can control testing new software through Virtual Desktop. Since software sits on VMware – if it doesn't go well or possibly corrupts a file system – IT can just create a new machine. This is especially a great option for development teams in organizations.
The acquisition of a company needs to happen fast. Don't spend tons of money and time on new hardware – instead, take advantage of Virtual Desktop and gain access to each other's infrastructure as you collaborate to merge. Additionally, take advantage of the shared image gallery! When an organization builds a shared desktop off of an image – they can have different versions and modifications of that image for various departments or end-users' groups to use. ­­
How Can Interlink Help?
Knowing and understanding fully which route is best for your organization can be tricky – and so can migrations! If your organization is looking into Azure and wants to take advantage of Windows Virtual Desktop, Interlink can guide your organization in the right direction. Contact us for more information, questions, or guidance on your Azure investments today!
Interested in learning more? View our similar blog: Windows Virtual Desktop: Meeting the Growing Need of the Remote Workforce.
Related Posts
Welcome to the Interlink Cloud Blog
Subscribe to our blog
By subscribing to the blog, you will be notified whenever a new blog post is created on the site.
All content provided on this blog is for informational purposes only. The owner of this blog makes no representations or warranties regarding the information from our partners or other external sources.