Microsoft Teams Calling Workshop | Helping You Unleash the Power of Phone Communication
To paraphrase Mark Twain, the death of the phone call in business has been greatly exaggerated. According to one recent survey, 66 percent of millennials are likely to contact a company by phone and 93 percent of respondents said inbound phone sales have a significant impact on their bottom line.[1]
It's not just external communications that still rely on phone calls. Effective internal communications can result in lower absenteeism, less turnover, and higher productivity, according to a Gallup survey.[2]
Despite the growth of text, chat, and email, the traditional phone system is still critical to business organizations.
Interlink and Microsoft bring phone communication into the modern world with Microsoft Teams Calling. Teams Calling helps you simplify your enterprise voice services with a reliable, high-quality integrated calling solution built on the Microsoft cloud.
Interlink can help you leverage the power of Teams with its Energize Teams Calling workshop. With its extensive solution experience, Interlink will show you the power of Teams Calling for your specific environment. The Interlink Teams Calling workshop discusses the major configuration options, third-party add-ons, hardware options, and licensing scenarios and configurations that are available with Teams Calling. This workshop is designed to guide you through the process of a simplified enterprise voice solution with reliable, high-quality, integrated calling.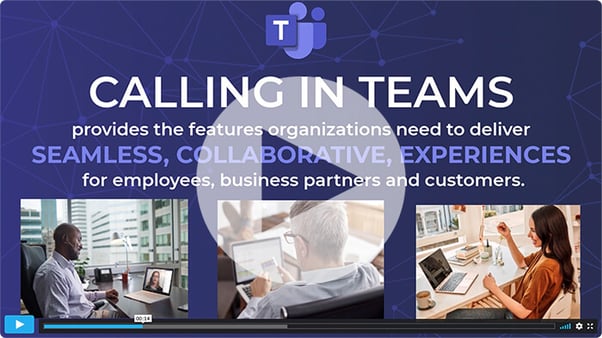 The workshop includes "Art of the Possible" immersive experiences that will accelerate your journey to becoming a digital business by helping you visualize innovative solutions to improve customer engagement, employee empowerment, operational optimization, and product transformation. It provides demonstrations, use-case design, and deep-dive planning along with actionable recommendations to deploy and adopt Microsoft Teams Calling with Phone system.
Interlink's Energize Teams Calling Workshop helps you quickly understand the modern voice solution that combines unified communications with teamwork capabilities into an all-in-one communication and collaboration solution.
The workshop includes:
Evaluation of your future telephony and PBX needs
Environmental and workload analysis, including existing infrastructure and telephony state
Demonstration of the end-to-end Teams Calling experience
A showcase of the rich portfolio of available third-party applications and devices
Discussion of deployment scenarios and pricing options
Customized, actionable recommendations you can follow to enable and adopt Teams for Calling
Interlink's Teams Calling Workshop is part of Interlink's Energize Teams Workshop & Implementation that enables you to take advantage of existing Microsoft technologies woven together to ensure the highest productivity for your staff.
Contact us today to learn more.
[1] Business phone system statistics: the 2020 edition, Ring Central blog post.
[2] What is Employee Engagement and How Do You Improve it? Gallup white paper.
About the author
Aaron is a Senior Consultant at Interlink Cloud Advisors. His specialties include Microsoft unified communications and core infrastructure solutions: Lync Server Enterprise Voice with full PBX integration AudioCodes/NET VoIP media gateways OCS 2007 Exchange Office 365 Active Directory Windows Server Teams
Related Posts
Welcome to the Interlink Cloud Blog
Subscribe to our blog
By subscribing to the blog, you will be notified whenever a new blog post is created on the site.
All content provided on this blog is for informational purposes only. The owner of this blog makes no representations or warranties regarding the information from our partners or other external sources.