Introducing Microsoft StaffHub: A New App to Manage the Work Life of Deskless Workers
Deskless workers are truly the unsung heroes of the workforce, and for many industries such as retail, food service, manufacturing and hospitality these hundreds of millions of workers are a company's backbone, interacting with customers and making things happen. Although they are incredibly critical to the success of business, these deskless workers frequently don't have the dedicated workspaces or proper applications they need to stay connected with management and each other.
This severely limits the transmission of information between these deskless teams. Even worse, it makes deskless workers and their supervisors rely on slow, limiting, inefficient paper processes to perform simple tasks.
Microsoft has updated its StaffHub app with a couple of new features that make managing work shifts even easier. StaffHub is Microsoft's new Office 365 service that lets businesses manage schedules remotely. Employees of a business can also use the app to see what their shifts are, swap their shifts or even communicate with each other right from the app. Employers and employees can also:
Creating and modifying schedules with features like "copy last schedule"
Swapping shifts and sending alerts
Distributing new information to employees like policy updates, manuals, and guidelines
Setting up meetings between deskless workers
Notes can be used to remind staff about new product lines and special offers.
Employees can quickly message each other arranging breaks, letting each other know about regular customers or let them know they are running late.
This is especially frustrating when these employees frequently have powerful smartphones in their pockets and purses. Microsoft has eliminated these issues and changed the way deskless workers communicate and manage their life at work with Microsoft StaffHub.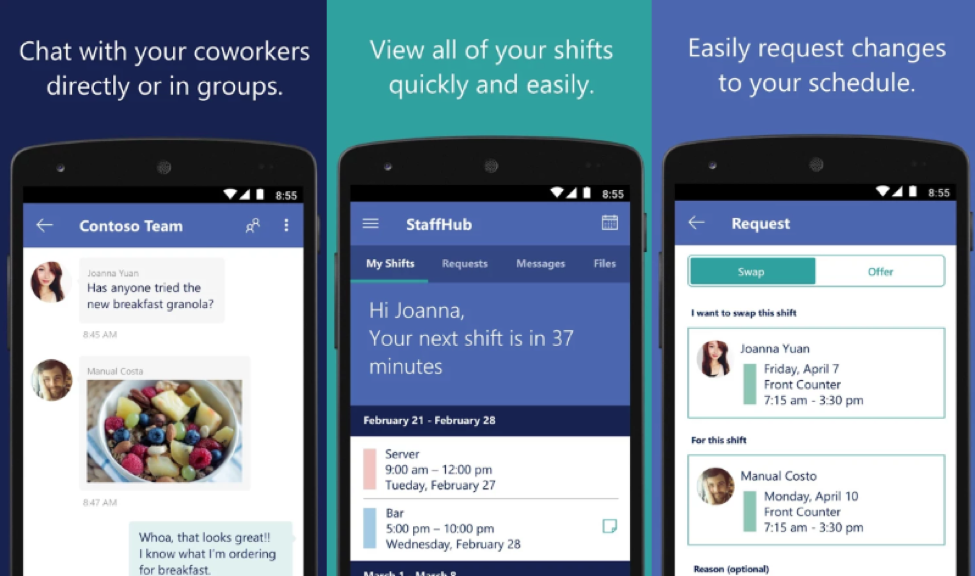 What Microsoft StaffHub Can Do
StaffHub makes it easy for managers to create, update and edit shift schedules for their team, streamlining what has been a labor-intensive process. In this interface, colleagues can see an overview of their upcoming shifts, resolve scheduling conflicts and all requests to alter the schedule go straight to the manager who can respond immediately via the app. Microsoft added more crucial features which include:
Customize StaffHub notifications by visiting "Settings" in the left menu. You can now easily change your shift reminder and when you receive notifications.
Employers can send videos, news and documents to individuals or groups.
Catch up on the latest conversation quickly with "Jump to last unread" and new messages indicators.

With Microsoft StaffHub, the back-and-forth phone calls, text messages, and email change requests can be eliminated, and managers of deskless teams can interact in real time - making sure schedules, information, and meeting times are all up to date. Anything shared between deskless workers is readily available by the entire team, significantly reducing the time it takes to get everyone working with the same information.
StaffHub is available in 15 languages, including all the major Romance languages and Chinese. It's available as part of the Office 365 K1, E1, E3 and E5 plans(including the "education" version of these plans). StaffHub runs on the web and under iOS and Android. Each individual using it must have an Office 365 account.
Contact Interlink today to learn how your deskless workers can start becoming more productive with Microsoft StaffHub.
About the author
Matt Scherocman brings more than 15 years of experience in the information technology industry to Interlink. His experience includes both the system integrator and manufacturer sides of the business. During his time at the Microsoft Corporation he was responsible for all the Large Account Reseller (LAR) relationships in the four-state Heartland Area of Michigan, Ohio, Kentucky, and Tennessee. Prior to Microsoft, Scherocman led a Cincinnati -based IT consulting company to grow 5000% and become a Microsoft Worldwide Partner of the Year. He is actively involved in the strategic vision and operation decisions of the company including finance, selling strategy and marketing. Matt holds a Bachelor of Science in Business degree from Miami University and is a Certified Expert in Microsoft licensing including speaking engagements at both Microsoft's Worldwide Partner Conference and Channel Partner Summit. He is a frequent contributor to leading industry publications.
Related Posts
Welcome to the Interlink Cloud Blog
Subscribe to our blog
By subscribing to the blog, you will be notified whenever a new blog post is created on the site.
All content provided on this blog is for informational purposes only. The owner of this blog makes no representations or warranties regarding the information from our partners or other external sources.