Empower Your Firstline Workers with Microsoft's F1 M365 Offering
Today's businesses are ever more dependent on their Firstline workers. A Firstline worker is someone whose main job is focused on creating or delivering a company's product. This could be workers who interface directly with a customer or those employees building your product on the manufacturing floor. These Firstline workers frequently have been under resourced with technology. Many companies find it difficult to justify paying the same price for software subscriptions for a Firstline worker versus a traditional knowledge worker, when Firstline workers spend very little time in front of a computer. Microsoft recognized this challenge and began offering Kiosk plans. Those plans first evolved into the F1 plans and now Microsoft includes the F1 plan into their brand-new Microsoft 365 (M365) F1 bundle. The M365 F1 offering includes three major pillars – Office 365 functionality; a scaled down version of the Enterprise Mobility + Security Suite; and Windows 10. Microsoft has priced this product aggressively, which is less than a third of the cost of the regular Microsoft 365 E3 or E5 plans, while offering all the features and security your Firstline worker needs to be successful.
With the above in mind, when working within an environment where employees are already, or may soon start using M365 E3 or E5 licensing choices, and the Firstline employees within your business need more productivity capability or collaborative tools, the M365 F1 license is the perfect add on compliment. It gives your Firstline workers a very comparable and familiar selection of apps and security features to keep them connected, secure and productive.
Your Firstline workers can accomplish their duties more effectively by using Microsoft's robust toolset included in their F1 M365 offering. One of the many applications included is for workday management through StaffHub, which enables more effective information sharing and smarter schedule management. Your workers can also get 2GB business class email space through a rich Outlook browser experience paired with a 2GB OneDrive for Business storage account. In addition, Firstline employee can utilize applications including Teams, Skype for Business, and Yammer, which further enable real-time communication through virtual presence anywhere, anytime. Also included is the best productivity suite around - Office Online, which features Word, OneNote, PowerPoint, and Excel apps built into a browser portal. The suite is further empowered with Microsoft's creative collaboration apps, which include Sway, Stream, Flow, and PowerApps.
Key Metrics for M365 F1:

M365 F1 Accomplishes:
Fosters Culture & Community within the workplace by giving more decision-making power to the Firstline workers through visibility of more strategic goals of the company.
Exchange, Skype Meeting Broadcast,

Microsoft Teams

,

Yammer

,

SharePoint

Broadcast interactive town hall meetings
Keep everyone working together with teams
Share best practices utilizing social technologies
Minimizes costs and reduces risks associated with the challenge of connecting employees and their devices securely to core business systems.
Azure Active Directory Premium, Windows Hello, Credential Guard, Intune, Windows Defender AV, Windows Defender App Control, Windows Information Protection w/BitLocker, Windows Analytics Device Health

- Windows 10 S devices and give IT an easier to manage overall hardware solution
Helps achieve GDPR compliance
Streamline management across devices, including kiosks and signage
Secure Firstline employee access to corporate apps with identity-driven protection
Digitizes business operation between employee and customer as well as employee and vendor, no more paper needed, all in the cloud with M365.
MSFT StaffHub, PowerApps and Flow, Windows AutoPilot

Automate everyday activities and workflows
Optimize resource allocation using IoT-based signals
Communicate items like HR information, safety regulations, and updated workplace rules in a central location
Encourages employee training with intuitive education processes that give employees the chance to challenge themselves and work within their respective teams with more confidence.
SharePoint

, Microsoft Stream,

Yammer

Distribute onboarding materials and training to any device
Share dynamic, role-based content and video
Enable employees to find and build on the work of others
Delivers real-time expertise for your customers through live access to business data and processes on mobile phones and tablets giving the mobile worker's toolset the same power as the home office.
Connect across remote sites on any supported device
Crowdsource new ideas and solutions

Microsoft 365 F1 - What's Included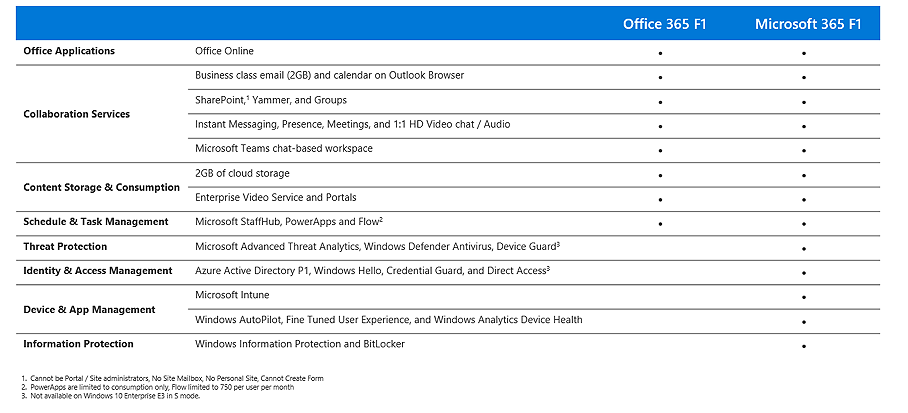 Learn More
If you would like to learn more about your options as you consider your cloud purchase for your Firstline workers, we'd love to help and show you how to get the most out of Microsoft licensing. Message or call us at 800-900-1150.
---
Related Article
Comparing Microsoft Office 365 F1 vs E1 Licensing Plans for Firstline Workers
About the author
Matt Scherocman brings more than 15 years of experience in the information technology industry to Interlink. His experience includes both the system integrator and manufacturer sides of the business. During his time at the Microsoft Corporation he was responsible for all the Large Account Reseller (LAR) relationships in the four-state Heartland Area of Michigan, Ohio, Kentucky, and Tennessee. Prior to Microsoft, Scherocman led a Cincinnati -based IT consulting company to grow 5000% and become a Microsoft Worldwide Partner of the Year. He is actively involved in the strategic vision and operation decisions of the company including finance, selling strategy and marketing. Matt holds a Bachelor of Science in Business degree from Miami University and is a Certified Expert in Microsoft licensing including speaking engagements at both Microsoft's Worldwide Partner Conference and Channel Partner Summit. He is a frequent contributor to leading industry publications.
Related Posts
Welcome to the Interlink Cloud Blog
Subscribe to our blog
By subscribing to the blog, you will be notified whenever a new blog post is created on the site.
All content provided on this blog is for informational purposes only. The owner of this blog makes no representations or warranties regarding the information from our partners or other external sources.