Convert your company's data into eye-catching and understandable visuals without the help of your IT team.
Companies like yours are using Power BI - a suite of business analytics tools that analyze data and share insights – to easily create and share interactive visualizations of key data with self-service business intelligence capabilities.
On December 13th, join Microsoft Interlink Cloud Advisors for an in-depth discussion on how Power BI can help your company with tools that allow you to easily compile, organize, and share company information through attractive visual charts and graphs.
In this online event, you'll get a comprehensive understanding of Power BI, including:
How the powerful tool works
Ways it helps connect and visualize your data
Dos and don'ts

Working with SQL Server data in Power BI

Costs, bundling with SQL Azure and licensing needs
Front End VS. Back End – what's the difference?
And more…
Save your seat today to learn how you and your team can use Power BI to easily create reports and dashboard by themselves.
---
WEBINAR INFORMATION:
Date: December 13, 2017
Time: 10:00 AM - 11:00 AM EST
This is a no cost event.
PRESENTERS:

SQL Practice Lead
Interlink Cloud Advisors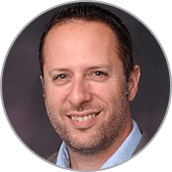 Mike Wilson
Managing Consultant & VP
Interlink Cloud Advisors