Licensing Optimization Methodology
From Enterprise Mobility + Security to Office 365 or Microsoft 365 or Windows E5, Microsoft Licensing can be a bit confusing. With different packages, add-ons and bundles that are constantly changing, knowing what's best for your business or what you may already have can be a challenge. That's why Interlink Cloud Advisor's works with you to find the best deal for your business.
Interlink has developed a 5 step plan for the best licensing practice. We start with:
Business Needs

Technology Requirements

Microsoft Solutions

Bundle Options

Best Licensing Program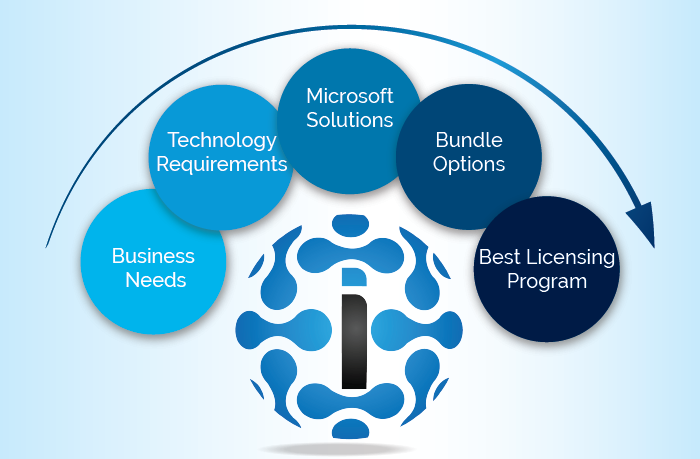 Let's break that down even further:
Business Needs
Interlink can help assess the needs of your businesses and identify potential user needs that would be effective in assisting your company run seamlessly. Does your business need a stronger IT infrastructure? What does that look like? Interlink will look at the current security posture, the number of endpoint users. We look at collaboration within your business and how to increase the effectiveness of communication and more. Interlink will walk you through the basics, to gain a clear understanding of how to find the best fit for your business.
Technology Requirements
Interlink can help analyze your technology requirements, meaning we also look at the current technology you have, the prerequisites, the number of users you have, compliance requirements and whether they are in-office, remote or both. We can then help you build out a roadmap of which technologies will help you meet your goals. This can include putting on workshops to educate your team, providing proof of concepts, and looking at the order of putting in new technologies to reduce integration rework. We educate your team on the licensing that you already have. Microsoft is always changing and enhancing their solutions and we want to make sure that are leveraging what you already own.
Microsoft Solutions
Interlink will listen and work with you to find the right Microsoft solutions for your needs. After assessing your business needs and technology requirements, we will make a recommendation based on your current licensing investments. There are numerous customizations that your business can use for security, compliance, communication and more. We will talk you through the best course of action, the benefits of Microsoft products and their functionality.
We will also discuss how to profile the functionality of different users sets so that you can optimize licensing spend by best matching the license to the needs of the user and leveraging things like the Frontline Worker plans.
If you want to know more about the recent Product and licensing changes, check out our recent webinar.
Bundle Options
Microsoft offers dozens and dozens of bundles as options for your user personas, and we can explore add-ons to different packages that will help give you options for functionality that you need today and what you might use tomorrow. Interlink is here to give you the most efficient option to save you money and time. We find the best fit for your business, through exploring and educating on the E5 Bundles, Information Protection & Governance, Insider Risk Management, Frontline Worker Bundles and more. There are multiple paths to choose from. Interlink will set you on the right path, with the best bundle scenarios for you.
Best Licensing Program
Understanding the true value of your licensing can be a difficult process. Interlink experts work hard to have a full comprehension of Microsoft products and Licensing and share that expertise with our customers. We teach and guide you through any questions or concerns regarding Microsoft Licensing and help you find the most effective and cost saving Licensing Program.
Microsoft is continuously evolving their solutions and evolving their licensing. With so many new updates, it can be confusing. View Interlinks webinar on 5 Major Microsoft Licensing Updates That You Need To Know. Discussing the new product launches and product updates.
Still seem overwhelming?
Don't worry Interlink will guide you along the way. Contact us to walk through Licensing Optimization Methodology and make the most of your business. Or if just need a quick review of your licensing to ensure that you aren't overpaying, we are happy to engage with our Licensing Health check!
About the author
Mike Wilson brings over 18 years of technology experience to Interlink. Prior to joining Interlink, he served as a Director of Technology for a mid-size insurance company and has led multiple consulting practices to substantial growth. In those roles, Mike delivered tremendous value for his customers by designing and implementing scalable, reliable and business aligned solutions. Mike's focus at Interlink is on leveraging the power of the Microsoft cloud to streamline IT operations in a way that reduces cost and allows businesses to refocus on core operations. He plays a key role in architecting projects and ensuring high standards in service delivery across the Interlink team. Mike earned a Bachelor of Science degree in Mathematics from the University of Cincinnati and is a proud graduate of St. Xavier High School. He is active in a number of local non-profits and has served on multiple non-profit boards and in executive leadership.
Related Posts
Welcome to the Interlink Cloud Blog
Subscribe to our blog
By subscribing to the blog, you will be notified whenever a new blog post is created on the site.
All content provided on this blog is for informational purposes only. The owner of this blog makes no representations or warranties regarding the information from our partners or other external sources.