What are the real differences between Office Pro Plus and Office 365 Pro Plus?
Office Pro Plus – is the version that is sold in volume licensing. It is the default package when purchasing under an EA agreement, Select, or new Microsoft Products and Services Agreement (MPSA).
Office 365 Pro Plus – is the version that is sold via Office 365. Subscriptions for Office 365 can either be purchased directly from the web portal or on a traditional licensing agreement like an Enterprise Agreement, Select, or new MPSA. It frequently is sold as part of the E3 or E4 packages.
While the majority of the features between the software packages are the same, there are some key differences to think about when you are making your purchase.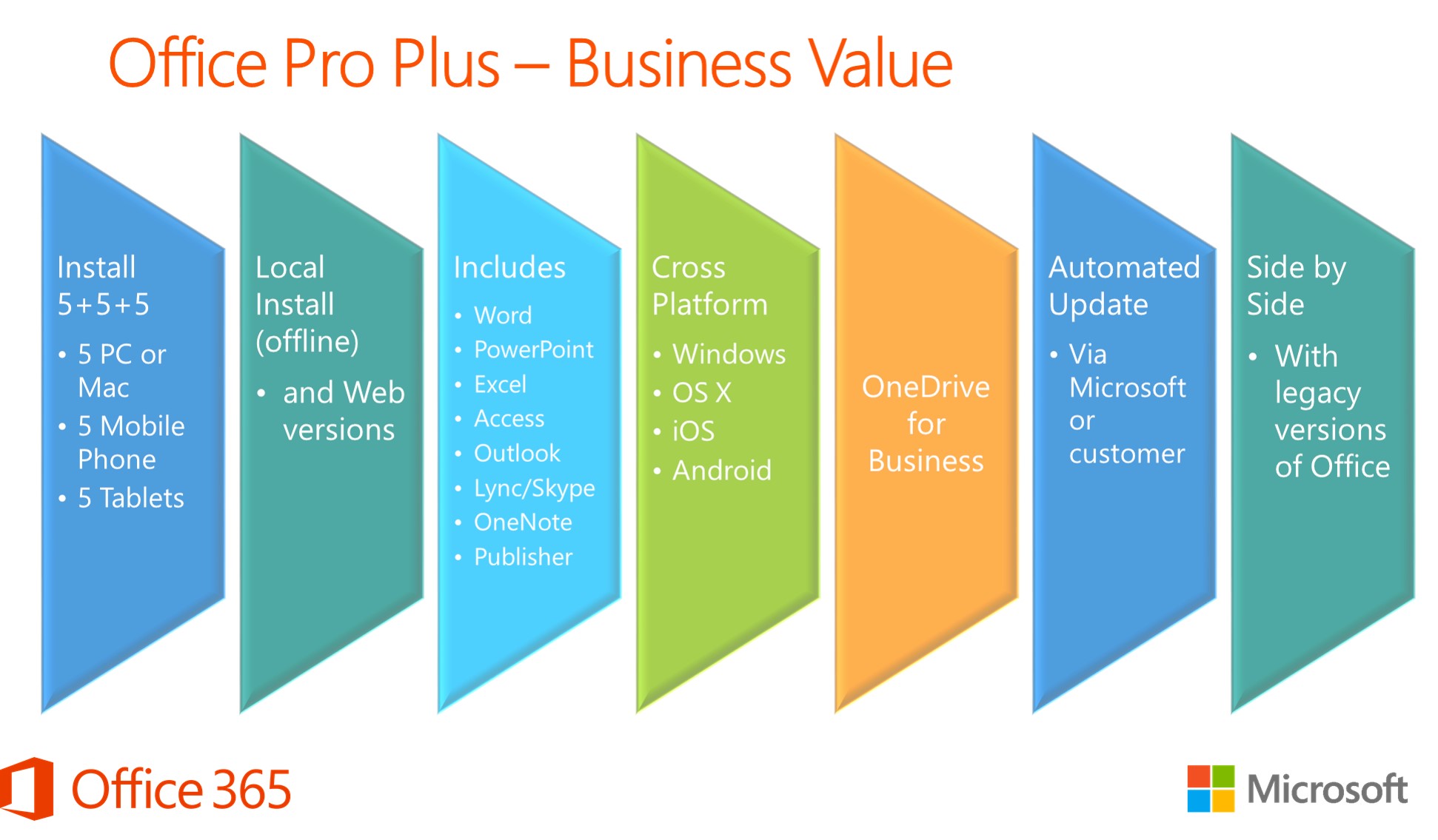 Multiple Installations: The rights to Office 365 Pro Plus grants multiple installation rights. So, each user is allowed to install Office on up to five PC or Mac devices! This can really save costs on paying for Office licenses on multiple machines, secondary tablets, VDI, or Remote Desktop (Terminal server) scenarios.
File storage and Sharing: Utilize OneDrive for personal cloud storage up to 1 TB. Share documents with others and have access to them anywhere outside your organization - all while controlling who who can access and see them.
Office Online: Real-time photo co-authoring all from your web browser.
Self-service Business Intelligence in Excel: Connect data with Power Query, model and analyze this data with Power Pivot, and visualize insights in interactive reports and maps with Power View and Power Map.
Mobile Use Rights: 365 Pro Plus also grants the rights to use the mobile and tablet versions of Office. This grants a user up to five installations of Office mobile (iOS, Android, and Windows Mobile) and up to five installations of the tablet version of Office (iOS and Android).
No downgrade rights: The only real downside to Office 365 Pro Plus is the requirement that users stay current with the software releases. Right now, Microsoft is indicating that end users will have up to one year to upgrade to the latest release. However, our prediction is that this window will keep shrinking.
On the upside: These updates allow users to have quick access to the latest and coolest features. Plus, while many consumers setup Office 365 Pro Plus to automatically download the updates – the majority of companies will setup Office 365 Pro Plus to have IT control when and how the updates will be rolled out.

On the downside: Users may have issues with plug-ins, especially in Outlook. Some of our clients, especially in regulated industries, also have long testing or acceptance periods.
We are seeing a strong trend from Independent Software Vendors (ISVs) to adjust their release cycle to Microsoft's, which helps the plug-in issues.

Many clients who have an Enterprise Agreement continue to own licenses from before their transition to the cloud. So, they can always use those Office 2013 licenses as their downgrade option.

Clients who have a major issue in this area should consider using Add-on licenses instead of full User Subscription Licenses (USL). The Add-ons are a little more expensive, but would continue to provide for a traditional Office license in addition to the Office 365 license – so you could have the best of both worlds. Lots of fine print here in the licensing details – see us for more guidance
Sold by User: Office 365 Pro Plus is licensed by user while Office Pro Plus is licensed by device. For our clients with more devices than users, Office 365 Pro Plus can lead to significant savings while they don't have to license multiple copies for the same user. For other clients, especially those with shift workers, they can see their costs increase. Instead of paying for one copy of Office installed on a single PC that is used by three shifts of employees, they would be licensing Office three times in a per user scenario. Our recommendation in these situations is either to continue to license Office on a per device basis or switch over their shift workers to the Office Web Apps versions which can be run out of a browser at a lower cost.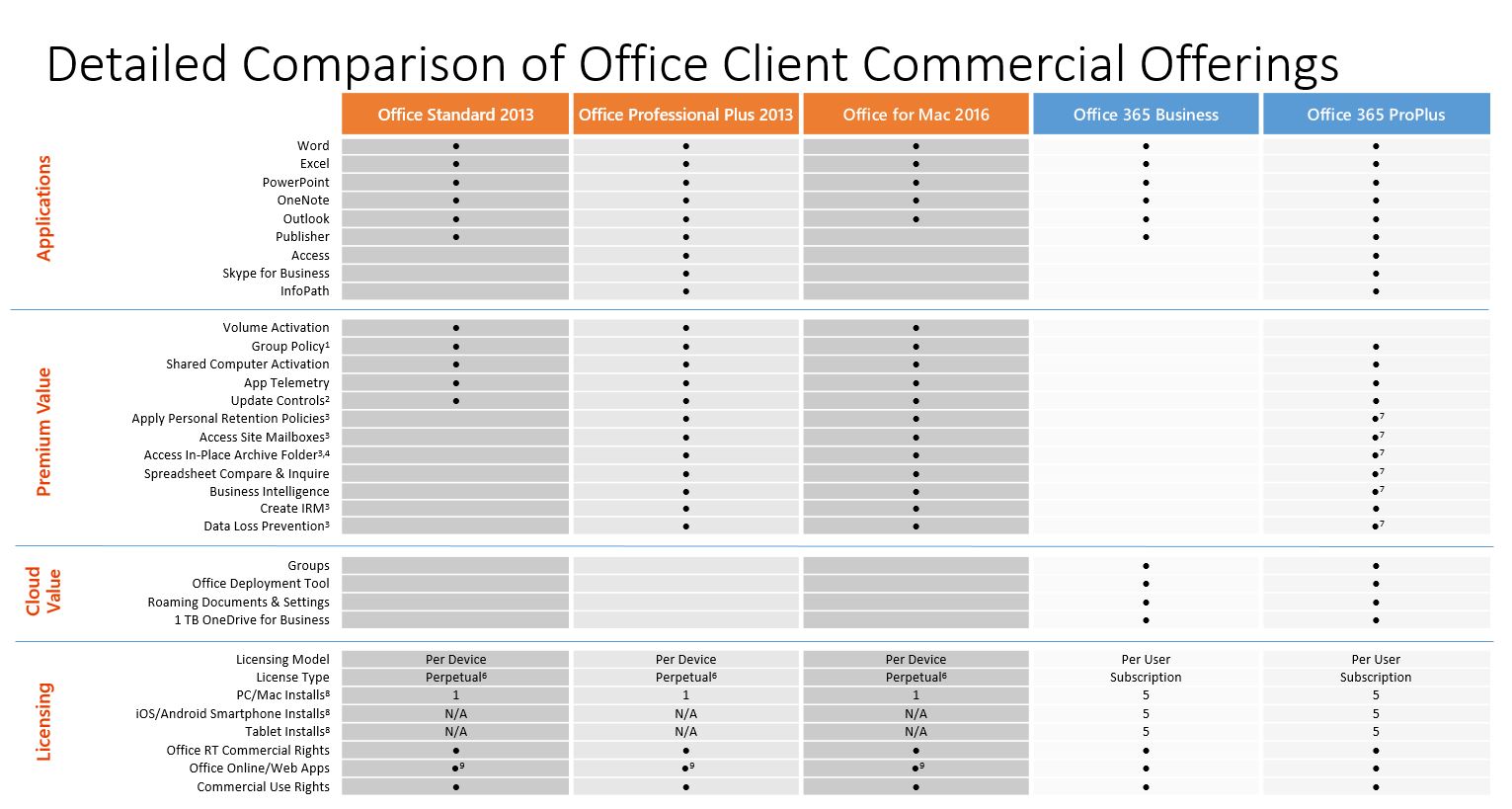 Related Posts
Welcome to the Interlink Cloud Blog
Subscribe to our blog
By subscribing to the blog, you will be notified whenever a new blog post is created on the site.
All content provided on this blog is for informational purposes only. The owner of this blog makes no representations or warranties regarding the information from our partners or other external sources.