On-Demand Webinar | How to Stay Secure & Productive with Microsoft's Enterprise Mobility + Security Suite
On-Demand Webinar & Slides

---
Are you looking to add a tighter level of security to your environment? Do you want to stay secure and productive on your favorite apps and devices?
In this on-demand event, Microsoft and Interlink Cloud Advisors show you the powerful new capabilities of Microsoft Enterprise Mobility + Security and how it ensures your critical company data is protected.
During this online event, see what's new through a live demo of EMS's E5 functionality and how it allows you to:
Lockdown your valuable data: Automatically classify information to better protect intellectual property with Azure Information Protection. Lock it down so, your competitors can see it and your existing sales people can't take it with them!
Secure the cloud: Drive security policies and reporting across Microsoft and non-Microsoft cloud services with Cloud App Security. Your data is being dispersed all over the global by using various SAAS services. Take back control and visibility – we'll show you how!
Control Administrator Account Access: Ensure that powerful rights are utilized appropriately. Privileged Identity Management gives the ability to grant access to admins only when required and limited to the resources needed.
Use Identity Protection: Ensure that users are accessing your environment following the policies that are required for your business. Automatically identify risky scenarios, take appropriate actions, and provide reporting.
In addition, we provide an in-depth licensing overview and comparison of EMS E5 vs. EMS E3 features and functionality. You'll also see how you can leverage Microsoft paid assessments and proof of concepts to see if EMS E5 is the right solution for your business!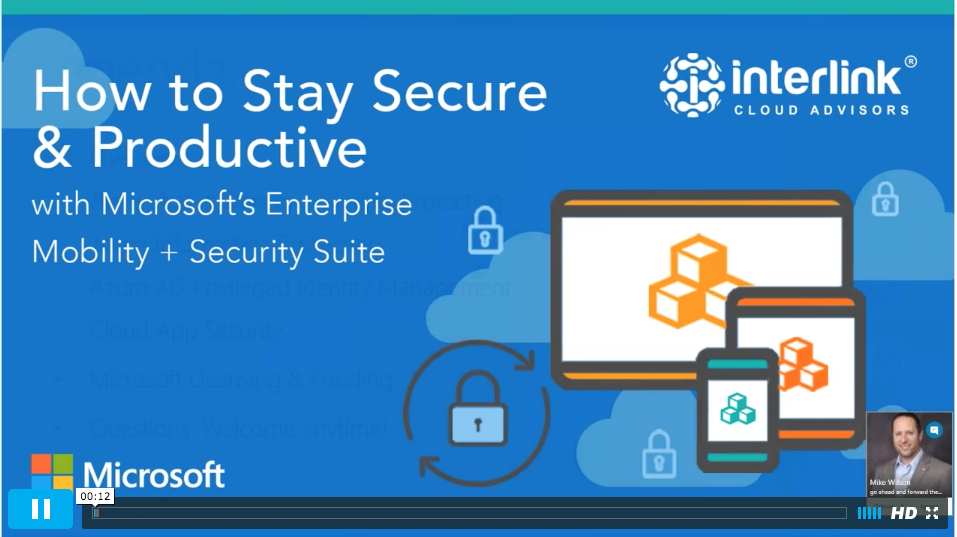 Click to instantly watch this information-packed webinar and download the slide deck.
---
PRESENTERS
Eric Inch
Eric Inch is a Technical Solutions Specialist - Mobility & Security for the Microsoft Corporation. He is responsible for helping clients deploy the EMS offering across their corporate account base.
Eric Brophy
Eric Brophy is a Senior Consultant for Interlink who has helped more than a hundred clients migrate their workloads to the cloud. He is badged by Microsoft and certified in their cloud technologies.
About the author
At Interlink, Sarah serves as the Operations Manager as well as a Senior Director of Client Engagement working with a broad spectrum of clients across Ohio, Kentucky and Tennessee, focusing in Cincinnati and Kentucky. She has a decade of experience in Office 365 Migrations, managed services, vendor relationships and product hardware quoting and purchasing. She is responsible for overseeing Microsoft partner relationships and strives to build meaningful, positive relationships with our clients.
Related Posts
Welcome to the Interlink Cloud Blog
Subscribe to our blog
By subscribing to the blog, you will be notified whenever a new blog post is created on the site.
All content provided on this blog is for informational purposes only. The owner of this blog makes no representations or warranties regarding the information from our partners or other external sources.