ON-DEMAND WEBINAR | Microsoft Executive Security Briefing: How to Better Protect Your User Identities, Digital Assets & Data

---
Is your company compliant & secure?
In the dangerous digital world of unpredictable threats, intelligent cybersecurity and compliancy with regulations like GDPR are critical. Microsoft offers multiple cybersecurity solutions in a wide variety of bundles, some that overlap with one another. Yet, navigating which ones that are right for your business can be an overwhelming task. Interlink is here to help!
Interlink teamed up with Microsoft for a special on-demand event that explains the layered cybersecurity options Microsoft offers. After watching the webinar, you'll have a solid understanding of how to better protect your user identities, digital assets, and data using these solutions - many of which you may already own.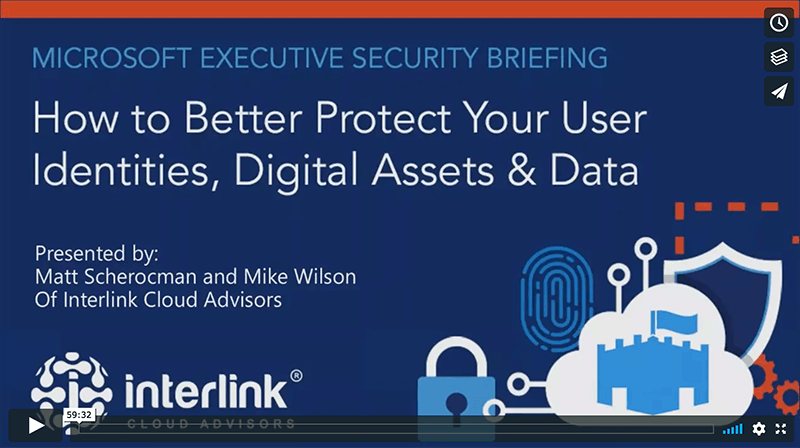 During this webinar, you will learn about:
What your peers are doing for security and compliance
Microsoft's overall security vision and story
Reducing the impact of phishing attacks
Microsoft's new Threat Intelligence offering
Different options and bundles available
What works and what doesn't
We'll also cover what protections other companies are actually deploying and the best practices with which to do so.
If you want to understand Microsoft's maze of cybersecurity offerings, view this webinar today.
Related Posts
Welcome to the Interlink Cloud Blog
Subscribe to our blog
By subscribing to the blog, you will be notified whenever a new blog post is created on the site.
All content provided on this blog is for informational purposes only. The owner of this blog makes no representations or warranties regarding the information from our partners or other external sources.