Upgrading to Office? Eliminate Potential Incompatibilities with Office Telemetry
Office Telemetry is a new monitoring framework tool, which collects the information you need to plan for a successful Office deployment. It helps you minimize the time that you spend assessing Office compatibility. It also reduces the risks of an Office upgrade and eliminates the guesswork over which documents and add-ins are critical and if they will be compatible with future updates.
Performance Insights Inside of Excel
Office Telemetry is a dashboard that is accessible through Excel. It gives you even more control over your documents and add-ins as you can quickly identify which ones are business critical and need to be given a higher priority. Telemetry as an Excel add-in also makes sharing reports between IT team members easy.
The framework provides administrators with aggregated insights into how documents are being opened, who is opening them and any problems end users may be experiencing, such as version compatibility issues. It also automatically monitors the health and stability of your documents and add-ins. Additionally, when Telemetry detects something is wrong it provides potential solutions that you can deploy across all the affected Office apps.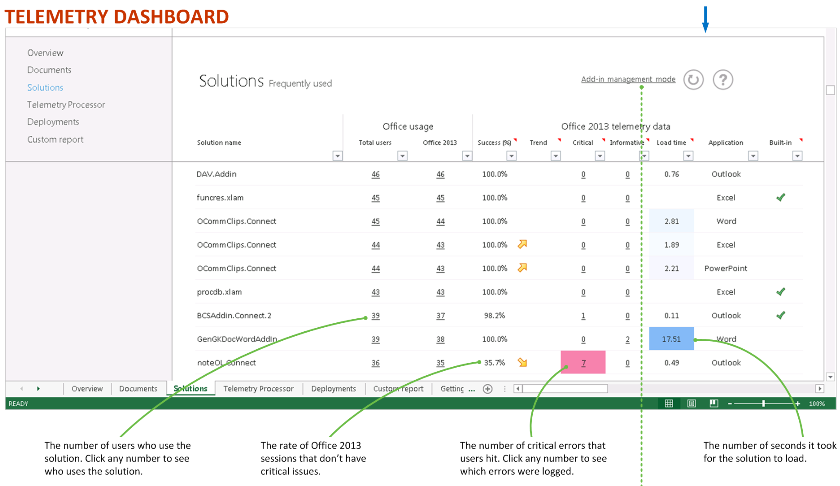 Office Telemetry: An Uncomplicated Office Update Experience
Telemetry is especially important during Office updates, where documents and add-ins may not be compatible with the new version. It reduces the compatibility testing process by offering detailed explanations and solutions that ensure minimal disruption for end users.
Before Telemetry, updating to a new version of Office or installing new add-ins, meant spending a lot of time analyzing if and how the updates would impact end user access to critical documents and Office functions. Plus, collecting the data meant collecting direct end user feedback and experience; which may be impacted by other issues on the PC or their opinions. Now, with Telemetry working in the background constantly collecting Office performance data, you'll be able to quickly decide the best way to approach updates to your Office environment.
Contact Interlink to take the compatibility guesswork out of upgrading to Office with Office Telemetry today.
About the author
Matt Scherocman brings more than 15 years of experience in the information technology industry to Interlink. His experience includes both the system integrator and manufacturer sides of the business. During his time at the Microsoft Corporation he was responsible for all the Large Account Reseller (LAR) relationships in the four-state Heartland Area of Michigan, Ohio, Kentucky, and Tennessee. Prior to Microsoft, Scherocman led a Cincinnati -based IT consulting company to grow 5000% and become a Microsoft Worldwide Partner of the Year. He is actively involved in the strategic vision and operation decisions of the company including finance, selling strategy and marketing. Matt holds a Bachelor of Science in Business degree from Miami University and is a Certified Expert in Microsoft licensing including speaking engagements at both Microsoft's Worldwide Partner Conference and Channel Partner Summit. He is a frequent contributor to leading industry publications.
Related Posts
Welcome to the Interlink Cloud Blog
Subscribe to our blog
By subscribing to the blog, you will be notified whenever a new blog post is created on the site.
All content provided on this blog is for informational purposes only. The owner of this blog makes no representations or warranties regarding the information from our partners or other external sources.