Transform Your Business with Skype for Business...and Save $$$
Like most businesses, your environment is ever-changing, and keeping up with all the new and constantly updating software applications and devices can get quite cumbersome. It often detracts focus from larger, or more critical, business projects and agendas. These changes are happening so frequently that many businesses are investing some of their dollars in to communications. Whether it's a chat solution, video conferencing system or some other files sharing application, you're most likely in the same ball park. This is where many businesses fail to adequately determine actual business requirements and establish some level of governance and standardization, which often leads to IT having to manage multiple platforms or applications to support end users. I'm sure you don't want to negatively impact your IT staff's productivity either.
Skype for Business is a simple and affordable option. Yes, that's right. You heard me correctly. Skype for Business is not just a video chat tool anymore, as it now offers instant communication via phone call, video, conferencing, screen share, file sharing, and provides users flexibility and efficiency to work from their PC, laptop or mobile device.
Skype for Business User Experience
Now let's talk about the user experience…
Because Skype for Business has become a household name, you won't have to worry about many of the issues that come with integrating a new communications system into your current environment. Many of your employees may already be using the personal, free to use option of Skype at home. The ability to instantly message with your co-workers and others in your network is still available. This feature is most commonly used and is easy to adapt. Because your employees will have prior knowledge of Skype for Business, problems understanding and using the tool will be less likely. And now, without leaving Skype for Business, employees can share files instantly. You no longer need to leave your chat program, find the file, go to your email, attach the file and send it. This could take minutes and if you have threat protection software, maybe even longer. Share files in seconds with instant messenger.
Additionally, Skype for Business provides voice-over-IP (VoIP). This allows your employees to call each other over your network and Skype users all around the world. Users can easily add video or content sharing to any call.
To say that communication and collaboration have become more efficient is an understatement. With Skype for Business, you can now conference in 250 people at a time. This provides much more flexibility and the ability to involve more departments at once, opening communication and preventing teams from working in silos.
For example, a company has a project update meeting once a week. Instead of everyone filing into a conference room or calling in on multiple phones, with Skype for Business everyone can call into the same meeting and the content can be shared through video. They can see the same information and there's little to no confusion about how the technology will work. No more headaches for companywide meetings.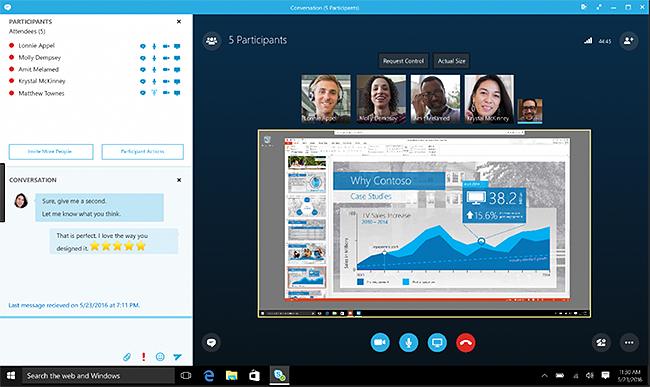 With many options available on Skype for Business, we guarantee that we can find the options that work for you and your teams communication and collaboration needs.
Get More Information on Skype for Business
For more information on how Skype for Business and Interlink Cloud Advisors can help your business, please contact us today.
About the author
Matt Scherocman brings more than 25 years of experience in the information technology industry to Interlink Cloud Advisors. His experience includes both the system integrator and manufacturer sides of the business. During his time at the Microsoft Corporation, he was responsible for all the Large Account Reseller (LAR) relationships in the four state Heartland Area of Michigan, Ohio, Kentucky, and Tennessee. Prior to Microsoft, Scherocman led a Cincinnati based IT consulting company to grow 5000% and become a Microsoft Worldwide Partner of the Year. He is actively involved in the strategic vision and operation decisions of the company including finance, selling strategy and marketing. Matt holds a Bachelor of Science in Business degree from Miami University and is a Certified Expert in Microsoft licensing including speaking engagements at both Microsoft's Worldwide Partner Conference and Channel Partner Summit. He is a frequent contributor to leading industry publications.
Related Posts
Welcome to the Interlink Cloud Blog
Subscribe to our blog
By subscribing to the blog, you will be notified whenever a new blog post is created on the site.
All content provided on this blog is for informational purposes only. The owner of this blog makes no representations or warranties regarding the information from our partners or other external sources.