Top 5 Benefits of Microsoft Azure SQL Database
The question of whether or not to put your business data in the cloud is getting easier and easier these days and a lot of that is thanks to Microsoft's investment in Microsoft Azure. Their strategy to create an infrastructure, like Microsoft Azure SQL Database, that can manage big data (as big as petabyte-scale) and everything on down from that is working and it's working well.
The advancements made in SQL Database are making it more and more possible businesses of all sizes to save money and scale up or down efficiently. Below are the top five benefits that companies are realizing with SQL Database as their database service:
1) Scalability and Beyond
First of all, flexible service plans for SQL Database meet the needs of both big and small business users. SQL is no longer way out of reach for smaller operations because the pricing structure allows users to pay as little as $4.99 per database per month with a maximum storage set at 150 GB per database. That's a lot of space for very little cost.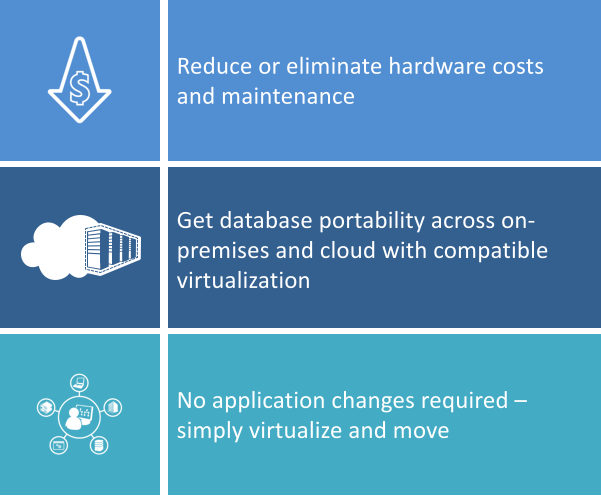 2) High Speed and Minimal Down Time
High availability architectures mean high speed connectivity and data retrieval as well as low down time at your organization. There's nothing worse than stopping business because your technology can't keep up, but that is no longer a problem with SQL Database.
Secondly, companies can add application instances as needed through sharding, for example. Sharding is a type of database partitioning that separates very large databases into smaller, faster, more easily managed parts called data shards. Not only can you spin nodes up and down on demand, you can leverage a federation infrastructure to scale more easily without affecting other areas of the server. SQL Azure Federation Data Migration Wizard can even further automate this process, which impacts your organization and the employees much less.
Lastly, there are multiple levels of implementation that you can benefit from. If you just need a website and a database, you can hitch a SQL Azure instance to an Azure website and you're done! If you need a full-blown virtual machine(VM) now or even down the road, you can get that as well. You can even use a locally deployed instance of SQL Server in the VM instead of SQL Azure. These implementation options help make your company more adaptable to the inevitable changes it undergoes on a regular basis. With SQL Azure, you're not stuck. You're on a foundation that encourages growth while working with it!
3) Improved Usability
SQL developers are familiar with all things SQL and SQL Database can be updated with SQLCMD or the SQL Server Management Studio. Better yet, there's no coding required! Using standard SQL, it's much easier to manage database systems without having to write or update a huge amount of code.
4) Time Is On Your Side
With no administrative duties on your physical location, employees can take time for strategic work to advance and grow all-around business success. When your database is hosted in the cloud, you don't have to deal with setting up SQL Server, apportioning databases, and dealing with physical machine maintenance and upkeep. All of this results in better alignment of your organization and ultimately more time on your side.
5) Easy-to-Use Migration Tools
Ramp up time with SQL Database is now easier than ever and free! SQL Data Sync allows you to either sync your SQL Server-stored data or migrate the data without having to worry about the costs to migrate by syncing gigabyte-sized tables.
Take into account all that SQL Azure has to offer and contact us at Interlink if you have any questions.
About the author
Matt Scherocman brings more than 15 years of experience in the information technology industry to Interlink. His experience includes both the system integrator and manufacturer sides of the business. During his time at the Microsoft Corporation he was responsible for all the Large Account Reseller (LAR) relationships in the four-state Heartland Area of Michigan, Ohio, Kentucky, and Tennessee. Prior to Microsoft, Scherocman led a Cincinnati -based IT consulting company to grow 5000% and become a Microsoft Worldwide Partner of the Year. He is actively involved in the strategic vision and operation decisions of the company including finance, selling strategy and marketing. Matt holds a Bachelor of Science in Business degree from Miami University and is a Certified Expert in Microsoft licensing including speaking engagements at both Microsoft's Worldwide Partner Conference and Channel Partner Summit. He is a frequent contributor to leading industry publications.
Related Posts
Welcome to the Interlink Cloud Blog
Subscribe to our blog
By subscribing to the blog, you will be notified whenever a new blog post is created on the site.
All content provided on this blog is for informational purposes only. The owner of this blog makes no representations or warranties regarding the information from our partners or other external sources.