Three Ways Microsoft Enterprise Mobility Suite (EMS) Has Changed Everything
Looking at how technology has evolved, the cloud has certainly changed everything in terms of how we do business and what's expected of us as a company. The cloud has created a ton of benefits and possibilities, like the promise for users to be able to work anywhere on any device. That flexibility also created several challenges. Those challenges include security, device management, and data protection.
The evolution in Microsoft mobility and cloud technology has changed everything once again with the introduction of Microsoft Enterprise Mobility Suite (EMS) - the only enterprise mobility solution designed to help manage and protect users, devices, apps (PC or mobile), and data with a layered approach. EMS protects the gamut of apps including iOS, Android, Windows, Windows 10, and connects with 2,500+ popular SaaS apps. And it costs 58% less than standalone products from other vendors.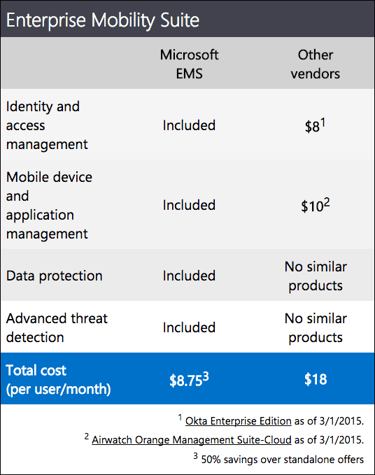 These are all very enticing high-level benefits, for sure, but let's get down to the important details that really show how EMS changes everything for the better…
Security and Access Management
If login steps and sign in information are different for every device that your employees need to sign into, what generally happens? A busy and bogged down IT help desk that results in frustrated employees…to say the least. Mobile applications should help employees be more productive and Microsoft has taken a whole new approach to employee self-service and a seamless single sign-on experience.
Microsoft Azure Active Directory Premiumprovides secure single sign-on for all applications from the cloud and existing on premise environments. When employees have just one username and password to remember as well as a consistent and intuitive use experience from any device and within any application, productivity shoots way up. What does this mean? No more lost time on resetting passwords and an IT desk that can perform more strategic tasks for the business.
Even though it's a simpler process to sign in, it doesn't mean security has lightened up! Microsoft Identity and Access Management Solutions help IT protect access and applications with additional levels of validation such as multi-factor authentication on their own cell phone and conditional access policies. Advanced security reporting, auditing, and alerting monitors suspicious activity 24/7 and notifies you of malicious attacks and security issues immediately.
See exactly how Microsoft Cloud Identity and Access Management works - view the infographic.

The problem with mobile devices making their way into the business scene is that managers and organizations lose knowledge of where their critical data is located. Whether employees are bringing their own device (BYOD) or using the company's devices, security and protection are top-of-mind concerns. Phones and tablet's portability make them excellent targets for theft and being lost.
Microsoft's new built-inMobile Device Management (MDM)can now put user minds at ease. Microsoft Intune is an MDM enhancement now included in the mobility suite that essentially provides business-grade device management, but with more comprehensive administrative features like mobile device application management across Windows, iOS, and Android as well as a simplified administration via a single management console. Intune can stand alone or can be integrated with System Center Configuration Manager, to manage devices and apps all from the cloud or from an on premise environment from a single management console.
When a device is enrolled, employees can benefit from the ability to easily install corporate apps from a self-service Company Portal and seamlessly access corporate resources with the correct security configurations automatically in place.
And when a device is unenrolled due to being lost, stolen, or retired from use, then corporate data and applications are automatically removed.
This consistent management of all mobile devices sets the stage for ultimate productivity that your employees are sure to appreciate, but it also keeps your company and business data safe. Mobility and the cloud no longer have to mean security concerns.
Protecting how users sign in and access certain apps and documentation is one thing, but protecting data from sophisticated malware and hackers is yet another area of constant security concern. Attacks and threats have become more mainstream than ever before and without a strong defense system, most companies are unfortunately at risk of losing customers and control of trade secrets or even their competitive edge. Did you know, the average cost of a data breach to a company is $3.5 million dollars? The risk is real and Microsoft answers strong with Microsoft Advanced Threat Analytics (ATA).
Machine learning now makes it possible to apply behavioral analytics to uncover suspicious activity so that you can more quickly detect threats or breaches to your system. ATA is fast, it learns and adapts as your environment and risks change, it's simple by showing an attack timeline, and it alerts you when attention is needed.
How is this any different than past data protection software?
Take a look at how it works…
With deep packet inspection technology, ATA analyzes all Active Directory traffic.

ATA leverage

s

machine learning to profile behaviors of users, devices, and resources to map out what is normal and what is abnormal.

ATA looks for any red flags, leveraging security research to detect known attacks and security issues

in the network.

ATA alerts you of the suspicious activity with

clear and actionable information on a simple attack timeline. You can see how far along it is and what needs to be done immediately to avoid costly attacks from going too far.
In conclusion, the cloud has changed everything, this is true. Now, Microsoft's Enterprise Mobility Suite brings better security to the cloud as well as on mobile devices, answering the common security threats we see every day as well as alleviating the frustration of employees when having to sign on to multiple apps.
About the author
Matt Scherocman brings more than 25 years of experience in the information technology industry to Interlink Cloud Advisors. His experience includes both the system integrator and manufacturer sides of the business. During his time at the Microsoft Corporation, he was responsible for all the Large Account Reseller (LAR) relationships in the four state Heartland Area of Michigan, Ohio, Kentucky, and Tennessee. Prior to Microsoft, Scherocman led a Cincinnati based IT consulting company to grow 5000% and become a Microsoft Worldwide Partner of the Year. He is actively involved in the strategic vision and operation decisions of the company including finance, selling strategy and marketing. Matt holds a Bachelor of Science in Business degree from Miami University and is a Certified Expert in Microsoft licensing including speaking engagements at both Microsoft's Worldwide Partner Conference and Channel Partner Summit. He is a frequent contributor to leading industry publications.
Related Posts
Welcome to the Interlink Cloud Blog
Subscribe to our blog
By subscribing to the blog, you will be notified whenever a new blog post is created on the site.
All content provided on this blog is for informational purposes only. The owner of this blog makes no representations or warranties regarding the information from our partners or other external sources.