The New OneDrive For Business
Microsoft has made significant improvements to their backup, syncing and sharing client - OneDrive for Business and has had an amazing 179% growth in active usage. The new client builds on the strength of the Consumer client for OneDrive and adds the features that businesses need like:
· Consolidated single sign on to Office 365 tenant
· Clear corporate ownership of data
· Attractive web and mobile interfaces - now iwth offline capabilities
· Shared and improved desktop-folder syncing
· Real-time coauthoring in Office with notifications of others' edits
· Increased mobile functionality
Let's break down some of the new features and improvements to OneDrive for Business.
---
Solidified Syncing
First, the syncing process is solidified and more reliable with the new "next generation sync client (NGSC)" for companies. The new mobile clients allow access to both the Consumer and Business editions of OneDrive from the same app. The sync limit has been lifted to now allows individual files up to 10 GB in size and has removed the 20,000 file sync limit. As an added IT bonus, you can configure and deploy the client silently to help benefit the client on behalf of your users. Selective sync is also available – so you can select the files that are needed on each device that you are syncing.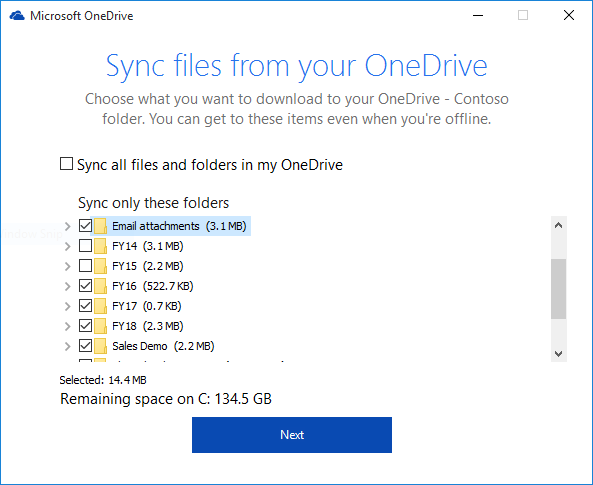 Browser Experience & Sharing
The new browser abilities make sharing files quicker and easier. There is a new, easy to access command bar, tile or list view options, and enhanced sharing options. Therefore, the new browser experience lets you have more flexibility with new sharing features: link forwarding, non-sign in options, and even the option to add an expiration date.
Mobile Updates
In addition to OneDrive for Business being more flexible in sharing, there are now more mobile options. Recently released was a new OneDrive app for Windows 10 Mobile, which offers all the essential capabilities to view, edit, delete, share and upload files onto both your personal OneDrive and OneDrive for Business storage services. Offline flagging in the mobile Android apps lets you work unconnected. New PDF annotating abilities in the iOS app also add essential capabilities to the mobile work space.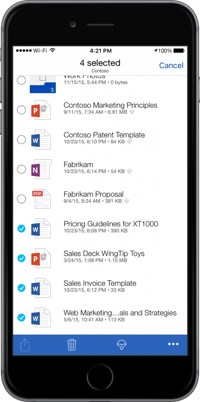 Amplified Control
With more file-sharing capabilities and document access comes the need for new and improved controls and managing options for OneDrive for Business. These new controls will allow for governance of external sharing, limiting external sharing permissions, managing external sharing domains, and even auditing of external sharing invitations. For example administrators can turn on or off external sharing for single users. Administrators will also be able to limit sharing by domain in the near future.
---
Interested in learning more about OneDrive for Business, seeing it in action, or utilizing its abilities?
Contact us here or give us a call at 1-800-900-1150.
About the author
Matt Scherocman brings more than 15 years of experience in the information technology industry to Interlink. His experience includes both the system integrator and manufacturer sides of the business. During his time at the Microsoft Corporation he was responsible for all the Large Account Reseller (LAR) relationships in the four-state Heartland Area of Michigan, Ohio, Kentucky, and Tennessee. Prior to Microsoft, Scherocman led a Cincinnati -based IT consulting company to grow 5000% and become a Microsoft Worldwide Partner of the Year. He is actively involved in the strategic vision and operation decisions of the company including finance, selling strategy and marketing. Matt holds a Bachelor of Science in Business degree from Miami University and is a Certified Expert in Microsoft licensing including speaking engagements at both Microsoft's Worldwide Partner Conference and Channel Partner Summit. He is a frequent contributor to leading industry publications.
Related Posts
Welcome to the Interlink Cloud Blog
Subscribe to our blog
By subscribing to the blog, you will be notified whenever a new blog post is created on the site.
All content provided on this blog is for informational purposes only. The owner of this blog makes no representations or warranties regarding the information from our partners or other external sources.