Solve Your Licensing Conundrum with Microsoft's New Secure Productive Enterprise (SPE) Licensing Bundle
Interview with Matt Scherocman – Licensing Wrangler and President of Interlink Cloud Advisors
---
Slashing through the dense thicket of software licensing often requires the wisdom of Solomon, the patience of Job, and an army of product experts. Understanding and sourcing your Microsoft licensing is like pouring over the Cheesecake Factory menu. But instead of deciding between hundreds of appetizers, lunch or dinner dishes, you must wade through pages of operating systems, applications, and security solutions.
"The entire licensing process has always been a problem for companies," says Matt Scherocman, President of Interlink Cloud Advisors. "Thankfully Microsoft is doing something about it."
That "something" is Microsoft's new Secure Productive Enterprise (SPE) offering that may make licensing headaches a thing of the past. SPE is a secure, desktop licensing bundle that is sold by user. Before getting to this new, streamlined offering, however, Microsoft has taken us on a bit of winding branding and bundling journey.
Individual Product vs. Bundled Purchases
When buying licenses for Office 365, you have an a la carte menu of 25+ separate products. Microsoft has taken these individual options and grouped them into 10+ different bundles. The most popular for business is Office 365 E3 which contains Exchange email, SharePoint, full Office Professional and all the basic collaboration functionality. Microsoft then added three new sets of technologies – Security, Analytics, and Voice – into a new bundle called Office 365 E5 - a new brand that elevated E3 beyond simply Office 365 to a new level of functionality with other Microsoft products. SPE takes it a step further by essentially grouping these bundles with their Enterprise Mobility + Security Suite (EMS), and Windows Desktop to provide a full set of tools per user.
Confused yet? Don't be. SPE simplifies things.
SPE is a combination of Office 365, the Enterprise Mobility + Security Suite (EMS), and Windows Desktop Upgrade licensing. It is sold in two different packages.
SPE E3 including Office 365 E3, EMS E3, and Windows 10 Enterprise E3
SPE E5 includes Office 365 E5, EMS E5, and Windows 10 Enterprise E5
Want to learn more about the functionality in each bundle? View the SPE E3 & E5 Suites summary sheet summary sheet covering what Microsoft includes in the SPE Suites - both E3 & E5. Includes pricing.
The difference between the two is that in SPE 5 you get increased security functionality, business intelligence, and full Cloud PBX and conferencing functionality.
The Advantages of SPE
"Purchasing these products with SPE is really in your best interest," Scherocman continues. "You get a bigger discount and since you're buying what Microsoft wants you to buy, the opportunity for negotiating a favorable deal rises significantly."
Although it initially may not seem like it, Scherocman stresses that Microsoft's goal is to simplify the complex licensing process.
"They're saying 'we're going to give you a ton of software with an attractive discount if you buy these bundles,'" he explains. "They really aren't trying to make licensing painful and they believe this will make the process much simpler and cost effective."
The numbers prove their point. According to their estimates, licensing all the products you need – data classification, server security, endpoint protection, compliance solution, advanced security, advanced analytics, and voice – from multiple vendors would cost $124 a month. Buying each product as a standalone from Microsoft drops the cost to $57. Purchasing everything in an SPE bundle costs only $32 – a 75 percent price reduction.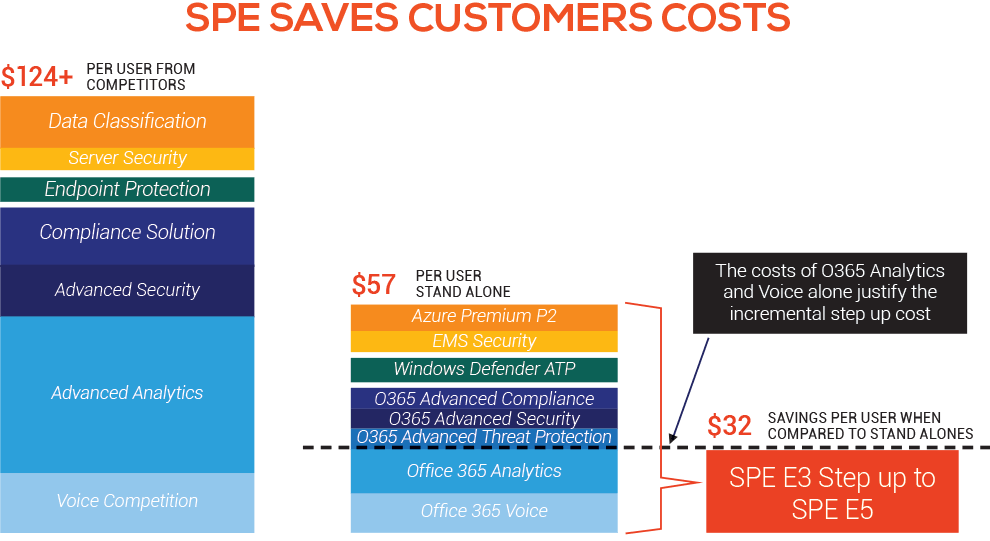 But there is another major advantage to going the SPE route in addition to cost savings - vendor consolidation.
"Maybe, today, you're paying McAfee for endpoint protection, Symantec for data classification, Cisco for security and mixing and matching products from all those different providers," Scherocman explains. "That's a waste of time and resources. When something doesn't work, you must go back to all these different vendors. Plus, you have to manage licensing agreements, keys, and credentials from all of these different vendors."
"With SPE, all these applications work together," he continues. "For example, if your Skype meetings are enabled with PSTN calling, you can call in without having to join via a computer. That functionality is all built in with Office 365 and enabled with your SPE licensing. In addition, you can now make it your phone system so you can have it call you to join the meeting or call directly out to add someone to the conference. The level of integration available is pretty awesome." "Another example would be having conditional access, if an employee is logging in from a risky IP address, then the software could automatically require multifactor authentication – similar to your bank sensing that you are connecting from a unique PC."
Time to Consider SPE
You are likely facing a renewal or new purchase decision regarding a Microsoft product. As you ponder your choices, it's in your best interest to at least consider the SPE bundle options.
"This is an entirely new re-branding effort from Microsoft," Scherocman says. "Companies should at least take the time to understand what's being put into these bundles because it's a lot of functionality for the price."
Licensing is complicated enough without having to deal with a tangle of separate products from different vendors. With SPE, Microsoft is making it easier to manage the problem and offering additional functionality by combining it all in one solution. This not only simplifies your licensing issues but also enhances the overall functionality of your key applications.
Most importantly, you don't have to navigate the transition on your own. Interlink Cloud Advisors can provide the support and guidance you need.
"The reason Interlink can help you," says Scherocman, "is because we're one of the only companies that actually understands the capabilities and functions of each of the features in these bundles, what you're trying to accomplish as a business, and which of the licensing bundles best meets your needs and budget. We not only know the features, we understand the licensing complexities of each and can recommend the best solutions for you."
Getting a solution that fits your business, that makes life simpler.
---
Contact Interlink today to learn more about your licensing options with Microsoft's new Secure Productive Enterprise (SPE) offering.
About the author
Matt Scherocman brings more than 25 years of experience in the information technology industry to Interlink Cloud Advisors. His experience includes both the system integrator and manufacturer sides of the business. During his time at the Microsoft Corporation, he was responsible for all the Large Account Reseller (LAR) relationships in the four state Heartland Area of Michigan, Ohio, Kentucky, and Tennessee. Prior to Microsoft, Scherocman led a Cincinnati based IT consulting company to grow 5000% and become a Microsoft Worldwide Partner of the Year. He is actively involved in the strategic vision and operation decisions of the company including finance, selling strategy and marketing. Matt holds a Bachelor of Science in Business degree from Miami University and is a Certified Expert in Microsoft licensing including speaking engagements at both Microsoft's Worldwide Partner Conference and Channel Partner Summit. He is a frequent contributor to leading industry publications.
Related Posts
Welcome to the Interlink Cloud Blog
Subscribe to our blog
By subscribing to the blog, you will be notified whenever a new blog post is created on the site.
All content provided on this blog is for informational purposes only. The owner of this blog makes no representations or warranties regarding the information from our partners or other external sources.