Skype for Business and Microsoft Teams Parity – True or False?
Are you currently using Skype for Business and skeptical about a move to Microsoft Teams? You aren't alone. Ever since Teams was released, there has been a huge push for feature parity between the two technologies due to concern that Teams will lack the same capabilities.
It's been just over a year since the Teams launch, and Microsoft claims to have reached a true parity with Skype for Business (SfB). In the Microsoft July Update, Microsoft stated that most features minus a few Enterprise Voice features are still pending on the roadmap. However, upon close inspection, several native features are now referred out to 3rd party solutions (e.g. Whiteboard).
According to reviews and our Interlink experts, there is not a true parity between the two – yet. Teams has recently added a few key elements from Skype Online, that had previously been missing:
However, Teams is still missing some key features or they work significantly differently some examples:
Screen Sharing – this is a feature of Teams but the user must start a call first before starting screen sharing, whereas in Skype the user has the option to share a screen while chatting (This is on the roadmap for future updates to Teams)
Multiple Windows – the ability to have a full-screen conference and a separate chat conversation going at the same time. Teams will allow you to do both, but will automatically minimize the presentation window. This can be frustrating when you are trying to "chat" with a colleague on what you are seeing on the other screen.
Phone Dial Back – The ability to have the meeting call you as you are dialing in. Instead, Teams requires you to be in the meeting first and then dial back out. This can cause confusion while a user is showing as "in the room" but may not be connected to audio yet.
Although Teams is not quite at a feature parity with SfB, it still has very notable features with an enhanced user experience. For many, Teams is starting to rule over Skype because of its other collaboration features and functionality built in.
Benefits with Teams
Collaboration Functionality – The ability to have a voice and/or video call while being able to move around inside of the Teams client, collaborate on a shared document
Voice Functionality – Is exceptional, but needs improvement on the feature set; this is on the roadmap for future updates

Meeting transcription and translation – Teams has voice message transcription and translation built into their meetings
Teams has adopted all the Skype online calling features and Microsoft is adding more Skype on-premises voice features to Teams in the future

SharePoint/OneDrive access from Teams Client – The ability to look for files in OneDrive/Teams/SharePoint or view previous chats or other Team Channel information while in a meeting all in the same client
Teams Direct Routing for Hybrid Voice – No need for Skype servers in the datacenter for Hybrid voice
Teams is adopting all the same capabilities of SfB and if Teams does not have it now, it is a work in progress for the near future. SfB will start being phased out over time and Teams is the best new technology for collaboration in the workplace.
To compare the features of each technology directly, look at the chart below.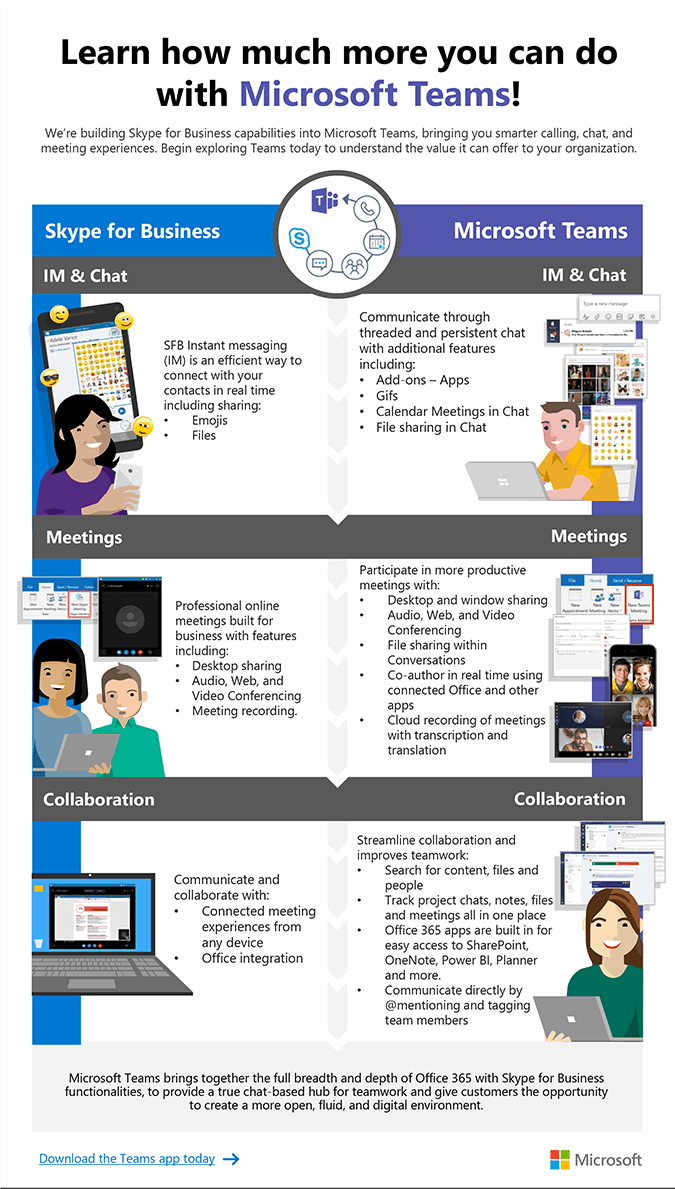 How Can We Help?
As soon as Teams was released, Interlink's experts have been keeping up to date with Microsoft's latest updates and features for Teams. Our engineers have worked on numerous upgrades from SfB to Teams and are available to answer any questions or concerns. With experience in both technologies, Interlink has the knowledge to compare them and implement Teams in your companies' current environment or help get you started with upgrading from SfB. Find out more on how Teams can improve company collaboration and contact us today for further information.

About the author
Aaron is a Senior Consultant at Interlink Cloud Advisors. His specialties include Microsoft unified communications and core infrastructure solutions: Lync Server Enterprise Voice with full PBX integration AudioCodes/NET VoIP media gateways OCS 2007 Exchange Office 365 Active Directory Windows Server Teams
Related Posts
Welcome to the Interlink Cloud Blog
Subscribe to our blog
By subscribing to the blog, you will be notified whenever a new blog post is created on the site.
All content provided on this blog is for informational purposes only. The owner of this blog makes no representations or warranties regarding the information from our partners or other external sources.