Simultaneous Editing in Office 365
With simultaneous editing in Office 365 your employees can save time by working together on the same document and can easily bounce ideas off of each other. In the past, employees would have to email the file and keep updating it as they made changes. Now they can make all the changes on the same document avoiding countless emails back and forth. This synthesizes all the work onto the same document, so there is no longer multiple versions of the same document.
For example, your team can work in Web Apps for a collaborative working meeting to get a shared project done. If someone on your team isn't available that teammate can chose to make revisions whenever he's able to. His changes will sync up to the document stored in the cloud when he saves. Even if he is offline, his changes will sync back up to the cloud when he gets back online. What are you waiting for? Start collaborating now!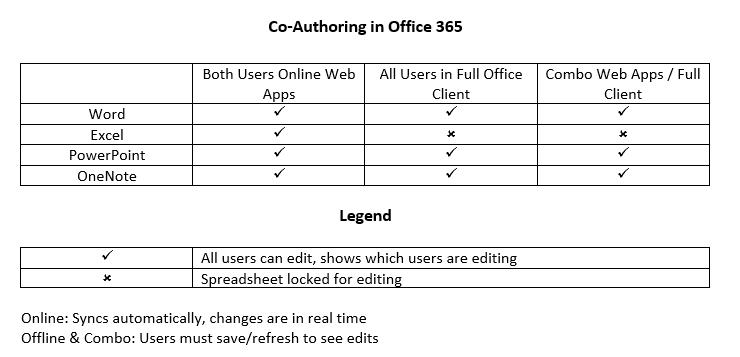 All Functionality Requires SharePoint Online as the document management system.
About the author
Matt Scherocman brings more than 15 years of experience in the information technology industry to Interlink. His experience includes both the system integrator and manufacturer sides of the business. During his time at the Microsoft Corporation he was responsible for all the Large Account Reseller (LAR) relationships in the four-state Heartland Area of Michigan, Ohio, Kentucky, and Tennessee. Prior to Microsoft, Scherocman led a Cincinnati -based IT consulting company to grow 5000% and become a Microsoft Worldwide Partner of the Year. He is actively involved in the strategic vision and operation decisions of the company including finance, selling strategy and marketing. Matt holds a Bachelor of Science in Business degree from Miami University and is a Certified Expert in Microsoft licensing including speaking engagements at both Microsoft's Worldwide Partner Conference and Channel Partner Summit. He is a frequent contributor to leading industry publications.
Related Posts
Welcome to the Interlink Cloud Blog
Subscribe to our blog
By subscribing to the blog, you will be notified whenever a new blog post is created on the site.
All content provided on this blog is for informational purposes only. The owner of this blog makes no representations or warranties regarding the information from our partners or other external sources.