Office 365 PowerPoint Designer and Morph
Getting the design right on a presentation is important. Not only can a good design make you feel better about the presentation you're giving, but it can also make those that are listening more interested and engaged. With PowerPoint's new built-in Designer, it's easier than ever to create clean, beautiful, and professional presentations. With a click of the button, you can transform any image or text into beautiful designs and graphics – it's that easy.
The following two new features - which are exclusive to Office 365 subscribers - are an incredibly intuitive way to spice up any presentation. Let's look at some examples of what is possible with PowerPoint Designer.
1) Background Photos
The first major functionality is how Designer will quickly show options on how you can use a large photo in various ways on that slide depending on what text is present. Not only does it see what other text is there, but it also looks at the image to see what colors would go well with it.
2) Dynamic Lists
Another amazing part of Designer is its ability to create dynamic designs based on the content on each slide. One example of where this shows its strength is in the creation of designs based around bulleted slides and how it can automatically interpret what you are trying to convey.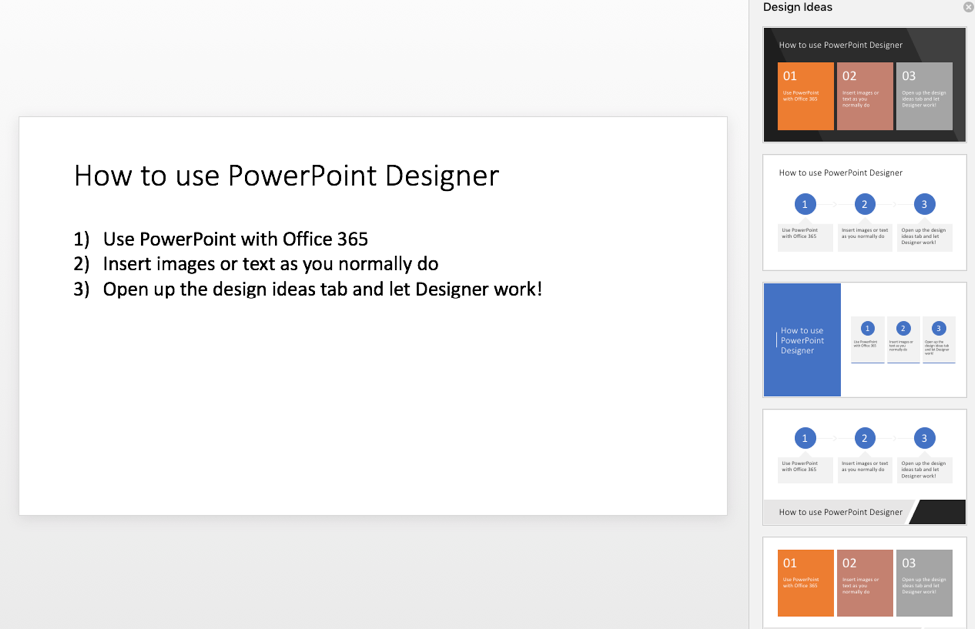 For example, in the slide above, Designer recognizes that I am trying to create a numerical list and creates designs focused on conveying the three-step process I wrote.
Making Animation in PowerPoint Simple
The other incredible feature added to PowerPoint is "Morph," which you will find in "transitions." This feature animates the slides for you by comparing two duplicate slides next to each other and recognizes what positions and sizes have changed, and then animates the changes between them.
Microsoft is constantly looking to bring powerful new features to all of their products, and with Designer and Morph, we think they have created something that is incredibly useful and will be begin to be used on a daily basis by PowerPoint users.
Ready to learn about some of the lesser used features of Office 365? Contact us today!
About the author
Matt Scherocman brings more than 25 years of experience in the information technology industry to Interlink Cloud Advisors. His experience includes both the system integrator and manufacturer sides of the business. During his time at the Microsoft Corporation, he was responsible for all the Large Account Reseller (LAR) relationships in the four state Heartland Area of Michigan, Ohio, Kentucky, and Tennessee. Prior to Microsoft, Scherocman led a Cincinnati based IT consulting company to grow 5000% and become a Microsoft Worldwide Partner of the Year. He is actively involved in the strategic vision and operation decisions of the company including finance, selling strategy and marketing. Matt holds a Bachelor of Science in Business degree from Miami University and is a Certified Expert in Microsoft licensing including speaking engagements at both Microsoft's Worldwide Partner Conference and Channel Partner Summit. He is a frequent contributor to leading industry publications.
Related Posts
Welcome to the Interlink Cloud Blog
Subscribe to our blog
By subscribing to the blog, you will be notified whenever a new blog post is created on the site.
All content provided on this blog is for informational purposes only. The owner of this blog makes no representations or warranties regarding the information from our partners or other external sources.