Using Office 365 to Make Projects Come to Life
Use these Office 365 tools to quickly and effectively turn ideas into reality by creating and managing your projects from start to finish.
Office 365 can facilitate complete and total collaboration. Projects are completed quickly, easily and correctly when they are organized, properly managed and when the team is all on the same page. Office 365 has tools and applications that can help your team stay on track and work on projects from start to finish – starting with OneDrive to Teams, Planner, SharePoint and lastly, Forms. Don't use these tools yet? Here's why you should.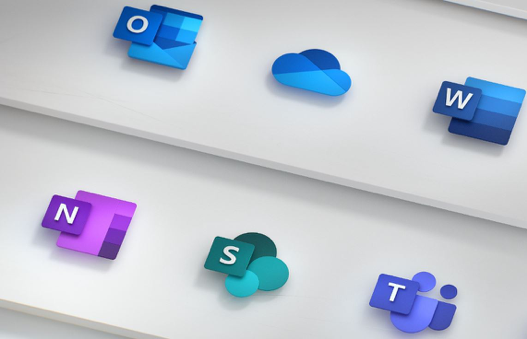 The Benefits:
Increased Productivity - More interaction and collaboration take place when you automate, share and analyze progress. Project managers see a boost in team productivity and cooperation.
Better Communication & Collaboration - Project managers who use Office 365 applications see an increase in dialog, information sharing, and brainstorming. It's a tailored private social network.
Easier Tracking - The more you can track, the better you can manage. Shared project timelines and milestones are easy to access. The information stays in front of team members. Big projects generate a lot of documentation and with SharePoint, team members can easily sort through the data.
Projects – Start to Finish
Let's say you or someone on your team comes up with a new idea, or maybe the boss assigns you a new project – a logo redesign, marketing campaign, customer service initiative or it could be any number of things. Use these tools in order to help organize, manage and complete the project.
OneNote
OneNote is a great tool to keep track of your notes. When you have a new idea or are starting a new project this digital notebook helps get you organized, and you can divide it into sections and pages. With simple navigation and search, it's easy to manage your notes and keep your thoughts together. There is also highlighting and ink annotations for revising your notes. These notebooks can be shared between co-workers as well, so more than one person can collaborate on the beginning stages of a project.
Teams is your one central hub for teamwork and collaboration; so, it's the perfect place to collaborate on a project and keep everyone involved up-to-date on the status of the project. You have the ability to set up a channel in Teams specifically for that project, campaign or new initiative, and then add everyone who needs to be involved. Use Teams to communicate more effectively and stay on the same page with group chat and online meetings and customize the channel to work better for you by integrating third-party applications, Word, Excel or PowerPoint.
As the ideas start to develop and really take shape, Planner is a great tool to use to track the progress of the project and make sure it is moving forward. With Planner, you can create the plan, build a team, assign tasks and update the status. Each item in Planner lets you set a due date, attach files, add a checklist and leave comments. It's a simple and visual way to organize teamwork – plus, it's already pre-integrated into Teams.
When the project has reached the implementation stage, you can add the final polished materials and resources to SharePoint Online, where colleagues across the organization can have access to them. With SharePoint, you can access internal sites, documents, and other information from anywhere—at the office, at home, or from a mobile device.
Forms
The final step in the project, campaign or initiative is to assess it's a success by creating and sharing a Form. This way colleagues or customers can leave feedback by completing the survey or poll that you create. Forms allow you to design the survey however you'd like with short answer, multiple-choice, or ranking questions and then see the results as they come in.
Questions?
Many organizations have these tools as a part of their Office 365 subscription, but just don't know how to use them effectively or don't know how to use them to their full ability. One solution for this is to schedule a Customer Immersion Experience (CIE) with Interlink. The CIE is a valuable, hands-on, interactive session designed for company professionals to test-drive technology and learn how it can help solve their unique challenges in the workplace. A CIE is not just a standard demo; it's designed to get your company engaged with its technologies in real-life situations. So if your organization is new to OneDrive, Teams or Office 365 as a whole, the CIE is a great way to get your power users knowledgeable about the breadth of tools available.
Contact Us
Office 365 has the tools and capabilities to complete a project from start to finish, all while keeping the project organized and on track. Interlink can help your organization get these tools implemented or help you plan and strategize around what tools you'll need. Have questions or want to learn more about the CIE, OneDrive, SharePoint, Teams or any other applications? Check out our website or shoot us a message, and we can get started helping your organization better collaborate.
Interested in learning more? View our similar blog: Office Mobile App – Get Productive on the Go.
Related Posts
Welcome to the Interlink Cloud Blog
Subscribe to our blog
By subscribing to the blog, you will be notified whenever a new blog post is created on the site.
All content provided on this blog is for informational purposes only. The owner of this blog makes no representations or warranties regarding the information from our partners or other external sources.