No Frustration Conference Room Management
Looking for a more streamlined way to manage conference rooms, as well as make them productive versus just empty spaces? Robins' presence-sensing software for conference room management utilizes commodity tablets and beacons to increase the efficiency of booking and using conference rooms. The software running on the tablet has a number of features including the ability to see schedules of other rooms in the organization, how many people the space can accommodate, and even a picture of the equipment inside it.
Collaboration without frustration.
Utilizing Bluetooth beacons, you can simply walk into a room and have the software book the room for you through its connection to your cell phone. This can alleviate the struggle of being interrupted in the middle of a great conversation and having to relocate. The SAAS based software costs $99/month billed annually for 5 rooms. Bluetooth sensing functionality requires one Bluetooth beacon per room for approximately $20.
Some of the best conference room management features included are:
Smart calendar management & Room Use Analytics
Presence sensing (requires beacons)
Mobile apps
Integrates with Office 365
Live room occupancy / availability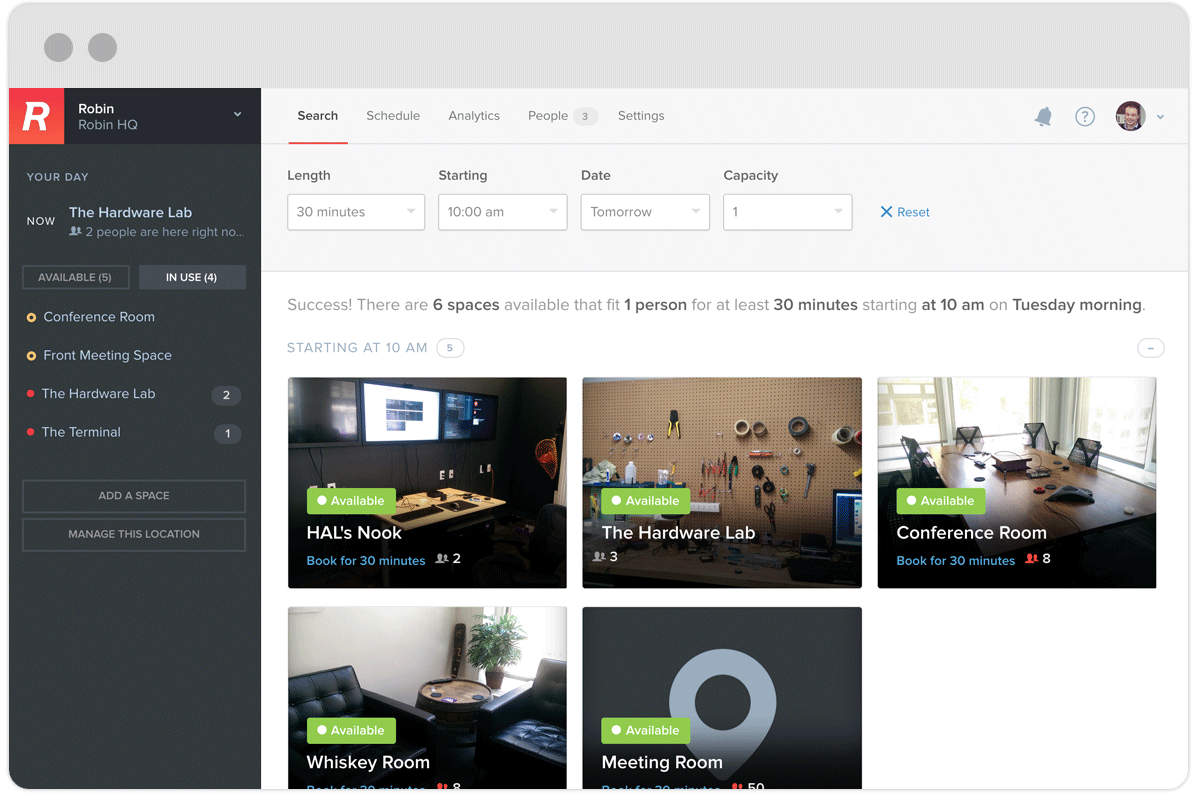 Robin even gives your team insight on who is collaborating, and how teams are utilizing your current spaces with the analytics portion. It's a great way to organize your conference room scheduling, as well as give you another look at how your team operates, or future space planning.
Learn more about the conference room management software.
---
Interested in having help setting it up? Contact Interlink or give us a call at (513) 444-2020.
Conference Room Management
About the author
Matt Scherocman brings more than 15 years of experience in the information technology industry to Interlink. His experience includes both the system integrator and manufacturer sides of the business. During his time at the Microsoft Corporation he was responsible for all the Large Account Reseller (LAR) relationships in the four-state Heartland Area of Michigan, Ohio, Kentucky, and Tennessee. Prior to Microsoft, Scherocman led a Cincinnati -based IT consulting company to grow 5000% and become a Microsoft Worldwide Partner of the Year. He is actively involved in the strategic vision and operation decisions of the company including finance, selling strategy and marketing. Matt holds a Bachelor of Science in Business degree from Miami University and is a Certified Expert in Microsoft licensing including speaking engagements at both Microsoft's Worldwide Partner Conference and Channel Partner Summit. He is a frequent contributor to leading industry publications.
Related Posts
Welcome to the Interlink Cloud Blog
Subscribe to our blog
By subscribing to the blog, you will be notified whenever a new blog post is created on the site.
All content provided on this blog is for informational purposes only. The owner of this blog makes no representations or warranties regarding the information from our partners or other external sources.