New Ways to Empower & Connect Your Firstline Workers with Microsoft Teams
Microsoft Teams has introduced three new ways to help organizations grow by improving the way their firstline workers become digitally connected.
Are your firstline workers valued, connected and empowered in your organization? If not, that may be the factor holding your company back from further annual growth. Firstline workers are people who work in service or task-oriented roles across a variety of industries such as retail, hospitality or manufacturing. Empowering these workers with the digital tools and platforms they need to serve customers, share information and improve productivity creates competitive advantage. Studies have shown that organizations that empower their firstline workers receive huge benefits. Firstline workers consist of more than two billion people worldwide but they are often overlooked in the majority of organizations. However, according to this Forbes & Microsoft Insights study, when firstline workers are given full technology capabilities, greater autonomy and higher levels of information sharing, the company is three times more likely to be a high-growth company. More than 80% of companies see higher levels of customer satisfaction and higher levels of job satisfaction among employees when their firstline workers are digitally connected.
Some of the most important and critical skills for firstline workers are quality management and communication, yet less than 1/3 of organizations said in the Forbes & Microsoft study that they invest in training and development in these areas. A great way to strengthen these skills and implement better connectivity and communication is through Microsoft Teams.
Graph from Forbes & Microsoft Insights study, "Empowering the Firstline Workforce"
In January, Microsoft announced three new features of Teams that can help firstline workers become more digitally connected. Microsoft added these features to its Teams group-chat product specifically targeting mobile, firstline workers. The features are a customizable mobile experience, Graph API for Shifts and the new Praise tool.
Customizable Experience for Firstline Workers
For some firstline workers like retail associates, flight crew members and field service workers, being mobile is now a vital aspect to the job. These employees need to share information with other co-workers inside of the organization, many have resorted to using unsecured and unmanaged chat-apps to communicate. Or simply text while they don't have another way to communicate. These options can pose huge security, compliance and miscommunication risks. With the new customizable Teams mobile experience, users will now have the necessary tools to collaborate effectively. It's simple and secure with several new mobile-only features. One of these is location sharing which is meant to help coordinate workers. Another feature is the smart camera, which allows users to take photos of objects like store aisles or displays (in the case of retail) or capture x-rays (in the case of healthcare) and save them securely to Teams. The ability to record and share audio messages is another great new feature that enables workers to exchange secure messages and communicate more effectively back and forth. Employees can further customize their experience by pinning the modules they need most from their module tray to their navigation bar.
Different employees require different capabilities depending on their role in the organization; some may need access to private chats and calendars while others may only need access to teams and channels. Administrators can now give each employee role-based access to the Teams features that they need.
Customizable mobile Teams experience and new mobile features: Keep all conversations in one place (left), share location and record audio messages (middle), and customize the navigation menu (right).
Graph API for Shift Scheduling
This new feature allows organizations to integrate workforce management systems with Teams using the Graph API. Some companies rely on management systems to handle important operational duties related to their firstline workers like shift scheduling, payroll, benefits, and attendance. Microsoft is enhancing these APIs to enable organizations to integrate these existing management systems with Teams. The first API is the Graph API for Shifts, which helps with scheduling management in Teams. For example, managers can plan and schedule their shifts for each employee and then each team member can view their schedule in Teams and make requests. This enables seamless access to workforce management systems for managers and employees directly from Teams.
With Shifts, managers can easily plan shift schedules, and team members can review schedules and make schedule change requests, all in real time.
The Praise Feature
This feature is a way to keep firstline workers engaged and motivated; a lot of firstline workers play a key role in representing the brand. Taking the necessary steps to engage, recognize employees can go a long way in improving employee satisfaction, and overall improving a companies' turnover rate. The Praise tool allows managers and employees to recognize co-workers in the Teams app where the whole team can see it. This is a great way to improve company culture and overall morale with employees that may feel overlooked.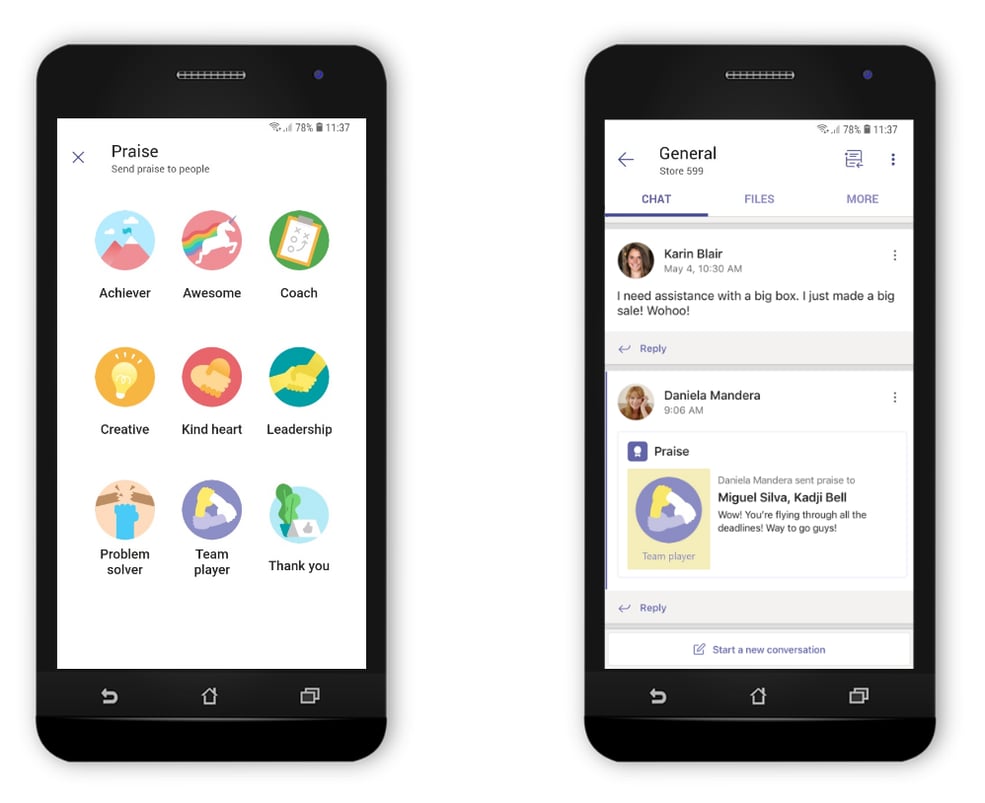 With Praise, share badges to celebrate every success, communicate your appreciation with your team members, and foster great comradery.
What are the Next Steps?
You can get further information on Microsoft Teams and watch a Teams demo here. There are even more capabilities and features on the roadmap ahead to improve Teams and make it more effective for the firstline workforce.
If your organization is not currently on Teams you can contact Interlink for more information. With Teams replacing Skype for Business, developing a migration strategy is the critical next step to adopt Teams and benefit from all of its new features and capabilities. If you're struggling with this migration process or don't know how to get started with Teams, register for Interlink's next webinar on Skype to Teams: Developing a Migration Strategy on May 14th, 10 am EST.
Interested in learning more? View our similar blog: Teams-Outlook Email Integration - New Features.
Related Posts
Welcome to the Interlink Cloud Blog
Subscribe to our blog
By subscribing to the blog, you will be notified whenever a new blog post is created on the site.
All content provided on this blog is for informational purposes only. The owner of this blog makes no representations or warranties regarding the information from our partners or other external sources.