Need Better Email Signatures? Exclaimer is the Answer
Exclaimer Cloud - Email Signatures for Office 365
Exclaimer is the premier cloud service for centrally managing and controlling Microsoft Office 365 email signatures. Exclaimer provides users with a standardized high-quality signature when sent from any device. Users can work with either a pre-made template or the drag and drop signature editor to create personalized signatures. Best part: no HTML skills required!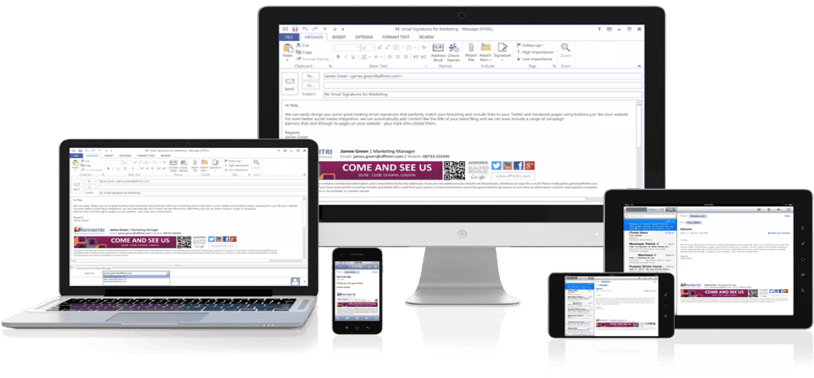 Benefits of Exclaimer:
Easily communicate news, product information, and announcements with every email sent
Disclaimers for all users which are centrally kept up to date
Save time while end user's signatures are automatically created
Consistent branding
Notable Features:
Choose from design templates or start with a blank canvas
Apply signatures based on a range of criteria - i.e. - to different users/groups
Give users consistent signatures for all email with auto-completed details like names, departments and job titles pulled from your Office 365 Directory
Easily add your social media details, promotional banners and legal disclaimers – choose from 40+ social media icons or create your own
Exclaimer Pricing:
You may be wondering about cost. This sounds expensive right? Most clients find real value here. Check out the price break down per month below:

At the end of the day, Exclaimer's true benefits are ensuring an organization's communications deliver correct, cohesive information on every email.
Interlink can help you purchase and set up these better signatures through Exclaimer. Ask us how today!
Related Posts
Welcome to the Interlink Cloud Blog
Subscribe to our blog
By subscribing to the blog, you will be notified whenever a new blog post is created on the site.
All content provided on this blog is for informational purposes only. The owner of this blog makes no representations or warranties regarding the information from our partners or other external sources.