Don't Be Left Unprepared for Microsoft Windows Server & SQL Server End of Life Deadlines
The good news is that you have options that you previously never had. Microsoft has announced they are discontinuing free security updates on clients using Windows Server 2008 and 2008 R2 as well as SQL Server 2008 and 2008 R2.
Windows Server 2008/R2 – mainstream support is expired, and extended support will end January 2020
SQL Server 2008/R2 – mainstream support is expired, and extended support will end July 2019
Windows 7 – mainstream support is expired, and extended support will end Jan. 14, 2020
Office 2010 – mainstream support is expired, and extended support will end Oct. 13, 2020
For over a decade, the support lifecycles for each version of Windows, Office and SQL were usually ten years; this included five years of mainstream support and then an additional five years of extended support. This type of Microsoft support lifecycle is known to us as the fixed support lifecycle.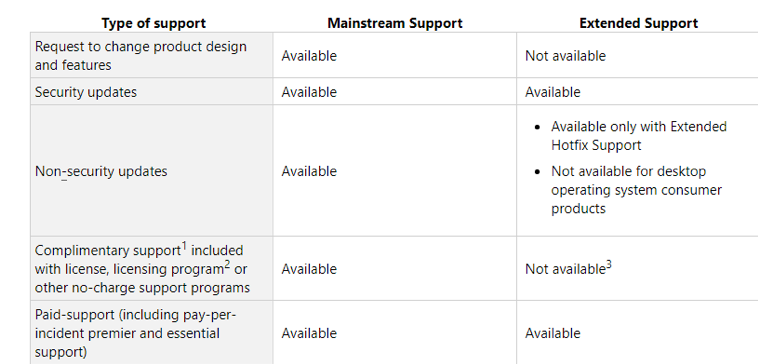 2019 can feel light years away, but as of right now (September 2018), it is only 9 months until these deadlines will be upon us. Most organizations simply can't have unpatched servers running their critical workloads.
There are a few options for the future, and it all depends on what is right for your company.
Do nothing - but this is a huge risk. It means your company would be potentially risking their entire workload getting hacked while it's not patched with any security fixes.
Pay for an expensive critical support contract from Microsoft - This can cost up to $2K per server per month. Plus, they require building a migration roadmap to be shared with Microsoft.
Bite the bullet and do the upgrade to the next version - Depending on the system this can be extremely expensive and time consuming.
Switch to the cloud - The final option is to switch over to the cloud, which can be the most cost-efficient option. As an incentive, if you upgrade to Azure, Microsoft will give you three years of security support on these end of life products included in your Azure subscription!
Is Azure the right fit for your workloads?
Interlink has found the many of our clients want to explore the option of moving to Azure but may have concerns about the platform. Interlink can use their Path to Azure methodology to assess if your workload is a fit.
How to size the workload properly in Azure including taking advantage of Reserved Instances
How to use role-based access control to reduce risk
How to enable spending controls
What training might be needed for the administrators
Using Hybrid Use Benefits for SQL and Windows to reduce cost
Microsoft's offering of extended support at no charge is complimented by funding to assess a potential migration to Azure. Plus, there is additional funding for the actual migration itself, if you make the decision to move the workload to Azure. Microsoft is offering up to $15,000 for assessment purposes and an additional maximum of $15,000 for the migration itself for a total of $30,000 of possible funding as of this publishing to qualified clients.
Please contact us today to schedule an assessment of your Windows Server 2008/2008R2 and SQL Server 2008/2008R2 Servers so that we can give you the right data to let you determine the best course of action for these workloads.
About the author
Mike Wilson brings over 18 years of technology experience to Interlink. Prior to joining Interlink, he served as a Director of Technology for a mid-size insurance company and has led multiple consulting practices to substantial growth. In those roles, Mike delivered tremendous value for his customers by designing and implementing scalable, reliable and business aligned solutions. Mike's focus at Interlink is on leveraging the power of the Microsoft cloud to streamline IT operations in a way that reduces cost and allows businesses to refocus on core operations. He plays a key role in architecting projects and ensuring high standards in service delivery across the Interlink team. Mike earned a Bachelor of Science degree in Mathematics from the University of Cincinnati and is a proud graduate of St. Xavier High School. He is active in a number of local non-profits and has served on multiple non-profit boards and in executive leadership.
Related Posts
Welcome to the Interlink Cloud Blog
Subscribe to our blog
By subscribing to the blog, you will be notified whenever a new blog post is created on the site.
All content provided on this blog is for informational purposes only. The owner of this blog makes no representations or warranties regarding the information from our partners or other external sources.