Comparing Microsoft Office 365 F1 vs E1 Licensing Plans for Firstline Workers
Firstline Workers – a workforce comprised of over 2 billion employees including retail sales associates, hospitality staff, medical workers and teams on the manufacturing floor - are often the first and only representation of your brand with your customers. To help transform and empower this workforce, Microsoft Office 365 offers two specific licensing plans that were designed to foster culture, collaboration, and teamwork through technology enablement at a much lower cost per user.
The first plan is the Office 365 F1 licensing plan (a replacement to the K1 Kiosk plan). It was created for deskless workers – users who are often working away from a desk or using a shared PC and don't need desktop versions of Office. The other plan is the E1 plan.
Understanding the fundamental differences between these two plans will enable you to decide which plan would best support your employees.
Comparison: F1 Plan vs E1 Plan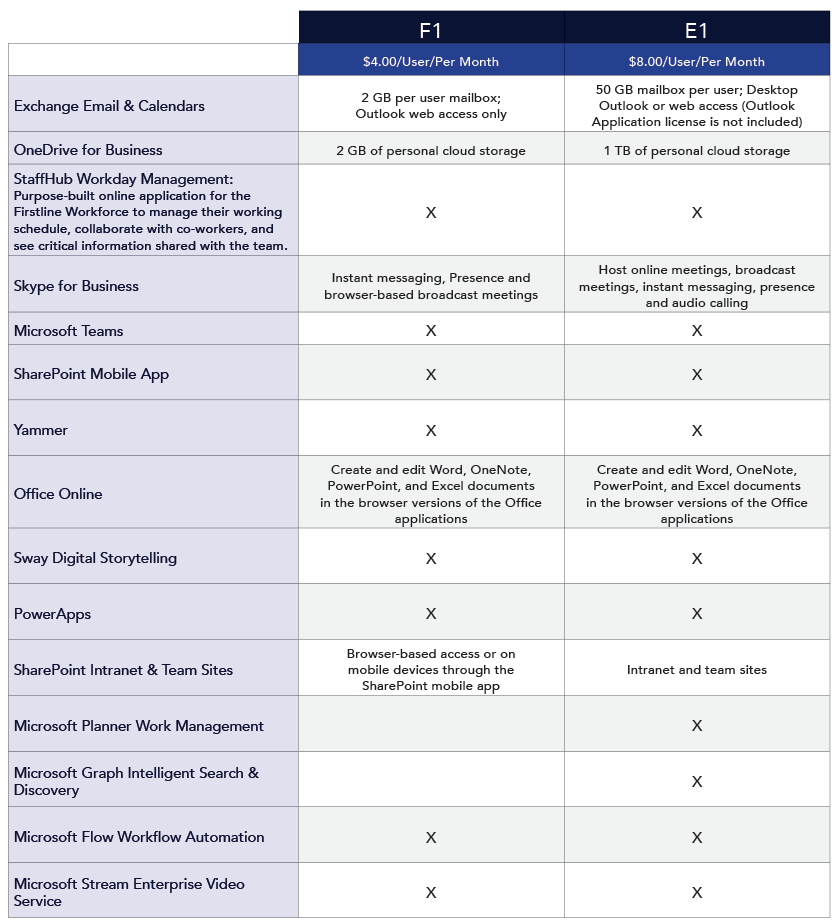 F1 vs E1: Breaking Down the Differences
One of the key differences between the F1 and E1 plans is the functionality of Skype for Business. E1 users have access to all the features of Skype for Business including instant messaging, desktop sharing, app sharing, multi-party VoIP audio, video and web conferencing, and meeting scheduling. F1 users have access to instant messaging and can only set an online availability status and attend meetings – not schedule them.
Email
Email functionality and storage is also different between these two plans. F1 users, being frontline and (mostly) deskless workers get up to 2 GB of storage in their mailbox. While the E1 users get a 50GB mailbox limit. Both plans include the ability to access with a mobile device over Exchange ActiveSync (EAS) and can send attachments up to 150MB.
Both the F1 and E1 plans use versions of Outlook but with a key difference: F1 users are required to access Outlook through Outlook Web Access or through a mobile browser while the E1 users have the option to connect through the Outlook desktop app, although the license for Outlook 2016 isn't included in the E1 package.
File Sharing & Storage
Finally, the plans slightly differ in file sharing and storage. Both plans use OneDrive for Business. However, the E1 plan gives each user up to 1 TB of personal cloud storage data while the F1 plan gives users only 2 GB.
Empower your Firstline Workers
With F1 licenses, clients can provide their staff with access to company email, instructional videos, role-based content, on-boarding materials, shift-management tools, and more at 50% less than traditional E1 licenses. Office 365 provides the workers most likely to engage with your customers a better and easier way to engage with the company and their co-workers, which drives loyalty, productivity and customer service.
---
Learn More
If you would like to learn more about your options as you consider your cloud purchase, we would be happy to help and show you how to get the most out of your Microsoft licensing. Give us a call at 800-900-1150 or contact us.
About the author
Matt Scherocman brings more than 15 years of experience in the information technology industry to Interlink. His experience includes both the system integrator and manufacturer sides of the business. During his time at the Microsoft Corporation he was responsible for all the Large Account Reseller (LAR) relationships in the four-state Heartland Area of Michigan, Ohio, Kentucky, and Tennessee. Prior to Microsoft, Scherocman led a Cincinnati -based IT consulting company to grow 5000% and become a Microsoft Worldwide Partner of the Year. He is actively involved in the strategic vision and operation decisions of the company including finance, selling strategy and marketing. Matt holds a Bachelor of Science in Business degree from Miami University and is a Certified Expert in Microsoft licensing including speaking engagements at both Microsoft's Worldwide Partner Conference and Channel Partner Summit. He is a frequent contributor to leading industry publications.
Related Posts
Welcome to the Interlink Cloud Blog
Subscribe to our blog
By subscribing to the blog, you will be notified whenever a new blog post is created on the site.
All content provided on this blog is for informational purposes only. The owner of this blog makes no representations or warranties regarding the information from our partners or other external sources.