Microsoft Lists | What is it?
Microsoft Lists is a Microsoft 365 app that helps users create, share, and track work through lists that are simple, smart, and easy to use.
_______________________________________________
Microsoft recently announced Microsoft Lists and it's is coming this summer! Whether you create a standalone list, work collaboratively, or use it with SharePoint or Teams, it will save you time, effort, and increase productivity by keeping track of items, issues, assets, contacts, and more!
Microsoft Lists – An Overview
Microsoft Lists will be available through web and mobile applications. From there, users can create new lists, share, and access recent/favorite lists in one central location. Microsoft Lists will be integrated into Microsoft Teams. This will transform how users stay productive and on track both individually and with a team. Users can create new lists directly within Teams and utilize ready-made templates for common scenarios. These templates will have preconfigured structures, forms, views, and formatting available.
Microsoft Lists also will be available to use in SharePoint. SharePoint lists have proven very beneficial to users over the years – and Microsoft Lists innovates on this foundation, bringing new experiences and capabilities to users. Microsoft Lists brings the value of customizable list forms with Power Apps and designed workflows with Power Automate!
Microsoft Lists is another breakthrough app to organize and visualize complex relational data sets. With a fully integrated interface for the major Microsoft 365 applications, users will be even more empowered to create, manage & collaborate on a wide range of business case scenarios.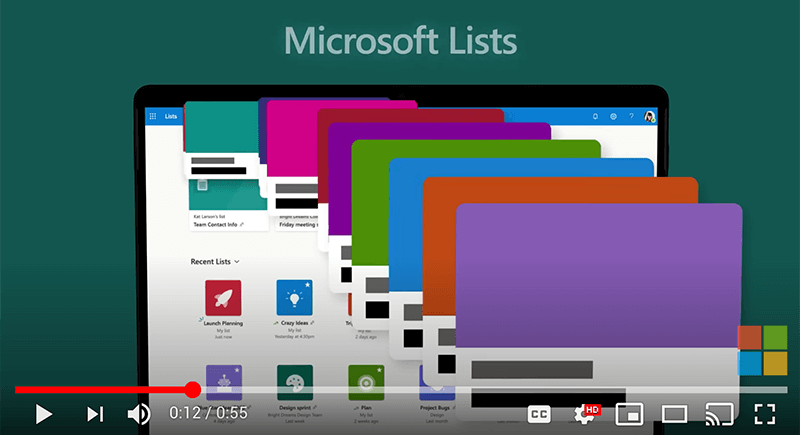 Microsoft Lists Functionality
Microsoft Lists innovations will allow users to create lists more easily, import data for usage (like customer or team information), and encourage collaboration – all at your fingertips. Here are some of the great features:
Ready-Made Templates: Microsoft has many templates designed for specific use cases such as tracking issues, onboarding employees, event itinerary, asset management, and much more. All templates are modifiable – use them for inspiration or as they are!
Smart Rules: Write rules for your list in a super-easy way - decide on an outcome you want for Microsoft Lists and then click-fill if/then statements to design your rules. Choose people, status, and value changes to send notifications or programmatically update values elsewhere in the list. Use rules to also set reminders to keep everyone up to date and informed.
Excel: Create a list from Microsoft Excel by importing table data, while choosing how to best represent the information. This is great for importing customer data into a list for following up or managing.
Views: Users may view Microsoft Lists through a grid, list, gallery, or calendar view. Grid view is best for an easy-to-edit list. List view is like grid view, but without point-and-click editing; this view is what SharePoint lists users are used to. Gallery view is best to focus on images, and calendar view is best to view all items by date.
Collaboration: One of the most important parts of working on a team is collaboration. With Microsoft Lists, users can share a list with edit or read-only permissions, have expiration dates, and even require a password to access a list. Color coding and editable columns, drop-down menus, links, and rules make Microsoft Lists optimal for collaboration­­­­­­­­­­!
Microsoft Lists differentiates itself from Planner and Microsoft To-Do by using Smart Rules/Conditional Formatting. This will allow users to create reminders and notifications that work best for their team in a customizable way. Similarly, Microsoft Lists brings the value of existing integrations with the Power Platform for when users need to further customize list forms with Power Apps or design robust workflows with Power Automate. Microsoft Lists is accessible directly within Microsoft Teams, SharePoint, and the Lists mobile app by the end of the year.
Getting Ready for Microsoft Lists
While everyone is awaiting the soon-to-be-released Microsoft Lists, contact Interlink today if your organization is not taking advantage of Microsoft Teams or SharePoint! Our experts would love to talk through how Teams or SharePoint would work best in your specific environment – whether your organization is looking to adopt, solidify governance, or further train end-users. With Interlink's expertise in the automation architecture and practical approach to business logic, you know you are getting a highly scalable solution without spending more money than you need to! ­­­
About the author
Bryant is the Collaboration and Power Platform Practice Lead at Interlink. He specializes in SharePoint and has been working with the software for 15+ years. Bryant is an avid runner and enjoys giving back to the community through local youth sports organizations. 
Related Posts
Welcome to the Interlink Cloud Blog
Subscribe to our blog
By subscribing to the blog, you will be notified whenever a new blog post is created on the site.
All content provided on this blog is for informational purposes only. The owner of this blog makes no representations or warranties regarding the information from our partners or other external sources.