Microsoft Funding is Available for Workshops & Assessments
Looking at new technologies and want to know if Microsoft technologies are a fit?
Learn how your organization can receive funding with no purchase obligation from Microsoft for workshops and assessments! We will be providing an overview of several of Microsoft's funding programs.
________________________________________________________
Microsoft Funding Available
Microsoft Cloud Incentive funding is now available for Microsoft's new fiscal year. These funds can be used to provide your team with educational workshops, proof of concept deployments, and cloud migrations or modernization. Microsoft has funding available and Interlink can help you get it! The best part is that these funds don't require a purchase are available even if you just want to explore the technology.
Here are the following opportunities along with ways it would benefit your business:
Secure Remote Work Workshop

As COVID-19 has changed the way many businesses are operating, the Secure Remote Work Workshop enables you to deliver rapid deployment and adoption engagements for business continuity. This workshop is intended to be delivered as a one-day engagement and is designed to show how to improve collaboration through Microsoft Teams, improve efficiency with Single Sign-on, and increase security through multi-factor authentication (MFA). At the end of this workshop, your organization will further understand the objectives and workloads to be enabled or optimized for remote work. Interlink will help your organization evaluate options and implications to enable remote work scenarios, along with developing joint deployment plans. Interlink will also recommend the next steps for your specific environment!
To qualify, if an organization already owns Office 365 or Microsoft 365 and it must have greater than 1,000 Exchange Online Qualified Entitlements. If organizations are not Office 365 customers, then they must have greater than 1,000 PCs installed.
This workshop is a full day of sessions that helps your organization assess your current security landscape. Interlink will address your most pressing security goals and challenges! Additionally, an immersive experience will be provided to bring to life Microsoft's security vision and available capabilities. In addition, organizations can take advantage of this workshop's Threat Check. The Threat Check engagement will help your organization strategize how Microsoft 365 security products can mitigate and protect against security threats - across email, identity, and your data! There is up to $16.5K available for customers based on where your organization is on your cloud adoption framework; call us to find out your company's eligibility.
To qualify for this workshop, including a Threat Check, the organization must have greater than 1,000 Qualified Entitlements and 250 Active Entitlements of either Exchange Online, SharePoint Online, or Microsoft Teams. To qualify without the Threat Check, organizations must have greater than 1,000 Exchange Online.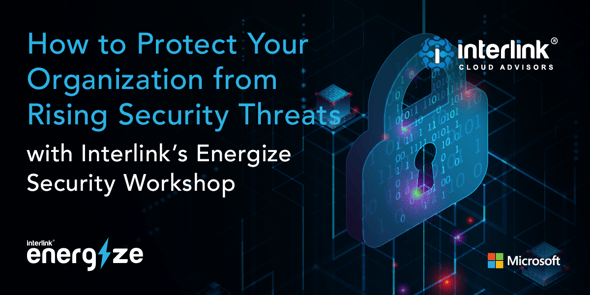 Teamwork Assessment
This assessment enables Interlink to engage with your organization to identify use-case scenarios, create strategic alignment, and define actionable roadmaps. The available workshops include a Teams Adoption Workshop, Calling Workshop, Meetings Workshop, Solutions Workshop, and Business Decision Maker Workshop.
To qualify for this assessment, organizations must have greater than 1,000 inactive Microsoft Teams Entitlements. Qualifying customers are eligible for one Meeting Workshop and one of either Teams Adoption, or Calling, or Solutions Workshop.
Microsoft Teams Adoption FY21
Microsoft Teams brings chat, content, people, and tools together, all in one hub, wherever you are. This platform integrates with your Office 365 subscription and allows users to securely share and co-author documents efficiently. The Microsoft Teams Adoption program is available for US managed customers and provides funds for post-sales activities such as proof of concept, technical deployment or migration, a discovery, and planning session, organizational change management, and end-user adoption training.
To qualify for this assessment, organizations must have the ability to add a minimum of 667 new active users to Teams.
Azure Everywhere FY21
The Azure Everywhere program provides up to $16.5K in funding to help targeted US customers on their cloud adoption journey by leveraging the Microsoft Cloud Adoption Framework (CAF). Activities supported within this program include:
Strategy & Plan Workshop: The Strategy & Plan Workshop will introduce you to the Cloud Adoption Framework, help you and your end-users understand the elements of the transition to the cloud, assist in building your cloud adoption plan or optimizing your current plan, build a learning path for your teams, and establish or optimize your Azure cloud environment. This is ideal if your organization has identified a workload but isn't sure if it will work effectively within the Azure datacenters. Interlink will run a workshop to review your workload and determine its fit for Azure. This will include sizing, security concerns, data locations, and much more.

This process typically takes 3 weeks. Funding is available for up to $5,000.

Ready Workshop: Before you start building and deploying solutions using Azure services, you need to prepare your environment. In this workshop, we introduce features that help you organize resources, control costs, and secure and manage your organization in Azure. This is ideal if your organization has a workload ready to go to Azure and want assistance in deploying it to ensure that it is completed with best practice in mind.

This process typically takes 3 weeks. Funding is available for up to $5,000.

Govern Workshop: Governance provides mechanisms and processes to maintain control over your applications and resources in Azure. It involves planning your initiatives and setting strategic priorities. This is ideal if your organization is utilizing Azure and needs to ensure that you are staying compliant and implementing proper governance controls. Governance in Azure is primarily implemented with two services:

Azure Policy allows you to create, assign, and manage policy definitions to enforce rules for your resources. This feature keeps those resources in compliance with your corporate standards.
Azure Cost Management allows you to track cloud usage and expenditures for your Azure resources and other cloud providers.
This process typically takes 3 weeks. Funding is available for up to $5,000.
Microsoft 365 Everywhere FY21
The Microsoft 365 Everywhere program targets US customers who have a named Microsoft representation to support pre-sales activities with Microsoft 365. Supported activities are as follows:
Security & Compliance Assessment: This one-to-two-day engagement will help you assess the advanced security capabilities of Microsoft 365, including security and/or compliance covering Microsoft 365, Office 365 E5, Enterprise Mobility + Security, and/or Windows 10 advanced security capabilities. Sessions include a briefing, discovery, security assessment in one or more of the security solution areas of Microsoft 365 E5, and post-event delivery of a security roadmap.
Advanced Workloads Proof of Concept: This activity showcases how the advanced capabilities of Microsoft 365 components, such as Office 365 E5, Windows 10 E5, or Enterprise Mobility + Security E5, can bring value to you and your company. Interlink will install components of Microsoft 365 E5 into your environment as a trial.
Security Proof of Concept: This activity works to showcase the value of Microsoft 365 security capabilities across Windows 10 Enterprise, Office 365, and EMS, with a focus on Windows 10 Defender ATP. Interlink will install components of Microsoft 365 E5 into your environment as a trial.
Compliance Proof of Concept: This engagement will help show off the power of Compliance Manager and related Compliance functionality within Office 365 and will utilize your own data and compliance frameworks.
How Interlink Can Help
Interlink Cloud Advisors have consistently been among the top 1% of partners worldwide for usage of Microsoft funding in the world, while we understand the value of educating our clients. Some restrictions apply to each of these workshops and assessments. Contact Interlink today to learn more about what funding is available and what is best for your organization!
Interested in learning more? View our workshops & assessments.
About the author
Matt Scherocman brings more than 15 years of experience in the information technology industry to Interlink. His experience includes both the system integrator and manufacturer sides of the business. During his time at the Microsoft Corporation he was responsible for all the Large Account Reseller (LAR) relationships in the four-state Heartland Area of Michigan, Ohio, Kentucky, and Tennessee. Prior to Microsoft, Scherocman led a Cincinnati -based IT consulting company to grow 5000% and become a Microsoft Worldwide Partner of the Year. He is actively involved in the strategic vision and operation decisions of the company including finance, selling strategy and marketing. Matt holds a Bachelor of Science in Business degree from Miami University and is a Certified Expert in Microsoft licensing including speaking engagements at both Microsoft's Worldwide Partner Conference and Channel Partner Summit. He is a frequent contributor to leading industry publications.
Related Posts
Welcome to the Interlink Cloud Blog
Subscribe to our blog
By subscribing to the blog, you will be notified whenever a new blog post is created on the site.
All content provided on this blog is for informational purposes only. The owner of this blog makes no representations or warranties regarding the information from our partners or other external sources.