Microsoft Cloud App Security – On-Premise Security in the Cloud
Why Do I Need Security in The Cloud?
Whether you like it or not, your company data is most likely all over the place. More than 80% of employees admit to using non-Microsoft SaaS applications, like Salesforce, Box, etc., at work.* With valuable and confidential files flying around, you need to make sure that the level of security you've already implemented on-premises is reflected in the cloud, and Microsoft has you covered. With Microsoft's Cloud App Security enterprise-grade security for cloud applications, you have the tools for deeper visibility, comprehensive controls, and enhanced protection against the dangers—such as company data leaks—of unsecured cloud activity across multiple non-Microsoft cloud vendors.
So, what exactly does Microsoft's Cloud App Security do?
Discovers 13,000 apps and provides an automated risk score to help you prioritize
Uses APIs provided by the cloud provider for easy integration, allowing control over what users can do gives reporting on what they are actively doing
Provides ongoing risk assessment for discovered services (usage patterns, upload/download traffic anomalies)
Anomaly detection for discovered apps
Automatic or manual log upload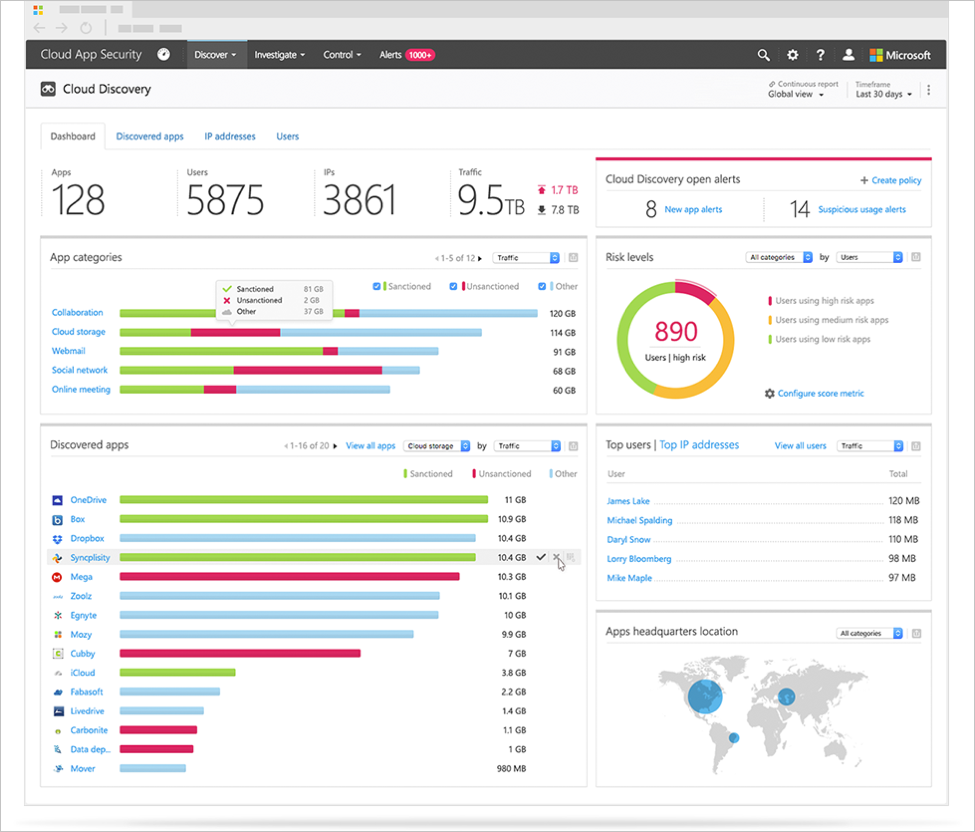 Data Control
Policy setting and enforcement
Data Loss Prevention and data sharing controls all sanctioned apps (cross platform-SaaS)
Identify and control apps connected to supported cloud services with the ability to revoke access
Use Azure AD Premium for user and session access control, SAML proxy for non-Azure AD customers for any application
Threat Prevention
Alerts dashboard includes all policy violations, threat detection, and anomaly detection across SaaS apps
Manual or automatic alert remediation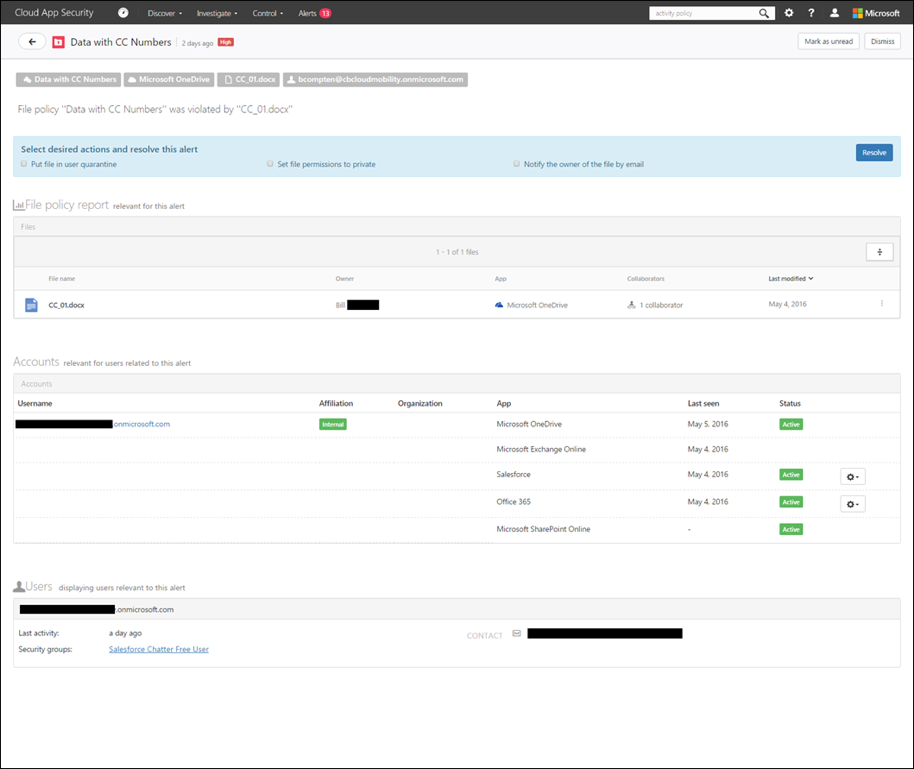 Deep Integration
Cloud App Security truly does put the integration of Non-Microsoft SaaS applications in the forefront of their mission. They want the product to work for you, and work for you efficiently and with no lengthy set-up. The chart above is just the tip of the iceberg showing some of the most used applications and what Cloud App Security can do in each of those environments. The platform was truly built to keep your company's cloud activity not only secure, but efficient and all in one place.
---
Stay Secure
When your business needs to be able to lock down confidential files, or have peace of mind, Cloud App Security provides the enterprise-grade cloud security your company needs.
Think Cloud App Security may be right for you? Contact us today!
If you would like to dive deeper into Cloud App Security make sure to check out our webinar on "How to Stay Secure & Productive with Microsoft's Enterprise Mobility + Security Suite" that goes deeper and demos Cloud App Security and other Office 365 security products!
If you are interested in a side-by-side comparison between Cloud App Security and Advanced Security Manager check out our blog post - Difference Between Microsoft's Cloud App Security and Office 365 Advanced Security Management
* Source: http://www.computing.co.uk/ctg/news/2321750/more-than-80-per-cent-of-employees-use-non-approved-saas-apps-report
Related Posts
Welcome to the Interlink Cloud Blog
Subscribe to our blog
By subscribing to the blog, you will be notified whenever a new blog post is created on the site.
All content provided on this blog is for informational purposes only. The owner of this blog makes no representations or warranties regarding the information from our partners or other external sources.