It's Official – Skype for Business Online Has Announced Its Retirement
With Microsoft Teams moving in to become the core collaboration & communication client for Office 365, Skype for Business will officially retire on July 31st, 2021.
Finally! Microsoft has officially announced the retirement of Skype for Business Online. After July 31st, 2021 the service will no longer be accessible. If you've been putting off the decision to migrate to Microsoft Teams – now is the time to start your planning. Here's the update on the retirement plan and the next steps to take.
Why is Skype for Business Online Retiring Now?
In 2017, Microsoft Teams was written from scratch as an all in one central hub for teamwork. Since then, Microsoft has been working with partners and customers to improve Teams and get it to where it needs to be to take over for Skype. Microsoft now feels Teams is at the point where they can confidently recommend it as their primary communication and collaboration platform.
Many people look at Teams like it is just the improved version of Skype, but that's where they're wrong. Sure…it has meetings, voice, instant messaging, and all of Skype's other capabilities…but it also has so much more. Teams is not only a great way to improve collaboration and increase productivity, but it is also giving organizations the opportunity to rethink the way they work and opens a door to an entirely new way of doing business – it is a shared workspace that brings solutions across Microsoft 365 into one focused space as well as allows for custom development and third-party application integration. To learn more about the benefits of Teams, and why it's replacing skype, check out our blog Microsoft Teams is Replacing Skype for Business - Are you Ready?
What's the Plan?
The retirement of Skype for Business Online will not affect customers who use Skype consumer nor Skype for Business Server. Mainstream support for Skype for Business Server 2019 does end until January 9th, 2024. Customers currently using Skype for Business Online will not experience any change in service until the announced retirement date and will be able to continue to add new users as needed until July 31st, 2021.
Starting September 1, 2019, Microsoft will onboard all new Office 365 customers directly to Teams for chat, meetings, calling and all other collaboration needs. Skype for Business Online will not be an option for new tenants moving forward from this date.
How do you Prepare for the Change?
Microsoft is encouraging all current Skype for Business Online users to start their plan and execute their upgrade to Teams, but we know this migration will take time and effort. As mentioned above, Teams introduces more capabilities than Skype, in a brand new client so you will want to ensure proper security, governance and end-user adoption into your planning. This upgrade will be more than just a technical migration – it will be a transformation in how your users communicate, and change is not always easy.
For help developing a migration strategy, or if you have questions on where to start, reach out to us or Interlink has an on-demand webinar: Skype to Teams: Developing a Migration Strategy. It provides a great overview of Teams, the future of Skype, how to develop a migration strategy and goes over what happens post-migration.
Migration Options: Moving from Skype for Business to Teams
An organization's complete transition to Teams may take some time. The good news is that Microsoft is making the transition easier by helping you gradually introduce Teams and its features to the rest of your organization. Given that there's some overlapping functionality between Skype and Teams, we recommend that you review the available coexistence and upgrade modes to help determine which path is right for your organization.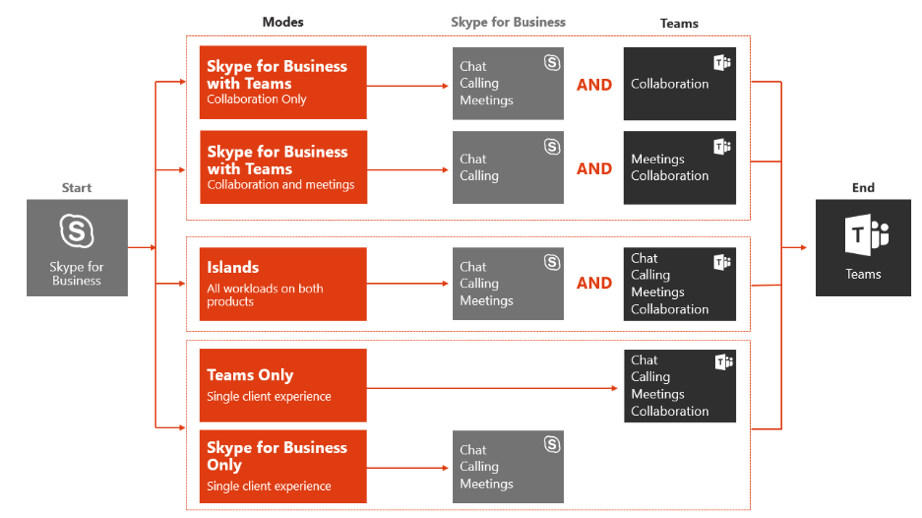 Skype for Business with Teams (Collaboration Only):

This upgrade path allows for your users to use all the collaboration features of Microsoft Teams (channels, file sharing storage/sharing) while still using Skype for Business for voice, meetings and instant messaging.
Ideal for organizations that want to start Teams adoption quickly, focusing on group collaboration first
Recommended as the starting point for an organization starting their journey from on-premises (or hybrid) Skype for Business
No overlapping capabilities – Instant messaging chat and meeting schedules will reside in Skype for Business (tied to calling)
Interoperability with users in Teams Only
Skype for Business with Teams (Collaboration and Meetings):
Users who have been using Microsoft Teams for collaboration and file-sharing can look to start using the Teams client for online meetings and audio conferencing with this upgrade mode. The Skype for Business client will still be used for chat and voice.
Ideal for organizations who want to start Teams adoption quickly, going beyond group collaboration
Recommended use for on-premises organizations wanting to take advantage of Teams meetings prior to being ready to fully upgrade (generally due to Enterprise Voice on-premises).
No overlapping capabilities – Instant messaging and chat will reside in Skype for Business (tied to calling)
"Better Together" experiences between Skype for Business and Teams
Interoperability with users in Teams Only
Islands Mode:

Islands mode enables users to run both the Skype for Business and Teams client side by side. Users choose which client to use for chat or meetings.
Ideal for organizations that want to go to the full Teams experience quickly but need to ease the transition
Recommended upgrade path for organizations who adopted Skype for Business Online
Simple to operate – Richest Teams experience up-front for all capabilities
Requires good user communication to avoid confusion and to drive usage toward Teams—Exit strategy requires users to have fully adopted Teams prior to starting the upgrade to Teams Only phase
Teams Only:
Chat, meetings, collaboration and voice features are only available on the Teams client. The Skype for Business client will still be installed and only used to join meetings scheduled by a Skype for Business user. If a user is enabled for enterprise voice, all calls will land in the Teams client when enabled for this mode.
Teams Only is the final destination for all users, eventually.
Ideal for organizations that want to go to the full Teams experience as quickly as possible
Limits user confusion by providing only one client to work with Interoperability with users in Skype for Business Only, Skype for Business with Teams Collaboration, Skype for Business with Teams Collaboration and Meetings
Need Help Upgrading to Teams?
To enable customers to plan and implement a successful upgrade to Teams, Interlink offers a ton of Microsoft Teams resources – from blogs to webinars to workshops to the actual migration– we are here to help.
As a managed partner of Microsoft, Interlink can also potentially get your organization funding from Microsoft to cover the cost of a migration to Teams. This funding can help cover anything from the technical deployment, discovery & planning, end-user adoption training, organizational change management or a Teams Customer Immersion Experience (CIE). This is a great opportunity to take advantage of!
Get in touch with our team today to see if you are eligible for the funding or how we can help your business through this transition and make it as seamless and productive as possible.
Interested in learning more? View our similar blog: Don't Just Buy a Solution - Fully Adopt Your New Technologies.
About the author
Aaron is a Senior Consultant at Interlink Cloud Advisors. His specialties include Microsoft unified communications and core infrastructure solutions: Lync Server Enterprise Voice with full PBX integration AudioCodes/NET VoIP media gateways OCS 2007 Exchange Office 365 Active Directory Windows Server Teams
Related Posts
Welcome to the Interlink Cloud Blog
Subscribe to our blog
By subscribing to the blog, you will be notified whenever a new blog post is created on the site.
All content provided on this blog is for informational purposes only. The owner of this blog makes no representations or warranties regarding the information from our partners or other external sources.