Impactful Changes to Office 365 – SharePoint Sandbox Solutions
Microsoft has recently made a significant change to the way they are handling SharePoint Sandbox Solutions in Office 365. This may have a major impact or your organization as these changes roll out across tenants.
If you have uploaded any Sandbox Solutions to your Office 365 tenant in the past week or so, you may have found that you are no longer able to activate these templates. That is because Microsoft is in the process of disabling the activation of any Sandbox Solutions that contain code. In addition, according to an article in Reddit - Microsoft has disabled activation of Sandboxed code solutions AND will disable all active solutions in 30 days on SharePoint Online.
Now, I'm skeptical of the statement that all Sandbox Solutions with code will be disabled in 30 days, as this will unlikely cause catastrophic consequences for some folks, but I don't have any further information at this time.
What do disabled SharePoint Sandbox Solutions mean to me?
There are a few implications here. If you have any code-based Sandbox Solutions running in your environment in Office 365 you may start to see broken web-parts, pages, event receivers, or broken other functionality/errors in the next month or so. The implications could be as small as a missing web part on a page to a broken site collection. It really depends on what code has been deployed to your tenant.
In addition, if you've previously created any Site Templates that were created from sites that had activated code-based Sandbox Solutions, you will NOT be able to create sites from these templates after the solution has been disabled.
How can I tell if I have any SharePoint Sandbox Solutions?
You can go to your Solutions Gallery to see if you have any Sandbox Solutions deployed. You can get to the Solutions Gallery by going to the Site Settings of your Site Collection, then clicking on the "Solutions" link under the "Web Designer Galleries" section.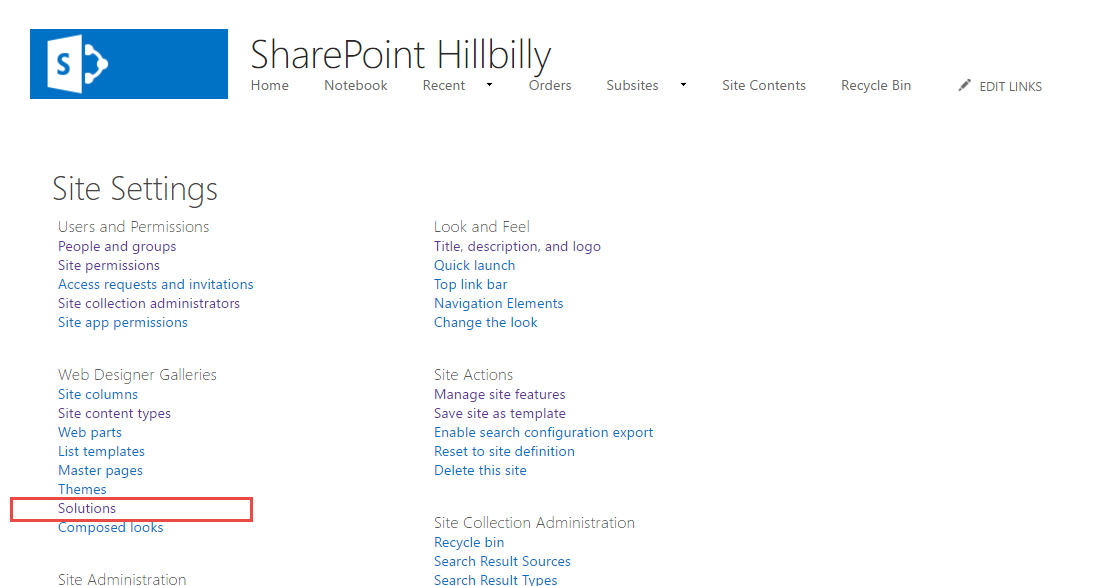 Please note, this is also where things like Site Templates are stored, so don't freak out of you see some solutions deployed and don't know what they are. Hopefully they were named well as there are little details displayed from the Solutions Gallery itself.
Why weren't we warned sooner?
Microsoft actually DID warn everyone back in January 2014 - one instance of this is on the SharePoint dev blog in an article titled Deprecation of Custom Code in Sandboxed Solutions. Plus we've been telling clients since then to stop doing code-based Sandbox Solutions.
Yet, it is a little surprising they would make sure a hard cut off of 30 days though. If I can get some confirmation I'll be sure to update the post.
What do I do if this affects my company?
Excellent question. First of all, if you have any Site Templates that utilize code-based Sandbox Solutions, re-create those Site Templates with your code-based Sandbox Solutions disabled. I would do this immediately - if not sooner. Once a solution has been deactivated there is no way to create a site with a Site Template dependent on that feature.
Secondly, if you have any code-based Sandbox Solutions, evaluate their functionality and determine what will stop working. Some of the functionality (visual web parts) can be recreated with scripting, while other functionality (event receivers) may cause you a lot more heartburn to replicate without a Sandbox Solution.
You can also reach out to us at Interlink and we could help point you in the right direction for what to do in your particular scenario. It is important you do SOMETHING though. Interlink can assess your current environment, help point out possible pain points, and guide you through the re-creation of code-based Sandbox Solutions into a supported format.
Should I panic?
Hopefully, no, but honestly, if code-based Sandbox Solutions are forcibly disabled in 30 days you should be concerned if there is any chance you have them in your environment.
[Update as of 8/3/2016: Microsoft released a script that lets you check for sandbox solutions]
Related Posts
Welcome to the Interlink Cloud Blog
Subscribe to our blog
By subscribing to the blog, you will be notified whenever a new blog post is created on the site.
All content provided on this blog is for informational purposes only. The owner of this blog makes no representations or warranties regarding the information from our partners or other external sources.