How can Office 365 Video help your business?
By using videos to make content more memorable and engaging. Video can grab and hold viewers' attention as no other medium can.
Recently, Microsoft rolled out Microsoft® Office 365 Video, its new intranet website video portal. Based on SharePoint™ Online in Office 365, it's a streaming video service designed for your intranet. Think of it as an internal YouTube channel for your company. Click here for a quick overview video.
One Service, Three Ways to Improve Business Processes
The Office 365 Video service offers secure, reliable support for cooperative work you engage in every day.
Communications. Using videos for inter-group status reports, announcements and events gives you a chance to create compelling content, which viewers are more likely to remember and act on.
Collaboration. The service uses a newsfeed model and standard social media capabilities (join a group, follow, like, etc.) to encourage users to engage in conversations.
Training. It's easy to use the Office 365 Video platform for in-house training. For example, use your smartphone to create video presentations, product demonstrations or speeches. Then, use the Office 365 Video service to deliver them throughout your organization.
Office 365 Video delivers powerful, flexible services based on new and established technology.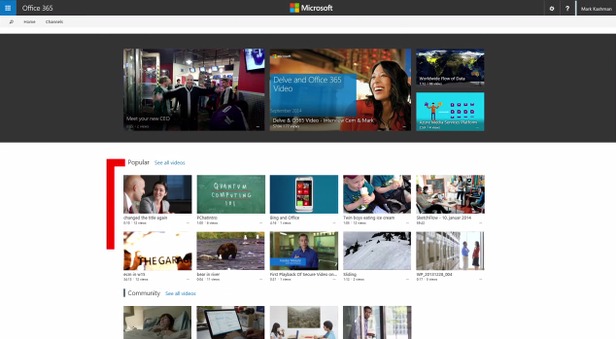 Breakthrough Technology Enables Powerful Video Tools
Use the Office 365 Video service toupload, navigate, post and share videos with less time, effort and IT expertise than ever before.
Smooth streaming

.

Powered by

Microsoft

Azure® Media Services

, Office 365 Video automatically optimizes video playback for any device it's viewed on.

Easy to use.

To upload a video, just drag and drop video files into the online user interface or upload them from their mobile device. Then, type a title and description.

Thoroughly mobile.

Within the Office 365 Video service, you can view, navigate and share videos on any device. And, the service secures and automatically resizes the video stream to whichever device you use.

Find and share information

Find videos with standard enterprise search. A dedicated search engine shows only video results.
Discover how the Office 365 Video service can accelerate your everyday tasks and business processes. Office 365 Video is available through most Microsoft EA Plans. Learn more.
Related Posts
Welcome to the Interlink Cloud Blog
Subscribe to our blog
By subscribing to the blog, you will be notified whenever a new blog post is created on the site.
All content provided on this blog is for informational purposes only. The owner of this blog makes no representations or warranties regarding the information from our partners or other external sources.