Evolution of SIEM & How Microsoft Solutions Fit In
Learn the evolution of SIEM and what today's landscape requires in order to stay on top of security and data threats
See what steps to take and what Microsoft solutions you can utilize to plan accordingly.
______________________________________________________________
SIEM, Security Information and Event Management, is no longer what it used to be. A traditional on-premises SIEM is an incomplete solution due to limited functionality and the constant demand of time and resources. Learn how SIEM is improving and how Microsoft can help!
Current Security Difficulties
According to a recent report on Security Analytics and Operations, sixty-three percent of survey respondents find cybersecurity analytics/operations more difficult today than they were two years ago. This increasing difficulty is prevalent across cybersecurity disciplines, impacting the ability of organizations to not only protect critical assets but also detect and respond to cyber-attacks in a timely fashion.
With more and more data coming in than ever, it is hard to process and secure data efficiently. Data attacks and security threats have also drastically increased – proving that now is the most crucial time to have a secure environment and plan. As attacks and threats evolve to be more complex and competent, so do the required solutions and methods to fight them.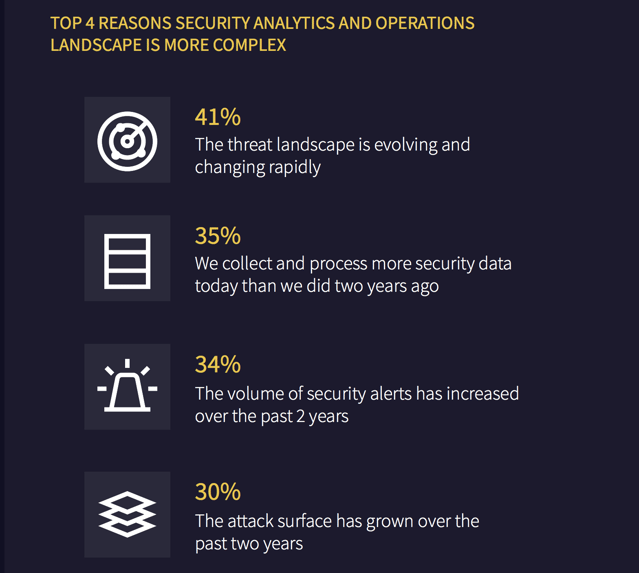 Figure 1: Top 4 Reasons Security Analytics and Operations Landscape is More Complex

Azure Sentinel: Cloud-Native SIEM
Azure Sentinel is a cloud-native SIEM that allows you to collect data while providing unlimited compute and storage capabilities. You are also able to detect previously uncovered threats, investigate threats with AI, and respond rapidly with the automation of common tasks. Azure Sentinel has built-in AI and machine learning, so organizations can automate up to 80 percent of common tasks – freeing up your security team to deal with more important matters.
With the number and complexity of modern threats growing, visibility across your organization's enterprise and the ability to connect to and collect data from all sources is vital. Azure Sentinel is a cost-effective solution with predictable billing and flexible commitments. Put security first and only pay for the resources you need.
Learn more about Azure Sentinel from our on-demand webinar: Azure Sentinel | Security Information & Event Management (SIEM) Reinvented
Integration Between Azure & Office 365
WIth Azure Sentinel, you can import your Office 365 data at no additional cost. You can also connect with data from your Microsoft products and have the ability to analyze and deepen your intelligence with Azure Sentinel. Data is integrated from your sources including users, applications, servers, and devices running on-premises or in any cloud. Optimize for your organization's specific needs today by bringing your own insights, detections, machine learning models, and threat intelligence.
What this integration means...
With just a few clicks you can retain the data within the Microsoft Cloud. Addressing Azure Sentinel, Andrew Winklemann, Global Security Consulting Practice Lead said, "With Microsoft Azure Sentinel, we can better address the main SIEM landscape challenges for our clients, along with simplifying data residency and GDPR concerns."
Research on Security Analytics and Operations
Jon Oltsik, Senior Principal Analyst and Enterprise Strategy Group Fellow has compiled an e-book on Industry Trends regarding Security Analytics and Operations. In the book, he provides research-based insights on how real organizations are switching to cloud-based security, and why that benefits their organization's security solutions. From understanding challenges today to future security analytic plans, this e-book is worth reading. View this e-book here!
How Can Interlink Help?
If Azure Sentinel is something you are interested in pursuing and utilizing for your organization, we would love to discuss how it would specifically fit with your needs. Additionally, if your organization has questions regarding SIEM, the future of security in your organization or details about Azure Sentinel, contact Interlink and we can help determine the best-fitting solution.
Interested in learning more? View our similar blog: Cybersecurity: Roadmap to a Secure Environment.
Related Posts
Welcome to the Interlink Cloud Blog
Subscribe to our blog
By subscribing to the blog, you will be notified whenever a new blog post is created on the site.
All content provided on this blog is for informational purposes only. The owner of this blog makes no representations or warranties regarding the information from our partners or other external sources.