Goodbye Passwords and Hello MFA
Your Passwords Don't Matter
What if I told you that your password doesn't matter? That even if you think you're keeping your password safe, someone could still get into your account? This would be a very concerning revelation for many businesses. But is that actually true? The world of cybersecurity is quickly evolving, and passwords are no longer enough to keep accounts secure - in fact, they're the bare minimum.
A password gives you a quick and easy access point to reach your data, but it, unfortunately, does the same for anyone who can crack it. Microsoft's Your Pa$$words don't Matter provides great research on how password length and complexity aren't going to cut it anymore, even if the article is slightly dated. There are a variety of different ways for an attacker to get your information. Here are a few possibilities: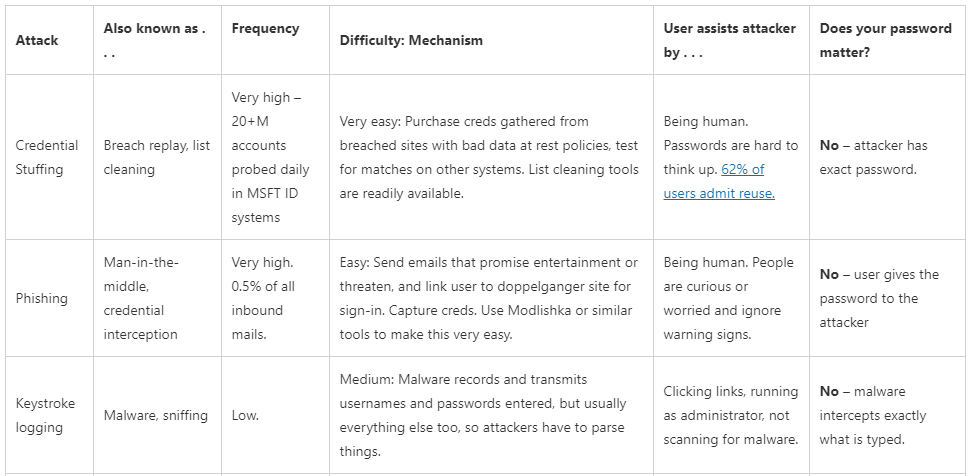 These are just a few examples, but the outcome is the same regardless: the attacker still has your information. Check out the full blog to learn more about password spray, database extraction and cracking, and how multi-factor authentication (MFA) is 99.9% more secure.
If you're ready for a passwordless (and therefore more secure) future, Interlink is ready to help you move forward. Contact us to learn more about MFA or read our whole blog - Preparing for a Passwordless Future: What It Means and How to Prepare
About the author
Jimmy Smogor is the Security Practice Lead at Interlink. Jimmy started at Interlink over 8 years ago while in college and has developed immense expertise in the world of cybersecurity. He has expanded his knowledge of Microsoft Security to assist our clients by leveraging Microsoft's security stacks, whether it's a simple deployment of Multi-factor for sign-in or leveraging Defender for Endpoint EDR with Microsoft Sentinel for automated playbooks. Jimmy is continuing to grow his expertise in cybersecurity and the advantages of Microsoft Security.
Related Posts
Welcome to the Interlink Cloud Blog
Subscribe to our blog
By subscribing to the blog, you will be notified whenever a new blog post is created on the site.
All content provided on this blog is for informational purposes only. The owner of this blog makes no representations or warranties regarding the information from our partners or other external sources.