Microsoft Enterprise Agreement (EA) vs. Cloud Solution Provider (CSP) - Knowing Which is Best for Your Organization
This blog will help you understand the differences between these options and how to make the best decision for your organization
__________________________________________________
EA VS. CSP
Choice is critical in business, but sometimes it's difficult to determine the best decision for your specific organization. Such is the case when it comes to contracting services for Azure and your other Microsoft cloud applications. For many years, the best choice for larger organizations was signing up for an Enterprise Agreement (EA) directly with Microsoft. However, with the Cloud Service Provider (CSP) option, you can purchase from a certified Microsoft partner, like Interlink.
Both offer similar services and similar pricing. There are advantages and disadvantages to both depending on your size and type of business. So, how do you decide what's the right choice for your organization? Below is a look at the two options in several key areas: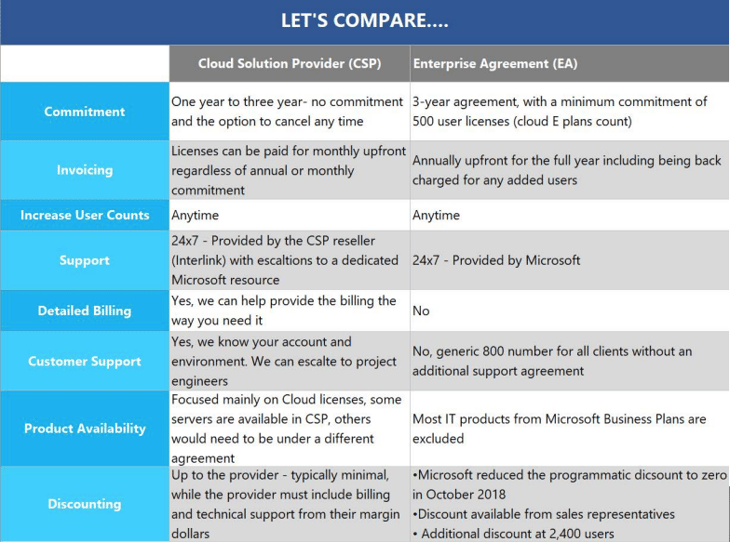 Which is Best for Your Organization?
An EA is a three-year agreement and requires a minimum of 500 licenses to be purchased at the same time. The most frequently purchased licensing options are Office 365 plans - any combination of the E1, E3, and E5 licenses would count. Customers pay upfront for the entire year, which is unexpected for a subscription service and can make cash flow tough. Any user licenses added during the year would be paid on the next anniversary, which can also make cross charging quantities difficult. Quantities on the EA can go up during the year but can only come down by providing a notice 30 days prior to the anniversary. If the company divested a division in the first month after their anniversary, they may have to pay for licenses for 11 months that are unused.
CSP licensing is based on a month-to-month commitment, which can be attractive for businesses in volatile markets with inevitable ebbs and flows or businesses that have seasonality. It is also beneficial for organizations who find it difficult to predict longer-term usage requirements or those who may want to start with a basic plan as they move to Office 365 (like email only) and then increase the licensing level as users adopt the functionality.
In general, larger organizations with 500+ users are frequently better off with an EA. For smaller organizations, a CSP might be the best alternative. However, each business will have unique needs to consider. Interlink has also created a helpful Microsoft 365 Enterprise Licensing Sheet, which breaks down what is included in the 365 Enterprise Suites.
How Interlink Can Help
When choosing between Cloud Solution Providers, there are a lot of factors to consider when deciding on the best partner for your organization. So why Interlink?
Interlink's Service Desk Will Be Your Primary O365 Support Team With Access to Escalate Directly to Microsoft Tier 3

U.S. Based — English is our primary language
We know your account and keep detailed notes on your environment
It's likely that we helped your organization setup Office 365, so we know what third-party products may be in your environment that could be impacting Office 365. If we didn't, we will include a no cost tenant review at the start

Interlink is a Top Partner for CSP

Top 20 in the US for CSP sales by systems integrators
One of a few partners who purchase directly from Microsoft ensuring that we have the best pricing

Microsoft Certified Professionals for Microsoft Licensing on Staff
Office 365 Administration: License adds, reductions, assignment, etc.

Our billing department is based in Ohio — they know CSP licensing inside and out, including invoicing with detailed usage dates
Requesting a change with licenses is as easy as sending us an email — we will promptly get back to you

"Escalate to the Engineer"

The same people that know your environment and performed much of your POCs, assessments, and migrations can be engaged for further diagnosis — all that information is stored and documented
This process can be challenging to navigate but Interlink is available as a resource to provide guidance or additional information to help with decision making. If you're debating between a CSP and EA, contact us today to discuss your options, and we'll help you determine the right option for your business.
Interested in learning more? View our similar blog: The Economics of Microsoft's Cloud Solution Provider Program: How a CSP Can Help You Generate Significant Savings.
About the author
Matt Scherocman brings more than 25 years of experience in the information technology industry to Interlink Cloud Advisors. His experience includes both the system integrator and manufacturer sides of the business. During his time at the Microsoft Corporation, he was responsible for all the Large Account Reseller (LAR) relationships in the four state Heartland Area of Michigan, Ohio, Kentucky, and Tennessee. Prior to Microsoft, Scherocman led a Cincinnati based IT consulting company to grow 5000% and become a Microsoft Worldwide Partner of the Year. He is actively involved in the strategic vision and operation decisions of the company including finance, selling strategy and marketing. Matt holds a Bachelor of Science in Business degree from Miami University and is a Certified Expert in Microsoft licensing including speaking engagements at both Microsoft's Worldwide Partner Conference and Channel Partner Summit. He is a frequent contributor to leading industry publications.
Related Posts
Welcome to the Interlink Cloud Blog
Subscribe to our blog
By subscribing to the blog, you will be notified whenever a new blog post is created on the site.
All content provided on this blog is for informational purposes only. The owner of this blog makes no representations or warranties regarding the information from our partners or other external sources.