On-Demand Cyber Insurance Webinar | How to Meet the Ever-Increasing Requirements of Cybersecurity Insurance
We are seeing more and more occurrences of ransomware and an increase of the damage being done - like the recent Colonial Pipeline attack.
As a result, Cybersecurity Insurance providers are tightening their requirements and costs at renewal time. This is causing a perfect storm for many organizations.
This on-demand webinar covers the new requirements we're seeing. We also discuss options to utilize Microsoft technologies, which you may already own, to meet those requirements and help keep your organization safe through reduced risk.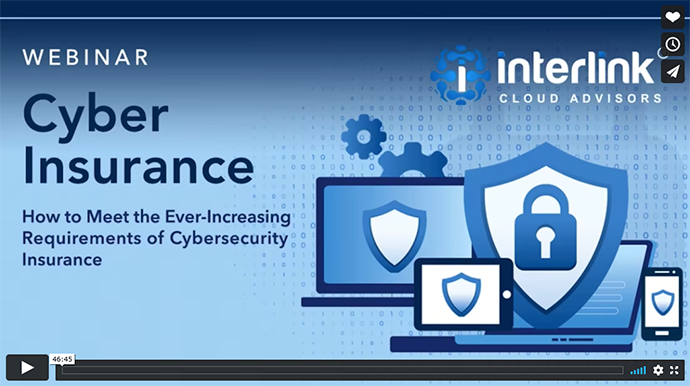 After attending the webinar, you'll also walk away with an understanding of:
User and admin identity control
Alert monitoring, management, and automated responses
Endpoint protection and monitoring
Threat tracking and mitigation
Managing encryption across the environment
Protecting both on-premises and in-the-Cloud scenarios
Backup & Disaster Recovery techniques to limit risk
If you're looking for the best, most cost-effective way to protect your organization – view the webinar and slide deck today.
__________________________________________
Related Posts
Welcome to the Interlink Cloud Blog
Subscribe to our blog
By subscribing to the blog, you will be notified whenever a new blog post is created on the site.
All content provided on this blog is for informational purposes only. The owner of this blog makes no representations or warranties regarding the information from our partners or other external sources.