Get ready for Microsoft 365 Copilot
Microsoft's AI Wave launched this year with Teams Premium (Intelligent Recap is well worth the investment) and Viva for Sales. While most of us impatiently wait for Microsoft 365 Copilot (Word, Excel, PowerPoint, OneDrive, and Outlook) to be released, here are the requirements companies should be completing to be able to hit the ground running.
Microsoft 365 E3, E5, Business Standard or Business Premium - these licenses will include Semantic Index necessary for Copilot to work.
Microsoft Apps for Enterprise – Copilot is designed to work with the version of Office deployed from Microsoft 365. Legacy volume license versions are not supported.
Azure Active Directory-based account – and while you're at it, make sure employees have Just Enough Access permissions for their organization's data. Copilot won't expose any data that an employee doesn't already have access to; it will just make it easier for the employee to figure out that they always had access to salary information.
OneDrive Account - you need to have a OneDrive account for several features within Microsoft 365 Copilot, such as saving and sharing your files. Will you need additional storage due to the increased amount of data in your environment?
Based on your company's rollout of Copilot and AI use cases, you might also need to do the following. I don't know about you, but I am very excited for M365 Copilot with Outlook to help me manage my Inbox and Calendar – especially after I have been on a long holiday weekend or vacation!
New Outlook for Windows - For seamless integration of Microsoft 365 Copilot with Outlook, you are required to use the new Outlook for Windows, currently in preview.
Microsoft Teams - to use Microsoft 365 Copilot with Microsoft Teams, you must use the Teams desktop client or web client.
Microsoft Loop - to use Copilot in Microsoft Loop, you must have Loop enabled for your tenant. Loop is a new way for your employees to organize their project needs in one central place.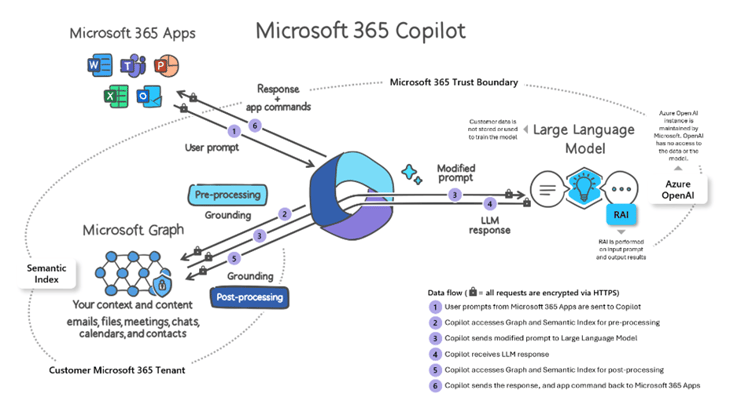 These are just a few of the Technical considerations that your company needs to have in place to be ready for AI and Copilot. As we discussed in our AI Readiness webinar, there are also Process and People considerations. Interlink is here to help your company prepare for AI. Contact us today to get started!
About the author
Rachael Narel is Interlink's Employee Engagement and Productivity Practice Lead focused on helping our customers leverage technology, process, and people practices to successfully achieve organizational outcomes.  Her practice optimizes usage of several Microsoft tools including Viva, Copilot, SharePoint, and Power Platform.  Rachael has over 20 years of experience working in the IT and software fields in both team and leadership roles.  Her diverse background includes organization development, change management, strategic planning and process improvement, user adoption, and training.  Rachael has a PhD in Organization Development and a Master of Science in Management and Organizational Behavior.
Related Posts
Welcome to the Interlink Cloud Blog
Subscribe to our blog
By subscribing to the blog, you will be notified whenever a new blog post is created on the site.
All content provided on this blog is for informational purposes only. The owner of this blog makes no representations or warranties regarding the information from our partners or other external sources.