Simplify Your Company's Data & See It in New Ways
Microsoft's Power BI is an interactive business analytics tool that provides rich visualizations and self-service business intelligence capabilities. It allows any user to build powerful reports and dashboards to provide valuable insights into their data.
Interlink combines our expertise in SQL Data Warehousing and Power BI to help our customers leverage their data, reporting, and KPI creation. Our understanding of data and the relationship to Power BI is instrumental in helping our business partners develop consumable data to gain an advantage in their market segment.
Customers have mounds of data in every conceivable system. Customer data is messy. Especially when pulling data from multiple sources together to build out one version of the truth. Our data warehouse and data mart building expertise allows us to quickly help organize and normalize a customer's data. When the data is consistent across reports and systems, then customers can more easily make that data actionable.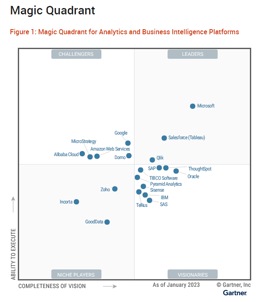 Gartner recognizes Microsoft Power BI as the leader in Analytics and BI platforms. Located in the Magic Quadrant, Power BI is the comprehensive analytics solution.

---
How Interlink Can Help
Optimize Your Report Performance
Querying your company's data directly from SQL server (or any other raw data source) can be inefficient. Interlink can help optimize report performance by creating data warehouses and data marts. We can build data models that are built for Power BI to read the data efficiently.
Build Customized Reports & Dashboards
Power BI comes with a great deal of out-of-the-box content packs; however, they are limited in the data they are reporting on. Often, this content cannot be manipulated to provide exactly what the client would like to see. We can help by building customized reports and dashboards to meet your specific needs.
Create Customized Solutions Using DAX or Power Query Languages
Many companies have an internal Business Analytics group already. If this describes your organization, we can provide an escalation point to help you create customized solutions using DAX or Power Query languages or provide consultation on best practices for data modeling and report generation.