An Unlimited Backup and 1-Click Restore Data Solution
for Office 365 Exchange, SharePoint, and OneDrive for Business
Increasingly, companies are relying on cloud-based applications like Office 365, SharePoint and OneDrive to keep their business running. Though these applications have basic backup capabilities, recovering lost data can cost you hours and cause unnecessary frustration.
Ensure your Enterprise Office 365 data is secure and protected with Interlink Office 365 Backup & Recovery - a subscription-based cloud-to-cloud solution that backs all of your data from Office 365 Exchange, SharePoint and OneDrive for Business to to a secure environment without compromising security, compliance and control.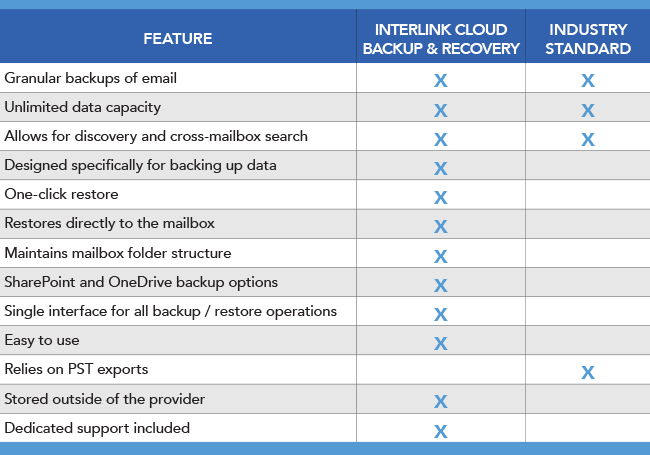 Backup & Recovery Features

Secure, Unlimited Backup & Data Storage
No Data Caps
Unlimited Retention
We retain all of your files and emails your data for any legal or compliance requirements and organizational knowledge is not lost even when an employee leaves the organization.
Six Backups A Day
With six snapshots at regular intervals throughout the day, we ensures that you can consistently access Office 365 without a disruption due to data loss.
Reliable and Secure
Backed by an industry leading 256-bit encryption at rest and 128-bit in transit.

One-click Restore & Lightning Fast Search
Quick Restore
Restore your data in seconds. The intuitive interface enables quick discovery and allows you to spend minimal time restoring files.
Search in Seconds
Powerful search technology indexes and displays all documents in seconds giving you consumer-search-like performance in an enterprise environment.
Time Machine
Turn the clock back to get a snapshot and restore the data to a specific point in time. Your data, all file permissions and attributes are also restored.
No File Overwrites
Never worry about file overwrites. We ensure that the source file and versions do not already exist before restoring.
Easy Setup
Nothing to Install
Interlink's revolutionary cloud to cloud backup technology that does not require end user action or expensive equipment to be installed.
Backup in Minutes
No complex configuration required, get a simple user interface that does the heavy lifting for you and allows you to get going in minutes.
Set and Forget
An auto-discovery feature automatically adds new users and any new changes to your tenant in real-time to the backup services.
Control Where You Store Data
Ability to bring in your own Azure environment to address data sovereignty issues.
I want learn more on how I can backup, protect and recover my data in Microsoft cloud-based applications.
Fill out the information below and a representative from Interlink will contact you within the next 24 hours.
Rather contact us now?
Call 800-900-1150