Why the Microsoft CSP Program Offers the Greatest Cloud Customer Service Advantage
According to a Gartner survey, 81 percent of companies say they mostly or completely compete for business on the basis of customer experience.[1] In the highly competitive Cloud computing space, most businesses have their workloads and applications in the Cloud, finding a partner with outstanding customer service is the key to effective Cloud management. The Microsoft Cloud Solution Provider (CSP) program provides you with the greatest customer service advantage when it comes to selecting a partner to help your organization save time and headache through expertise, responsiveness, and dedicated support.
A Microsoft CSP helps you navigate the complexities of the Cloud, while showing you how best to take advantage of the power of Microsoft 365 and Azure. There are a number of factors to consider when choosing a CSP for your organization. There are numerous CSP partners, all varying in levels of expertise and the services they offer. Some of the considerations include evaluating the business health of the CSP, the support they can provide, their technical capabilities, and the breadth and depth of their security offerings. Choosing the right CSP for your organization is a crucial decision to ensuring the success of your Cloud initiative.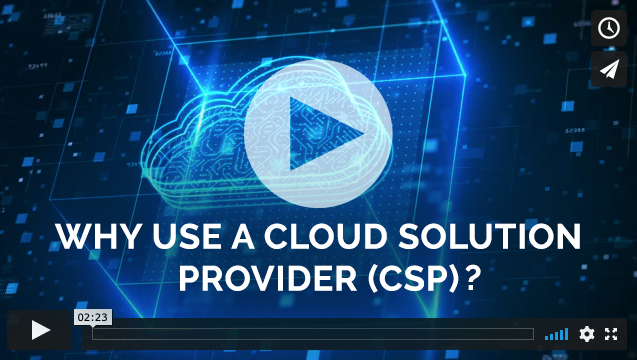 Why Interlink is your best choice for a CSP
Interlink checks all the boxes when conducting your evaluation for selecting a CSP Partner. Microsoft Cloud is our core business and every single employee is living and breathing Microsoft Cloud every day. With helping over 5,000 organizations migrate to the Cloud, we have seen it all.
Interlink's service desk will be your primary Office 365 and Azure support team with access to escalate directly to Microsoft Tier 3 support when necessary. Quick resolution when your organization needs support is vital. The Interlink support team is U.S.-based and has knowledge of your account and keeps detailed notes on your environment, so we don't waste your time when you call or have you perform basic troubleshooting tasks you most likely have already completed before calling.
If Interlink helped your organization set up Office 365, we will know the third-party products you are using and how they could impact Office 365. If we weren't involved in the initial setup, we will conduct a no-cost tenant review at the beginning of the engagement to make sure we gain a complete understanding of your environment. The same people that know your IT landscape and performed many of your proof of concepts (POCs), assessments and migrations are available to handle further diagnosis. When necessary, issues are "escalated to the engineer," who has rapid access to all the stored, documented information surrounding your environment. Interlink also has a dedicated Microsoft Premier Technical Account Manager to help resolve more complex Microsoft backend issues.
Key Microsoft Partner
Interlink is one of the top 20 in the U.S. for CSP sales by system integrators. We are also one of the few partners who purchase directly from Microsoft, ensuring that you will receive the best available pricing. Interlink has four Microsoft Certified licensing professionals on staff and will provide a no-cost licensing health check to help ensure that you aren't overpaying for licensing – a common problem for many organizations.
Responsive Office 365 Administration
Interlink is an expert at handling Microsoft licensing administration – adds, reductions, and assignments. Their Ohio-based billing department has extensive experience and knowledge of CSP licensing, including invoicing with detailed usage dates. Requesting changes with licenses is handled easily through email with prompt responses to your requests.
How Interlink Can Help
The process of managing the Cloud can be challenging but Interlink is always available as a resource to provide guidance or additional information to help with decision making. If you are debating between a CSP and a Microsoft Enterprise Agreement, we can walk you through your options to help you determine the best choice for your business.
Interlink has earned a reputation as a leading authority for deciphering the intricacies of Microsoft, including their licensing rules, bundled offerings, technical deployments, and incentives. We are consistently ranked among the top 1% partners worldwide for utilization of Microsoft funding for project pilots, workshops, and deployments. For our customers, that means ROI through lower costs and quicker deployment times.
Contact us for more information and to discuss the right CSP for your business.
[1] Create Powerful Customer Experiences, by Chris Pemberton, Gartner, May 30, 2019
Related Posts
Welcome to the Interlink Cloud Blog
Subscribe to our blog
By subscribing to the blog, you will be notified whenever a new blog post is created on the site.
All content provided on this blog is for informational purposes only. The owner of this blog makes no representations or warranties regarding the information from our partners or other external sources.