ON-DEMAND WEBINAR | Windows 365 - Provision a New PC in Seconds with the Power of the Microsoft Cloud

Many organizations spend a great deal of effort and money managing their PC lifecycles.
Hosted on the Microsoft Cloud, Windows 365 enables organizations to quickly and easily provision a Windows instance that is accessible from any end-user device! This approach brings significant savings compared to traditional PC management.
In this on-demand event, Interlink's experts walk you through common Windows 365 use cases, key design principles, and management and security benefits. You'll learn how Microsoft has streamlined the deployment and management of Windows 365 in ways that make it a simple and secure solution for your end-users and applications.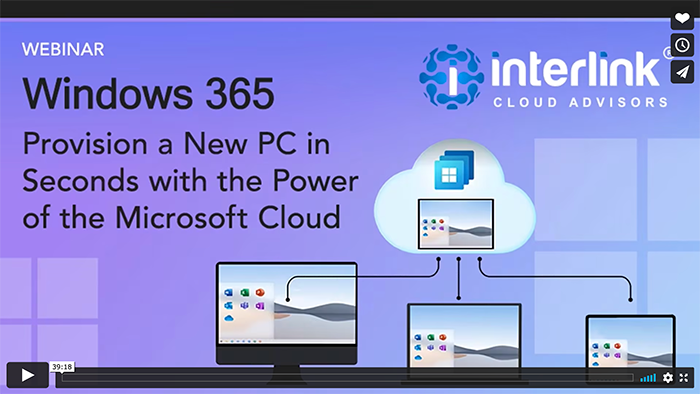 After viewing this on-demand event, you'll also have a good understanding of:
Windows 365 basics
Security advantages vs. traditional desktops
Migrating from RDS or Citrix to Windows 365
Integrations with Microsoft 365 & Office – including Endpoint Manager
Central deployment and management of applications
How to easily scale to support thousands of users
Areas to reduce total cost of ownership
Funding/Licensing
And much more!
If you're interested in learning more about Windows 365 - a powerful new technology that enables organizations to provide desktop-as-a-service to end-users – and how it can benefit your organization, view this webinar today!
__________________________________________
Related Posts
Welcome to the Interlink Cloud Blog
Subscribe to our blog
By subscribing to the blog, you will be notified whenever a new blog post is created on the site.
All content provided on this blog is for informational purposes only. The owner of this blog makes no representations or warranties regarding the information from our partners or other external sources.