ON-DEMAND WEBINAR | Microsoft Azure: Why Azure Is Crucial to your Digital Transformation Journey

Microsoft Azure is an ever-expanding set of Cloud solutions that helps your organization accelerate innovation, reduce risk, and drive digital transformation.
It's the next step for organizations after Microsoft 365 and gives your organization the freedom to build, manage, and deploy applications on a massive, global network - all while using your favorite tools and frameworks and protecting your data with world-class security. It also improves reliability and agility, increases security, unlocks new business scenarios, all while reducing costs.
In this in-demand event, Interlink's Azure experts provide an in-depth overview of Microsoft Azure and how your organization can get the most out of it.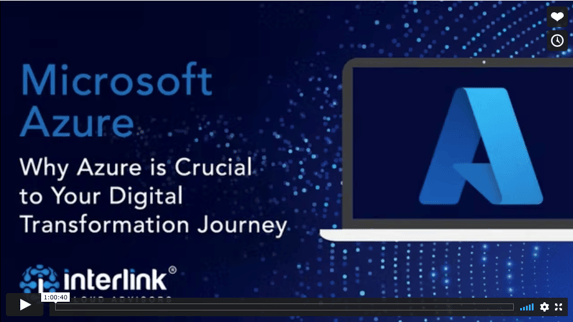 After viewing this webinar, you will have a good understanding of:
Hybrid Cloud
Migration Options
High-Performance Computing
Digital Manufacturing
Big Data & Data Warehousing
Infrastructure
Security and Compliance
Licensing
And more!
If you're looking for a thorough understanding of how Azure can modernize your environment, drive better insights from data, innovate based on Cloud technology, and utilize intelligent apps with Microsoft Azure - view this webinar today.
_______________________________________________
Related Posts
Welcome to the Interlink Cloud Blog
Subscribe to our blog
By subscribing to the blog, you will be notified whenever a new blog post is created on the site.
All content provided on this blog is for informational purposes only. The owner of this blog makes no representations or warranties regarding the information from our partners or other external sources.