Cincinnati Business Courier Recognizes Interlink as 2021 BPTW Winner
Cincinnati, OH, October 13, 2021: The Cincinnati Business Courier has named Interlink Cloud Advisors, a leading technology consulting firm specializing in Microsoft technologies, as the winner for its 2021 Best Places to Work Small Company awards. The program recognizes companies and organizations in Greater Cincinnati that are setting the bar for how to keep employees happy and engaged. View the Business Courier's publication here.
For the past three years, Interlink has been recognized by this great accomplishment as a finalist. This year, Interlink was selected as the winner! Organizations are selected based on anonymous survey responses from employees, which were ranked by an independent third party, Quantum Workplace. Companies were then scored in areas such as senior leadership, team effectiveness, work recognition, and benefits.
Interlink is a family-first organization with strong values centered around teamwork, relationships, and growth. We like to keep things fun with monthly team outings such as sporting events, happy hours, beer tastings, volunteering, and laser tag. We strive to build a special community within our organization that is focused on our team.
At Interlink, everyone's input is valued, and their voice is heard because we know the importance of teamwork and growing together. Plus, every employee has a bonus plan associated with the profitability of the company. Therefore, everyone can celebrate our success.
"Interlink continues to ensure both our employees and clients are cared for, which fosters our culture and workplace," said Matt Scherocman, Interlink's CEO. "We are honored to win this award - especially during this past year of challenges from the pandemic. This is a great testament to our talented, appreciated, and empowered employees."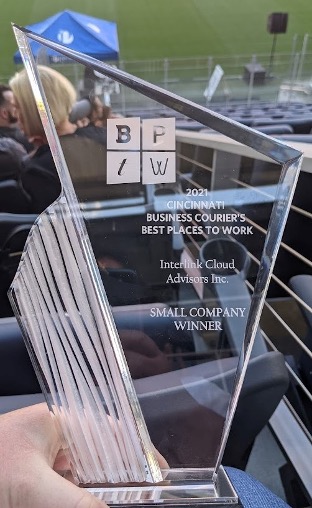 Best Places to Work 2021 Award – Small Company Winner
So far in 2021, Interlink Cloud Advisors has been named as one of the Fast 55 Quickest Growing Firms in Cincinnati for the second year in a row and made the Inc. 5000 ranking for the third year in a row. These awards come during Interlink's 10-year anniversary and recognize our continued growth year-over-year, bringing about abundant opportunities for promotions, pay raises, and career growth.
Interlink looks forward to continuing to grow as a company and as individuals. We hire motivated, intelligent, customer-service-minded individuals who understand that it's important to work hard and play hard. We value our employees and know the importance of fostering a positive company culture, which this recognition continues to confirm. To learn more about our company culture or how to join our expanding team, check us
###
Media Contact
Interlink Cloud Advisors
John Rice
johnr@interlink.com
www.interlink.com
Related Posts
Welcome to the Interlink Cloud Blog
Subscribe to our blog
By subscribing to the blog, you will be notified whenever a new blog post is created on the site.
All content provided on this blog is for informational purposes only. The owner of this blog makes no representations or warranties regarding the information from our partners or other external sources.