The most comprehensive and cost effective communications solution for your enterprise voice needs.
With Enterprise Voice, Skype for Business Server delivers a stand-alone Voice over Internet Protocol (VoIP), which can enhance or replace traditional private branch exchange (PBX) systems. It also supports a broad range of current and older IP and USB devices.
As an Enterprise Voice user, you can call both colleagues on your organization's VoIP network or PBX and traditional phone numbers outside your organization.
Take advantage of all of the best features of Lync and Skype, creating a next generation dynamic communication tool that will take business to a new level. The familiar Skype icons and call monitor are used in this new application, as are the telephony and content sharing features of Lync. Transferring calls takes just one click. Skype for Business features audio calls and instant messaging that can connect to Skype users, but also includes video calling features to increase functionality.

Are You Ready to See the Value of Skype In the Cloud?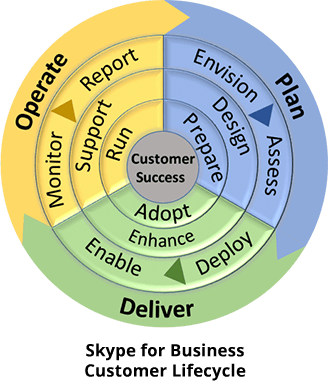 Interlink Cloud Advisors follows the Microsoft Skype Operations Framework (SOF) methodology, which has been proven in the real world.
What is the Microsoft Skype Operations Framework (SOF) methodology?
It's a set of processes, tools, and best practices that Microsoft has assembled for its partners and clients that provides a multi-faceted approach to the successful deployment of Skype for Business.
It covers the entire customer lifecycle, including planning, delivery, adoption, operations and migrations.
Utilizing this methodology, Interlink has built a pilot offer around Skype for Business in Office 365 that gives you an opportunity to see if Skype PBX will meet your voice needs. This offer - Skype PBX Energize - includes an assessment and Skype for Business deployment built around the SOF methodology. By utilizing this methodology, we ensure a successful implementation on your journey to the cloud for your communication needs.
Enjoy Richer Communications

Basic Call Features
Place calls by typing a name or phone number on their keyboard, or using a dial pad displayed on their screen.
Initiate calls directly from your Contacts list.
While on a call, answer additional incoming calls or initiate outgoing calls, and the existing active call is automatically put on hold.
Transfer calls from one user to another, either directly or after the first user speaks privately with the second user.
Transfer calls to another device; for example, transfer an active call to a mobile phone.
Get alerted to incoming calls on multiple devices simultaneously, with customizable ringtones on IP phone devices and a notification similar to an instant message on their PC.
Set a single telephone number that connects to your desk phone, PC and mobile phone, so you can be reached no matter where you are.
Advanced Calling Features
Delegation:


Enables users to delegate call handling to one or more assistants. The delegate can perform multiple calling tasks on behalf of the user, including screening calls, placing calls, and initiating conferences.
Team Calling:


Enables a user to have incoming calls simultaneously ring the phones of teammates so that anyone on the team can answer the call.
Group Call Pickup:


Allows users the ability to answer incoming calls to their colleagues from their own phones. Differs from team calling primarily in that an incoming call rings only at the intended recipient's phone, but any other user can choose to answer it by dialing a call pickup group number.
Response Groups:


Can be set up for queuing and intelligently routing calls to designated agents. Common uses include IT helpdesks, human resources hotlines, and other internal contact centers.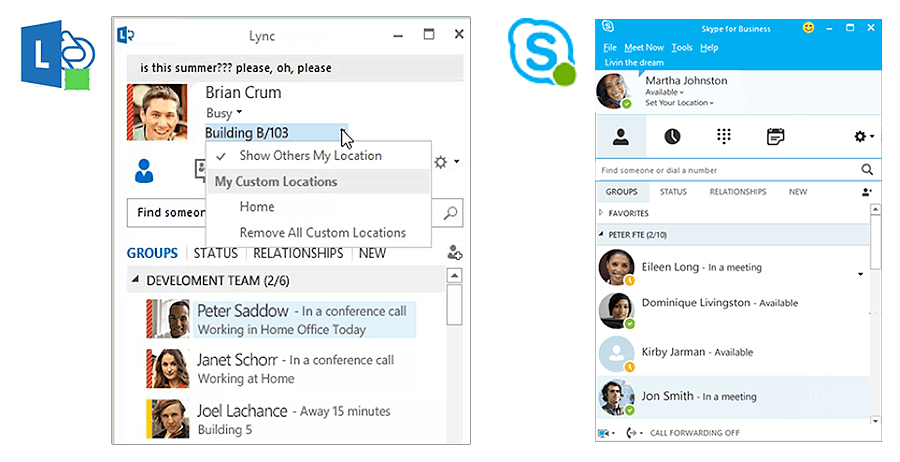 Do you need assistance deploying Skype for Business & Voice?
Our team is very experienced in deploying Microsoft Skype for Business with multiple deployments under our belt, from the very simple to the very complex, Interlink's consultants are knowledgeable and highly proficient.
Do you have an operational plan to ensure Voice Quality?
Do you have a comprehensive plan for your operations including E911 and Location Services, and helpdesk/support teams for Voice?
Do you require Skype for Business extensions to address centralized policy, reporting, or monitoring needs that are not addressed with out-of-the-box features or "standard supported" Skype for Business configurations?
Deploying Skype for Business Voice across an enterprise with multiple sites can be challenging. Organizations typically find themselves behind schedule and over budget after running up against issues related to IT and PBX infrastructure, processes, end-user adoption, and others. With flexible offerings, Interlink's Deployment Services can help you streamline deployments through a structured, yet collaborative consulting experience, resulting in a plan tailored to meet the needs of your organization.
By engaging with Interlink's trusted consultants you will be able to:
Remove ambiguity and concerns around deployments with on-site expertise in specific Microsoft Skype for Business
Build a customized deployment plan based on an assessment of your IT environment, workforce needs, and business requirements
Extend your internal expertise and incorporate Interlink's best practices to help lower risks and costs of deployment
Successful global deployment – Three critical steps
1. Service Preparation phase
Creation of well-defined Skype for Business voice services
Optimization of Skype for Business organizational processes for Skype for Business Voice
Creation of an end-to-end operational Skype for Business Voice framework to maximize operational efficiencies due to automation
Verification of legal requirements around Skype for Business voice depending on deployment countries
2. Skype for Business voice project onboarding phase
Service catalog definition
Global Microsoft Voice Design
3. "Template-style" site migrations follow the below methodology:
Site-specific data-gathering:


Site-design starts with a standardized method to gather data. Templates optimized for each site minimize the effort to collect site migration information
Site-specific design:


The data-gathering phase results in a high-level design that allows the customer to approve the design and start purchase process for necessary hardware. After approval, Interlink produces detailed design documents, configuration files and PowerShell scripts. This ensures the customer receives a full implementation package for execution by Interlink
Site-specific implementation:


Interlink also offers implementation services to implement hardware components that follow previously created site designs. Given the customer's preference, remote or even onsite tasks can be performed on a per-site basis.
For more information or the schedule a call with us to discuss your enterprise voice needs