Get unified security management and threat protection across workloads located in the cloud, on-premises, and hybrid cloud.
With Azure Security Center, you can easily apply security policies across your servers, reduce your exposure to potential threats, while also detecting and responding to attackers. Azure Security Center also provides a centralized view of your organization's server resources and the security controls in place as well as their configurations.

Benefits of using Azure Security Center:
Threat Protection
Focused on the most critical threats first.
Prioritized alerts and incidents - Security Center uses advanced analytics and global threat intelligence to detect incoming attacks and post-breach activity. Alerts are automatically prioritized and grouped into incidents, helping you focus on the most critical threats first, and you can create custom security alert groupings as well.
Just in time VM access - Reduces the network attack surface with just in time, controlled access to management ports on Azure VMs. This drastically reduces exposure to brute force and other network attacks.
Adaptive application controls - Blocks malware and other unwanted applications by applying whitelisting recommendations adapted to your specific Azure workloads and powered by the Microsoft machine learning apparatus.
Centralized Policy Management
Ensure compliance with internal or external regulatory security requirements by centrally managing security policies across all your hybrid cloud workloads and resources.
Security Policy Settings - Policies for your server workloads can be tailored to your type of workload or the sensitivity of your data. For example, applications that use regulated data, such as personally identifiable information, might require a higher level of security than other workloads. You can set the following Policies:



Data Collection: Determines agent provisioning and data collection settings. Data collection is required to provide visibility into missing updates, misconfigured OS security settings, endpoint protection enablement, and health and threat detections.
Security Policy: Determines which controls Security Center monitors and recommends. You can edit the security policy in Azure Security Center to help identify potential vulnerabilities and mitigate threats.
Email Notifications: Determines security contacts, and email notification settings.
Pricing Tiers
The tier you choose determines which Security Center features are available to you.
The Free tier is automatically enabled on all Azure subscriptions and provides security policy, continuous security assessment, and actionable security recommendations to help you protect your Azure resources.
The Standard tier extends the capabilities of the Free tier to workloads running in private and other public clouds, providing unified security management and threat protection across your hybrid cloud workloads. The Standard tier also adds advanced threat detection capabilities, which uses built-in behavioral analytics and machine learning to identify attacks and zero-day exploits, access and application controls to reduce exposure to network attacks and malware, and more. The Standard tier is free for the first 60 days.
Continuous Security Assessment
Monitors the security posture of machines, networks, storage and data services, and applications to discover potential security vulnerabilities.
Health Monitoring - Provides a list of resources and how vulnerable they are to possible attacks.
Integrated Threat Intelligence - Looks for security risks by leveraging security data collected from Microsoft products globally.
Behavioral Analytics - Applies known patterns to discover malicious behavior.
Anomaly Detection - Uses statistical profiling to build a historical baseline and alerts on events which deviate from established norms.
Additional Benefits Include:
Actionable Recommendations
Remediate security vulnerabilities before they can be exploited by attackers with prioritized and actionable security recommendations.
Advanced Cloud Defenses
Reduce threats with just in time access to management ports and adaptive application controls running on your VMs.
Integrated Security Solutions
Collect, search, and analyze security data from a variety of sources, including connected partner solutions.
Power BI Reporting Capabilities
Security Center combines many different features onto an easily accessed and navigated dashboard, which also includes Power BI reporting capabilities, as seen here.
Note - Power BI license required, contact us today to learn which Power BI license is the best fit for you.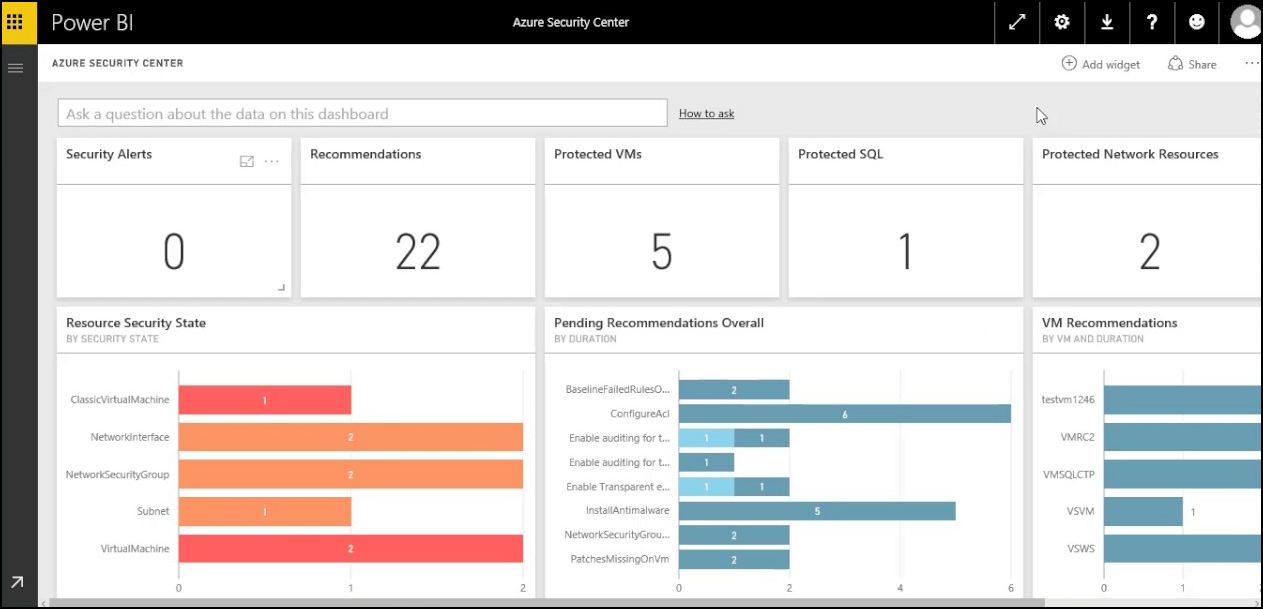 Find out how Azure Security Center can help your organization become more secure,
Schedule a free consultation for a Security Assessment with Interlink today!

---