A hands-on introduction to test-drive Microsoft's devices and productivity tools.
For a lot of organizations, the big frustration in the workplace is having access to new tools and technologies... but not knowing how to utilize them effectively. The way people work together is evolving, and unique projects, workstyles, functional roles and workforce diversity calls for a complete set of collaboration tools. As the appetite for new ways of working together grows, new developments, communications, mobility, and cloud services are enabling professionals to communicate and collaborate in ways that were previously not possible.
Knowing that your time is valuable, we've developed a true to life, hands-on, interactive session designed for professionals like yourself - a Customer Immersion Experience (CIE). A CIE is not just a walkthrough or standard demo; it puts you in the driver's seat. As it states in the name, this is a completely immersive experience that gets people engaged with their technologies in real life situations.
A CIE is an introduction to test-drive Microsoft's devices and productivity tools including Microsoft Office's suite of products (Outlook, Skype, Teams, Planner, SharePoint, etc.), Enterprise Mobility Suite (EMS), and Microsoft's Security Solutions. One of the many benefits of CIE is that it's the perfect space to allow mistakes. Most people learn most effectively from trial and error and learning from their mistakes. With such a true-to-life user experience, there is so much opportunity to carry what you learn directly into the daily workplace. A CIE is ideal for not only end users but technical teams and business decision makers as well.
"Interlink did a great job organizing and facilitating our customer immersion experience. This was a fun and unique way to learn more about the tools we currently own within our Microsoft investment. Engaging Interlink was valuable, as they have the knowledge and expertise of the Microsoft ecosystem and integration points, which helped the Xtek team see how these tools can be applied in our everyday lives to increase efficiency and collaboration. Our team was able to get the visibility, and have the chance to play with the tools, to see how these solutions can benefit us in our day to day work. The time was well spent!"
Hans Hagen, Directory of Information Technology
Xtek, Inc.

Modern Workplace
Different roles within your organization use Microsoft 365 cloud technologies - from the CEO to Marketing and HR. The Modern Workplace CIE helps business leaders to better understand the technology solutions their team has access to, leading to the improvement in processes, better productivity and improved workplace environments. Interlink can help your company discover how to best utilize your technology investments by guiding you through an experience that is customized and solve your workplace challenges.
Security
Security is challenging. The most secure systems in the world are the least easily accessed. Our Security CIE is meant to showcase the end user experience with Microsoft 365 Security Solutions and help you discover the right balance between controls and productivity for your own organization. We allow you and your team to learn and discover the right end user tools that will protect your organization's data and identities.
Azure
Solidify your hybrid strategy with this hands-on Azure learning experience. The Azure CIE guides you through an environment that is actually built in Azure, so you will learn about Azure Virtual Machines and compute power. Working together with a certified Interlink trainer, you'll create and deploy a Windows Server datacenter virtual machine and review resource group, virtual network, and storage account components. By demonstrating the problem-solving power of Microsoft products and services, participants can test-drive Azure and see how it could fit in their environment and solve the challenges they're facing.
How does a CIE work?
A CIE takes you through everyday business situations, such as working remotely, analyzing sales data and collaborating with coworkers, and lets you see how Microsoft products make it all easy, convenient and secure. There will be capabilities in your current technologies that you didn't know were available. Once you have a better understanding of what you are working with, you can work more efficiently and really get the most out of what you're paying for. A CIE is a staff facilitated, hands-on session that allows employees to experience business solutions by test driving simulated scenarios.
What will you experience?
Streamline Teamwork to Break Down Silos:

Easily manage your team's plans, tasks and notes.

Keep Information Secure While Being Productive:

Make it easier to work securely and maintain compliance without inhibiting your workflow.

Quickly Visualize and Analyze Complex Data:

Zero in on the data and insights you need without having to involve a BI expert.

Co-Author and Share Content Quickly:

Access and edit documents even while others are editing and reviewing them all at the same time.

Immediate Productivity Gains:

Most attendees leave with enough time-saving skills that time invested to attend an Immersion session more than pays for itself in a few short days.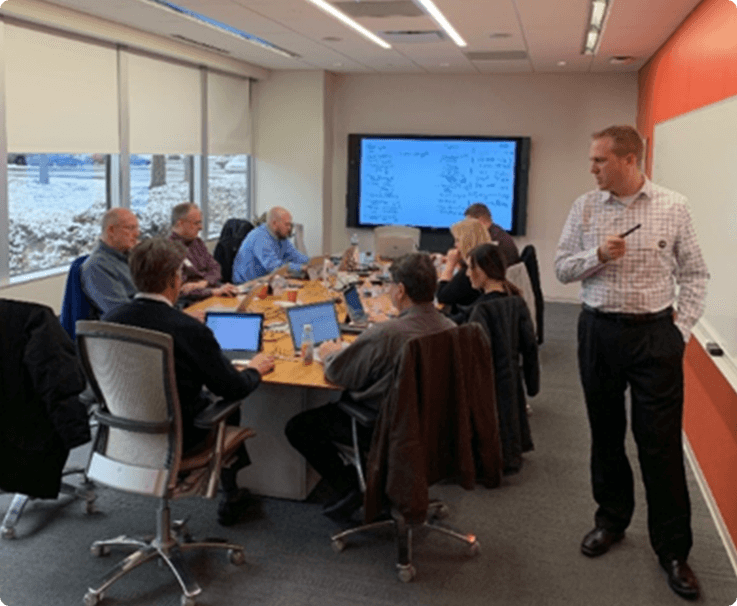 Learn Collaboratively
Learn from one another with the help of the cloud, facilitating simple collaboration. Through constant conversation and real-time collaboration tools through the session, it will be easy to approach various communication challenges.

Relaxed & Fun
This experience is all about you. It is not a walkthrough for you to follow along with a presentation. It is completely engaging and is your opportunity to explore, ask questions, and learn.

No Tools Required
Just bring yourself and anyone else looking to learn. We will provide everything needed to hit the ground running and get the most out of your CIE.
Real World Experience
A CIE gives you the opportunity to visualize Microsoft's solutions working within your current environment and how the capabilities will improve everyday workflow.
---
Why do a CIE with Interlink?
Here at Interlink, we have all the necessary tools and expertise to guide you in a CIE. Our consultants can conduct multiple workshops to determine your organization's specific needs. We have the expertise and experience to analyze your current environment and offer guidance on what will most benefit you.
Interlink values teamwork and family, so we understand the importance of building relationships with our clients. During a CIE with Interlink, we provide a knowledgeable and helpful facilitator in person to lead the session. Our consultants aim to understand your business challenges and how these solutions will work for you, so that your CIE is a completely tailored experience specific to your organization. Most importantly, our number one goal is to build confidence between your users and their technology. Contact us today to see what we can get started for you.
Immersion Experiences are a great way for business leaders to better understand the technology solutions they have access to, leading to process improvements and improved workplace environments.